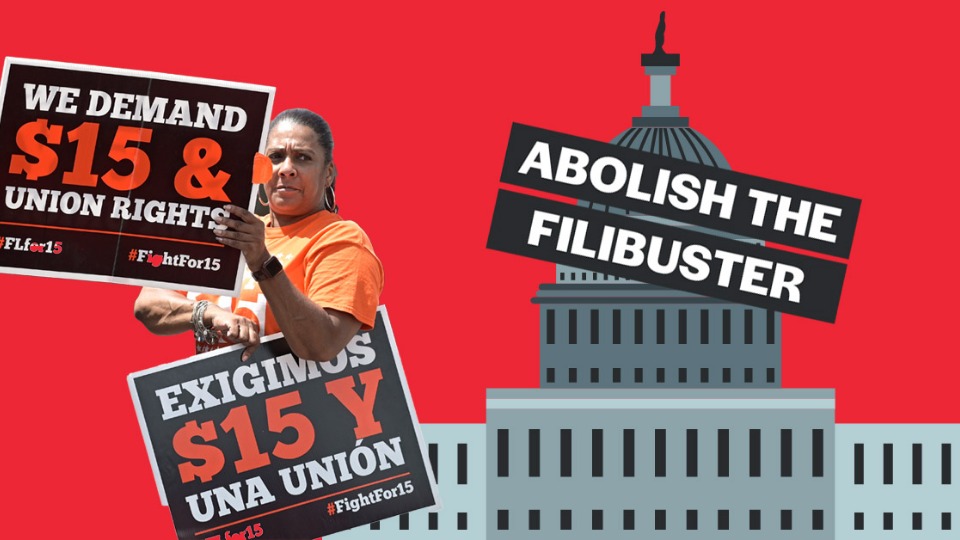 WASHINGTON—The Senate's barely ruling Democrats apparently have given up for now on raising the minimum wage, but the nation's unions, the New Poor People's Campaign, and their allies haven't.
By a 219-212 vote after midnight on Feb. 27, the Democratic-run House approved the $1.9 trillion economic aid bill, called the American Rescue Plan. It includes the minimum wage hike. Democrats Kurt Schrader of Oregon and Jared Golden of Maine joined all 210 Republicans in voting "no."
But with a 50-50 Senate tie, Sens. Joe Manchin, D-W. Va., and Kyrsten Sinema, D-Ariz., had previously defected from raising the federal minimum wage in four stages to $15 an hour by 2025. It's now $7.25 and hasn't risen since 2009. Their votes would have killed the hike if the Senate's non-partisan parliamentarian hadn't beaten them to it.
She ruled the $15 minimum wage section violates Senate rules governing "reconciliation" budget bills—and that's what President Joe Biden's $1.9 trillion measure is—because the wage hike doesn't involve taxes or spending.
Her decision prompted lead Senate sponsor Bernie Sanders, Ind-Vt., the Budget Committee chairman, to try to find other ways to force firms to pay workers at least $15 an hour. One idea he floated: Tax penalties against big firms that don't do so. Small businesses would get tax incentives to raise workers' pay to that level.
"The Congressional Budget Office made it absolutely clear raising the minimum wage to $15 an hour had a substantial" positive "budgetary impact and should be allowed under reconciliation," he said. In plain English, workers earning more money would plow it back into the economy and revenues would rise. Sanders faulted the parliamentarian for hypocrisy.
"It is hard for me to understand how drilling for oil in the Arctic National Wildlife Refuge was considered to be consistent with" Senate reconciliation rules "while increasing the minimum wage is not." Opening up ANWR was part of the 2017 GOP "reconciliation" that featured the $1.5 trillion Trump-GOP tax cut for corporations and the rich.
"If Rob Walton, a key owner of Walmart, can afford an estimated $226 million for an antique car collection that includes 12 Ferraris, six Porsches, two Maseratis, and a 1963 Corvette Grand Sport Roadster, you know what? Walmart can afford to pay at least $15/hour to all of its workers," he also tweeted. Walmart is notorious for paying its workers far less than $15 an hour.
But that idea to tax firms that don't pay $15 an hour fell flat, too. It was too complex to handle in the short time frame for reconciliation, which faces a March 14 deadline.
That's when one of the Biden bill's key benefits, the $300 weekly supplemental jobless aid to millions of unemployed workers, runs out. Biden's bill would raise that to $400, on top of state jobless benefits—if any—and extend it to Aug. 29.
All of this parliamentary finagling didn't stop either the AFL-CIO or the Poor People's Campaign from urging senators to override the parliamentarian and let the minimum wage hike stay in the Senate's $1.9 trillion measure.
"JOIN US this Moral Monday to hear how communities across the country are standing up to environmental injustice, and how the fight to keep $15/hour in the COVID relief bill is connected to the struggle for healthcare and the struggle to heal our earth. Take action & call your Senators: bit.ly/ppccallcongress," the New Poor People's Campaign tweeted.
"Call your senators and tell them we've waited long enough for COVID-19 relief. They must vote YES on the American Rescue Plan," the AFL-CIO said, using the official name for Biden's bill.
"The American Rescue Plan funds vaccinations and testing so we can contain COVID-19 and get back to normal. It also delivers direct, immediate relief to our families and communities who have been struggling through this pandemic over the past year."
Besides the minimum wage hike and the vaccinations, testing and treatment money, the "historic rescue package…families need" includes "overdue support for states, cities, and towns so we can preserve critical public services," and money to shore up multiemployer pension plans, the fed said.
It also extends paid sick and family leave, adds an 85% COBRA subsidy for workers who lost health care coverage when they lost their jobs, dollars to protect students, teachers, and staffers and safely reopen schools, and billions to prevent evictions and foreclosures.
"Senators have had enough time. They've had enough chances," the labor federation declared. It provided both a sample letter to e-mail and an automatic call-in link to senators for supporters to use to apply pressure to senators.
Upset House progressives wrote to Biden and Vice President Kamala Harris, urging they lobby lawmakers to vote for the wage, and to override the parliamentarian, too. Rep. Ilhan Omar, DFL-Minn., agreed, adding in a separate tweet that the Senate should fire that officer.
Otherwise, Omar warned, none of the Democratic program, which Biden and they championed last fall, would pass, due to united GOP opposition and filibusters.
"This ruling is a bridge too far," Rep. Ro Khanna, D-Calif., the letter's author, said of the parliamentarian's anti-minimum wage edict. "We've been asked, politely but firmly, to compromise on nearly all of our principles and goals. Not this time. If we don't overrule the Senate parliamentarian, we are condoning poverty wages for millions of Americans."
Added former caucus co-chair Rep. Mark Pocan, D-Wis., a Painter: "We promised the American people a raise and they deserve to see us do everything in our power to make that a reality. Senate rules and an unelected parliamentarian should not get to decide whether the American people get a $15 minimum wage. It's been over a decade since the minimum wage increased federally and the American Rescue Plan is an essential vehicle to provide almost 32 million workers with a raise."
Back in the Senate, Sanders plans to force a vote on the minimum wage anyway, even if the Democratic leadership strips the measure from the ARP, as is expected. "There will be a vote on the minimum wage, and we'll see what happens," he said Monday. "I intend to offer the bill that will raise the minimum wage to $15 an hour, and we'll see how the votes go."
"If we fail in this legislation, I will be back," Sanders warned. "We are going to keep going. We are going to raise that minimum wage very shortly to $15 an hour," he said.
Another leading backer of the $15 wage, Sen. Elizabeth Warren of Massachusetts, joined Sanders's call on Monday, saying she also favored a vote to overrule the parliamentarian on the matter of including a minimum wage hike in the rescue package.
Warren targeted the filibuster, which requires 60 votes to pass controversial legislation, as the largest single obstacle blocking not only the ARP, but all of Biden's agenda. United Republican opposition in an evenly-divided Senate means progressive policies that have the backing of the majority of the country will die, repeatedly, in the Senate. Warren said the arcane rule, which is currently empowering Republican obstruction, must be eliminated.
"Understand, the only reason that we're in this mess is because of the filibuster. If we would get rid of the filibuster, then we wouldn't have to keep trying to force the camel through the eye of the needle," Warren said. "Instead, we would do what the majority of Americans want us to do, and in this particular case, that's raise the minimum wage," she added.
TAKE ACTION: Tell your U.S. Senators to vote FOR the American Rescue Plan. Customize this draft email letter and then make an automated phone call to their office.