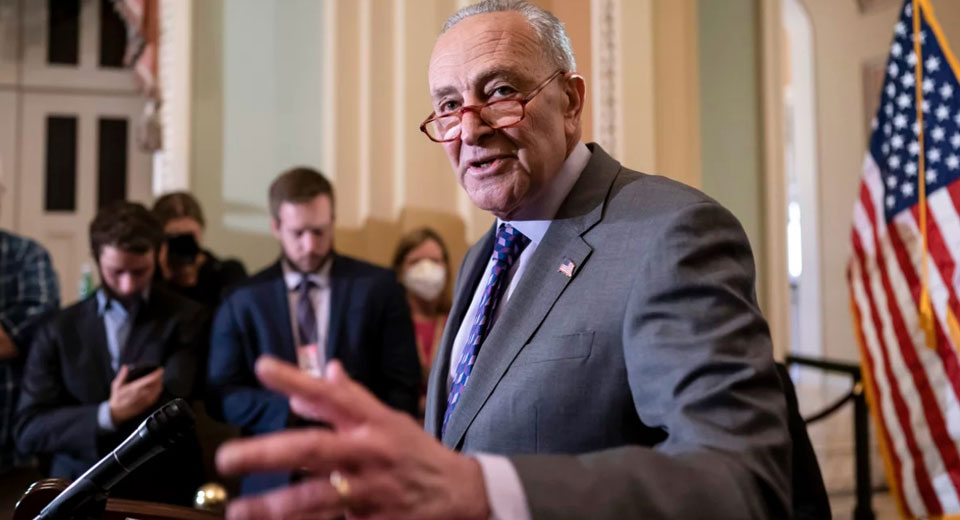 WASHINGTON—Amid days full of sound and fury, the evenly split Senate is expected to not pass to the legislation today that would protect the constitutional right to abortion from its looming demise at the hands of the right-wing U.S. Supreme Court majority and conservative "Christian" anti-abortion crusaders.
Majority Leader Charles Schumer, D-N.Y., tried to start debate on the Women's Health Protection Act, Democratic-drafted S4132, to protect the right to abortion by writing it into federal law. The Senate's 50 Republicans unanimously opposed him, as did renegade Sen. Joe Manchin, D-W. Va. So it failed, 49-51.
Schumer said the May 11 vote drew a distinct and hard line between the two parties on the constitutional right to abortion: Democrats for, Republicans against. All for the voters to view and remember this fall.
"Every American is going to see where every senator stands on protecting one of the most important rights a woman has regarding her own body," Schumer said in announcing on May 9 that he would seek an up-or-down vote to start debate on the constitutional right to abortion.
"This vote is not an abstract exercise. This is as real and as high stakes as it gets. And Senate Republicans will no longer be able to hide from the horror they have unleashed upon women in America," Schumer declared.
"After spending years packing our courts with rightwing judges and [Supreme Court] Justices, after changing the rules of the Senate to push three rigidly conservative justices, after stealing the nomination of Merrick Garland, the time has come for Republicans, this new MAGA Republican Party, to answer for their actions.
"If Senate Republicans allow the Supreme Court's decision to stand, it will be open season—open season—on women's rights in America."
Schumer then threw Senate Republican Leader Mitch McConnell's own words back at him, quoting the Kentuckian's prediction that if his party wins the Senate this November, "a federal ban on abortions is now possible should the Supreme Court overturn" the key 1973 pro-abortion decision, Roe v Wade.
"Let me say that again because it is so dreadful. In light of the Supreme Court's decision—upcoming decision—Leader McConnell acknowledged a national ban on abortion is now possible without Roe if Republicans reclaim the majority," Schumer said.
"Hear that, America? A total ban—a total national ban on abortion, stated by not any Republican but by the Republican leader. Every single American needs to hear what leader McConnell said."
Sens. Susan Collins, R-Maine, and Lisa Murkowski,  R-Alaska, are expected to vote no even though they backed abortion rights in the past, or so they said. Both said Schumer tried to bring up the WHPA in February and failed. They voted against it then, their Feb. 28 statement claimed, because it's too broad, going beyond the two pro-abortion rulings the High Court's Republican-named majority would toss.
For example, the two said, WHPA would allow girls under 18—minors—to get abortions without parental notice or consent. That requirement is a frequent Republican roadblock to abortions.
Their alternative, the two said, stuck to writing just those two decisions, Roe v Wade in 1973 and Reproductive Health Services v Casey in 1992, into law and that's all. It failed.
The May 11 vote comes just nine days after a draft High Court majority opinion abolishing—and demolishing—the constitutional right to abortion leaked. Right-wing Republican-named Justice Samuel Alito authored it.
Alito drew the votes of Donald Trump-named right-wing justices Neil Gorsuch, Brett Kavanaugh, and Amy Coney Barrett, plus Justice Clarence Thomas, named by Republican President George H.W. Bush. Republican President George W. Bush named Alito to the court.
Sen. Mazie Hirono, D-Hawaii, told her colleagues that defending the right to abortion led to her political activism—and that she remembers the days before Roe when illegal abortions were the norm, and dangerous. She also said she spent many of her 14 years in the state legislature fighting off attempts to restrict or ban abortion, before entering the U.S. Senate.
"The Republican Party has sabotaged the Supreme Court, and women and girls across the country are going to pay the price," Hirono declared. "In 13 states, the minute Roe is overturned, abortion will be illegal, and dozens of other states will move to do the same. These states are prepared to outlaw abortion with only narrow exceptions, if at all.
"Imagine this. If a child is raped, Republicans will force her to give birth. If a woman's life is in danger, Republicans will force her to give birth, despite the fact that the United States already has the highest maternal mortality rate of any developed country. If a woman cannot afford to raise a child, Republicans will force her to give birth anyway.
"And then, once that child is born, all of a sudden, their concern for that child pretty much goes out the window."
No Republicans spoke on abortion on May 9.
Progressive groups issued last-minute e-mails imploring members to bombard their senators with demands to pass S4132. The American Civil Liberties Union announced that, regardless of the outcome, it would sponsor a Capitol Hill rally on May 14.
Our Democracy, a group founded by supporters of Sen. Bernie Sanders, Ind-Vt., varied from the theme by seeking support—dollars and phone banking—for pro-abortion and progressive migrant rights lawyer Jessica Cisneros in a South Texas Democratic primary runoff. Cisneros faces one of the few anti-abortion Democrats, Henry Cuellar, on May 24 in a majority-Latinx congressional district.
A more-typical progressive group e-mail came from Zach Van Houten of People for the American Way on May 10:
"Tomorrow the Senate is expected to hold a key vote on the Women's Health Protection Act (WHPA), a bill that would codify in federal law the right to access abortion care and other reproductive freedoms.
"We know this bill is likely to be blocked by the obstruction of far-right senators, but we must keep up the pressure on our elected officials to DO SOMETHING that will protect reproductive freedom and bodily autonomy! And if they don't vote in favor of the bill, we must immediately prepare to hold them accountable–especially–at the ballot box.
"Sign the petition now and DEMAND the Senate pass the WHPA and protect our reproductive freedom! (their emphasis)
"Whether or not this Senate vote is successful, People For is ready to continue fighting against the right-wing extremism that has led to this moment–and to protect other rights the Supreme Court has signaled may now be vulnerable," the group promised. It too sought contributions.
Democratic senators and party groups pounded the same theme, usually in the form of a "petition" to sign before demanding gelt at the end to help keep the anti-abortion Republicans at bay this fall.
"The Supreme Court is on the verge of overturning Roe v. Wade—but they don't get the last word here," Sen. Elizabeth Warren, D-Mass., wrote in a fundraising letter for three Democratic U.S. House candidates, two in North Carolina and another in Pennsylvania, running in primaries the week after the Senate vote.
"Congress has the power to pass a law defending abortion rights nationwide, no matter what the GOP's handpicked extremist justices decide this summer. And we have the power to send champions of reproductive freedom to Congress. We also need to stop Republicans from taking back control, because they're already talking about passing a national ban on abortion."