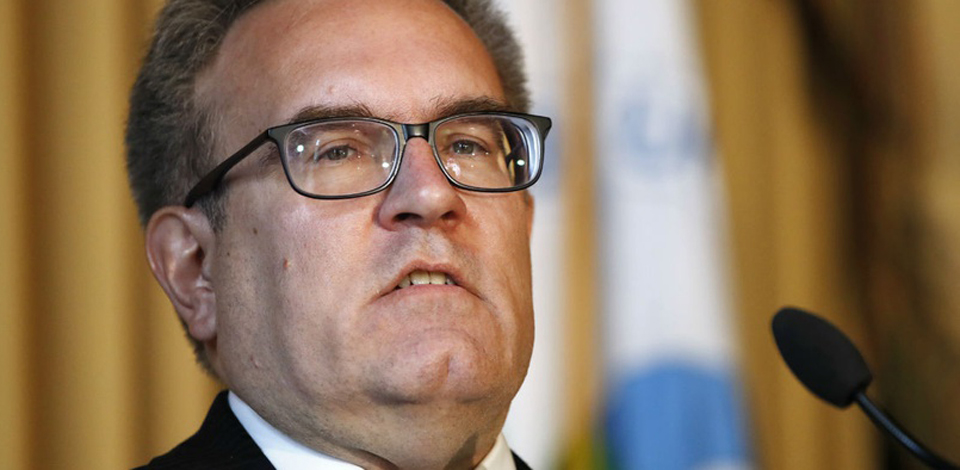 WASHINGTON —The Trump Environmental Protection Agency's decision to unilaterally cut off bargaining with its workers and impose a new and regressive contract on them breaks federal labor law, 41 Democratic senators say.
And in an Oct. 24 letter to EPA Administrator Andrew Wheeler, who imposed the move in early July, the lawmakers also demanded to know whether the Trump White House dictated Wheeler's actions against his own employees.
The letter comes as the GOP Trump administration escalates its war on its own federal workforce and their unions, principally the Government Employees (AFGE), but also the Treasury Employees (NTEU) and other unions for federal workers.
At the end of their letter, the senators warn Wheeler not to rerun those same tactics in upcoming bargaining with the Treasury Employees, the second-largest union at the agency.
It also comes as Trump continues to try to emasculate environmental protection in general and the EPA in particular. He's done everything from yanking Obama-era carbon emissions cuts to forcing California to sue to protect its own, stronger, air quality rules – even though the Environmental Protection Act specifically lets the state impose stricter standards.
Trump's war on the federal workers includes executive orders that throw all unions out of their small offices at most federal agencies nationwide – rooms they use to meet workers and discuss things like grievances and bargaining.
Trump's orders also yank use of fax machines, phones and computers, ban workers from contacting Congress, and tell shop stewards, who stick up for workers against their bosses, they must do so on their own time and on their own dime.
And AFGE is publishing, in five installments, with commentary, an internal 19-page Trump White House memo, by a right-wing Heritage Foundation ideologue, on how to destroy federal worker unions, and then private-sector unions, too.
Wheeler's imposed contract on the 7,500 EPA workers represented by AFGE Local 238 not only implements Trump's executive orders on the agency workforce – which he also wants to cut by a third – but also bans telework and even filing of grievances, the senators say.
"The EPA's  actions appear to show a disregard  for federal labor-management law. The Federal Labor-Management  Relations  Statute clearly outlines agencies' obligation to bargain with employee unions and to do so in good faith. By unilaterally ending collective bargaining, EPA appears to have abdicated its statutory responsibility in order to impose contentious contract terms," the lawmakers wrote Wheeler.
They also suspect Trump dictated Wheeler's decisions and demanded evidence of "direction or guidance" and input by the White House "or any entity outside of EPA" on Wheeler's decision to cut off talks in early July and his follow-up imposition of the contract.
"If so, describe the nature and source" of the White House direction, guidance and input, the senators, led by Gary Peters, D-Mich., and Tom Carper, D-Del., the top Democrats on the two key GOP-run committees that deal with federal workers, say. Other signers include six Dem presidential nomination contenders: Elizabeth Warren (Mass.), Bernie Sanders (Vt.), Kamala Harris (Calif.), Michael Bennet (Colo.), Cory Booker (N.J.) and Amy Klobuchar (Minn.).
EPA isn't the first agency whose Trump-named bosses have cut off talks and unilaterally imposed boss-friendly contracts on their workers, or tried to do so. Others include the Departments of Health and Human Services, Education and Veterans Affairs. AFGE and the other federal worker unions are challenging all those moves. Earlier in October, an impartial arbitrator ruled for AFGE in its challenge to HHS' moves.
"The EPA is plotting to gut your union's contract covering nearly 8,000 employees in the EPA and making it harder for you and your co-workers to do your jobs protecting public health and the environment," AFGE says on its website.
"The EPA's workplace directives are clearly an attempt to take away your rights, drive away dedicated EPA employees and damage the opportunities to recruit employees so polluters have free rein to poison our air and water. We can't and won't let this happen."
The senators reached a dismal conclusion, too.
"As our country faces increasingly  dire environmental  and public health challenges, EPA must be prepared to meet these challenges head-on. It simply cannot do so with a demoralized and weakened workforce," their letter concludes.