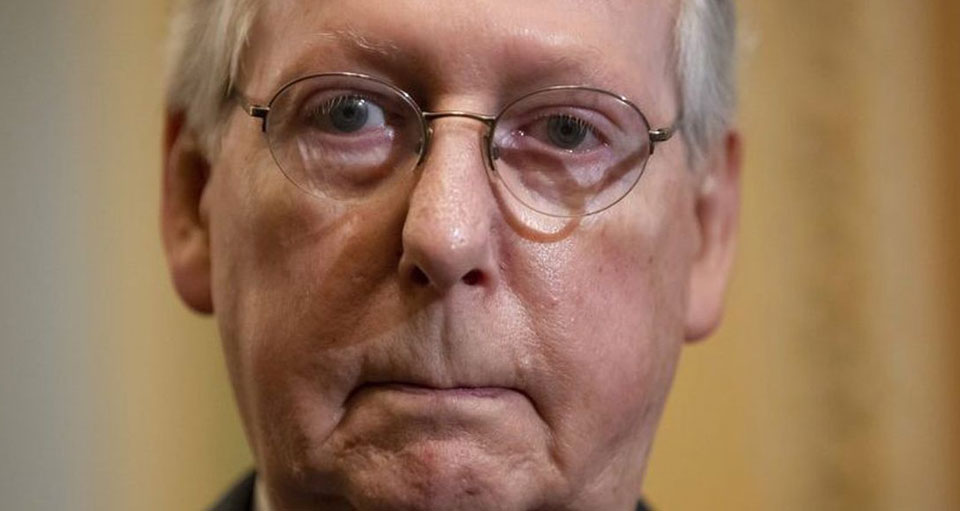 WASHINGTON—By a 50-40 margin, a bipartisan group – precisely half – of the U.S. Senate voted June 28 to prevent bellicose saber-rattling GOP President Donald Trump from going to war on Iran without congressional approval. But under Senate rules, their amendment needed 60 votes to pass – and all but one of the ten solons who didn't show up were Republicans.
Sens. Tim Kaine, D-Va., Hillary Clinton's 2016 running mate, and Tom Udall, D-N.M. were the prime movers of the measure. Sen. Rand Paul, R-Kent., who calls himself a libertarian, was its GOP sponsor. The other sponsors were minority whip Dick Durbin, D-Ill., and Sens. Chris Murphy, D-Conn., and Jeff Merkley, D-Ore. Kaine has been pushing for a vote for years.
All seven senators running for the Democratic presidential nomination flew back to D.C. after the June 27 evening presidential debate in Miami to vote against Trump's war on Iran. Mike Lee, R-Utah, was the sole other Republican, besides Paul, to vote against Trump.
Outside the Senate, a coalition of organizations including the Communist Party, several religious groups and U.S. Labor Against War all pushed the anti-war measure. But internal pressure forced Majority Leader Mitch McConnell, R-Kent., to allow the vote rather than bury the Udall-Kaine anti-war move –  McConnell's usual response to legislation Trump hates.
"Keep resisting. We are behind you. You will win in the end," Christine Alice Westberg, an adjunct professor at William and Mary College – Virginia's oldest university – tweeted to Kaine after the vote.
Trump and his Cabinet, particularly National Security Advisor John Bolton and Secretary of State Mike Pompeo, have been beating the drums for war for weeks and Trump came within minutes of pre-emptively attacking Iran during the weekend of June 23-24 before changing his mind and then blowing his own horn about it.
Kaine, Udall and their colleagues wanted to stop him from going to war in the first place. In a post-vote statement, Kaine hoped the Democratic-run House will pass an Iran war ban.
"The Senate sent a strong message that President Trump cannot bypass Congress to start an illegal war with Iran," he added. "We didn't reach the 60-vote threshold we needed to pass it as an amendment to the defense bill, but the vote today demonstrates bipartisan concern that President Trump might pull our troops into an unnecessary war."
"The debate doesn't end here; The House now has an opportunity to pass this amendment…I'll keep pushing Congress to do our constitutional duty and affirm the United States will not send our troops into war based on the whim of the president."
"Congress is not going to roll over for an unconstitutional war," Udall said. "It is crystal clear neither Congress nor the public support another disastrous war in the Middle East…And to my Republican friends who voted 'no' today, but who publicly agreed no one wants a war with Iran, I say this: Actions speak louder than words…The time for Congress to stand up for its constitutional responsibilities is now before it is too late."
Udall closed the debate, the night before the vote, by reminding his colleagues that "dictators and kings declare war unilaterally. Democracies don't."
Supporters of war on Iran "are trying to create excuses for why we should ignore the Constitution and open the door to war with Iran without having a vote. President Trump has said he was 10 minutes away from doing just that."
"Critics say we only have one Commander in Chief, not 535, and so we should not pass this amendment. We agree. We only have one Commander in Chief, but the Commander in Chief executes wars. Only Congress can declare them," he said just before that closing line.