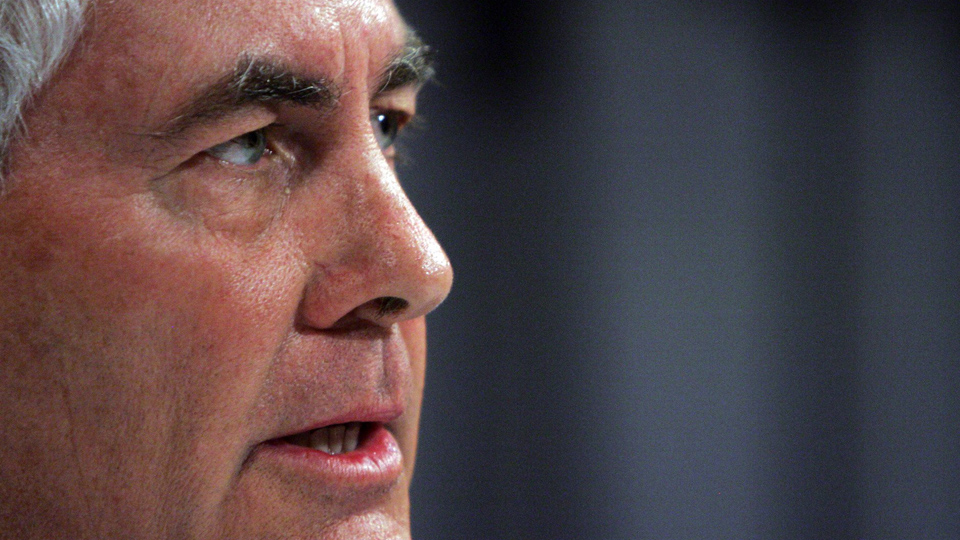 WASHINGTON—Long-time Exxon CEO Rex Tillerson, President-Elect Trump's nominee for the position of Secrearty of State, faced questions today from both sides of the aisle at his Senate confirmation hearing.
Tillerson represents a break in a longstanding tradition of secretaries of state with extensive military, legislative, political or diplomatic experience. His supporters, including former GOP Secretary of State Condoleezza Rice and Secretary of Defense Robert Gates, point to the oil man's lengthy career as a senior executive in a mammoth multinational company as proof he has the management and negotiating skills to succeed as America's top diplomat.
The Secretary of State, appointed by the president with the advice and consent of the Senate, is the President's chief foreign affairs adviser. The Secretary carries out the president's foreign policies through the State Department and the Foreign Service of the United States.
Rex Wayne Tillerson, born March 23, 1952, was the chairman and chief executive officer (CEO) of ExxonMobil from 2006 to 2016. Tillerson is a longtime contributor to Republican campaigns.
Tillerson joined Exxon in 1975, and by 1989 had become general manager of the Exxon USA central production division. In 1995 he became president of Exxon Yemen Inc. and Esso Exploration and Production Khorat [Thailand] Inc. In 2006, Tillerson was elected chairman and chief executive officer of Exxon, the world's sixth largest company by revenue. Tillerson retired from Exxon, effective December 31, 2016, and was succeeded by Darren Woods after Trump announced that Tillerson would be his nominee for Secretary of State.
The role of big oil
While big oil has always had a major role in driving the nation's business, Tillerson's appointment is the most direct link ever. Lawmakers have also spoken about scrutinizing his and Exxon's two-decade relationship with Russian President Vladimir Putin and others in Moscow.
Questioners focused on Russia as an aggressive world power that needs to be reigned in by sanctions and NATO rather than as an imperialist rival of the United States.
Tillerson's close business ties with the Russian president have generated controversy. In 2014 Tillerson strongly opposed sanctions against Russia.
He has had previously been the director of the joint U.S.-Russian oil company Exxon Neftegas [Sakhalin]. In January, 2017 it was revealed that while Tillerson was a senior executive at ExxonMobil, a European joint venture called Infineum conducted business with Iran, Syria, and Sudan when those states were under U.S. sanctions.
The 2014 sanctions that Tillerson opposed banned the transfer to Russia of advanced offshore and shale technology, and Exxon was ordered to stop drilling in the Kara Sea [part of the Arctic Ocean north of Siberia], leaving the site's potential riches untapped. Tillerson's main Russian business partner, Rosneft boss and close Putin confidant Igor Sechin, was added to a U.S. sanctions blacklist. Exxon ended up losing hundreds of millions of dollars.
In prepared opening comments for his testimony before the Senate Foreign Relations Committee, Tillerson stated: "We must also be clear-eyed about our relationship with Russia. Russia today poses a danger, but it is not unpredictable in advancing its own interests. It has invaded Ukraine, including the taking of Crimea, and supported Syrian forces that brutally violate the laws of war. Our NATO allies are right to be alarmed at a resurgent Russia."
Sen. Marco Rubio R-Fla., was aggressive in his questioning of Tillerson about his economic and personal ties to Russia and its president, Vladimir Putin.
Tillerson said he never personally lobbied against U.S. Sanctions, but Sen. Bob Corker, R-Tenn., Committee Chairman said "I think you called me at the time."
Tillerson told Sen. Robert Menendez, D.,N.J., he hasn't talked with Trump about Russia – not about Ukraine, Syria, or sanctions.
More important than sanctions
Progressive groups sought to rally opposition over Exxon's environmental record [oil spills], deals with nations having poor human rights records [Aceh, Indonesia] and conflicts of interest.
"All in all, it's hard  to imagine a single hire that could do more damage to the p[lanet," said Bill McKibben, founder of the climate justice organization, 350.org., in an article in the Guardian today.
On conflicts of interest Tillerson said, "As to any issues involving Exxon Mobil that might come before me as secretary of state, I would recuse myself from those issues."
Exxon valued Tillerson's compensation in 2015 at $27.3 million, most of it in stock, and he is set to receive a $180 million retirement package from Exxon.
Tillerson, 64, has acknowledged the Earth's climate is changing, average temperature is rising and greenhouse gas emissions increasing. But he has said the subject remains a complex area of scientific study. Exxon in the past sought to undercut evidence of climate change even as its own scientists recognized the changes as early as the 1970s.
Associated Press, Wikipedia and Barbara Russum contributed to this article.