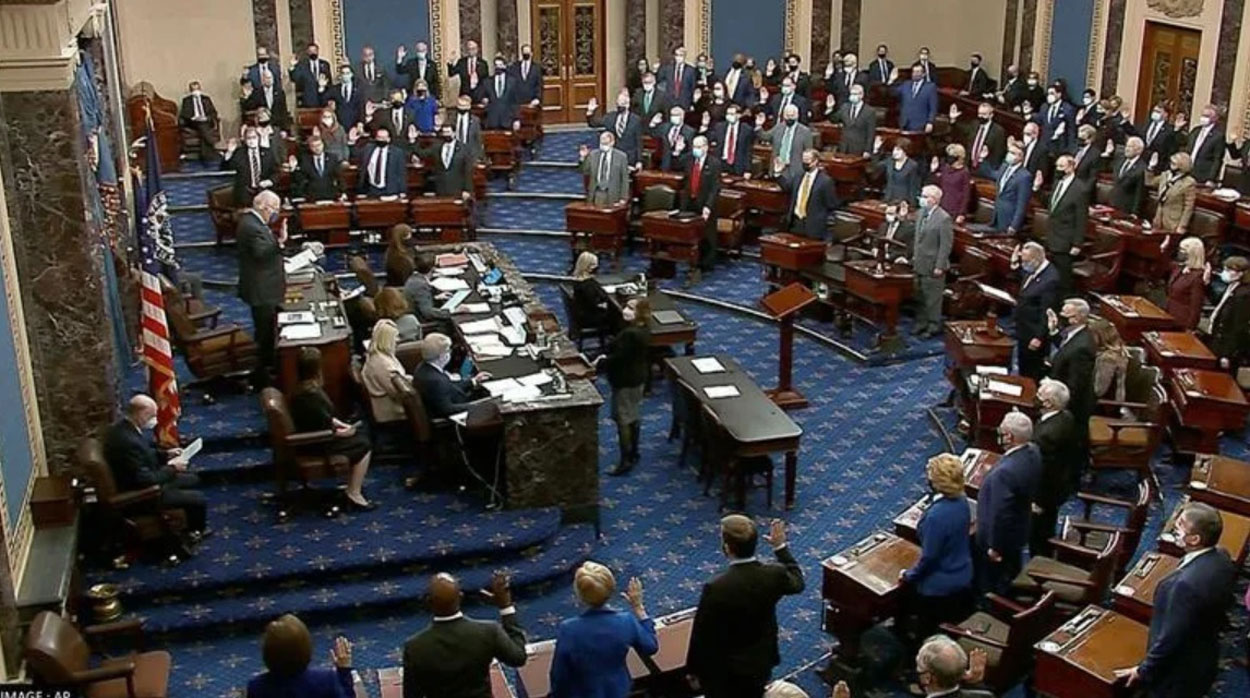 WASHINGTON—It was a far cry from what Democratic President Joe Biden and progressives originally sought, and it included some late giveaways to Big Pharma, Wall Street and the fossil fuel industry, but senators approved the $739 billion Inflation Reduction Act, on August 7.
The measure features the largest-ever U.S. financial commitment to fighting climate change and a three-year extension of Affordable Care Act health insurance subsidies for the poor and near-poor. Bowing to a key Democratic senator, it plans to cut the deficit by $300 billion over a decade.
It also imposes a 15% minimum tax on billion-dollar corporations and a 1% tax on corporate stock buybacks that actually will raise almost $60 billion more than the pro-Wall Street provision it replaced.
And the bill lets Medicare get started on bargaining down prescription drug prices with Big Pharma, although the impact of such talks would not be felt for several years.
The Inflation Reduction Act as it is called, technically a budget "reconciliation" bill passed on a party-line vote, with all 48 Democrats plus independents Bernie Sanders of Vermont and Angus King of Maine favoring it and all 50 Republicans voting "no." Democratic Vice President Kamala Harris broke the tie.
It now goes to the Democratic-run House, where Speaker Nancy Pelosi, D-Calif., has apparently overcome progressive grumbles, and tentatively scheduled a vote on it by August 12. The legislation also drew AFL-CIO support.
The measure "will transform the lives of working families at every level, and we urge the House of Representatives to pass this bill swiftly and send it to President Biden's desk," federation President Liz Shuler tweeted on August 6.
In what senators themselves call a Vote-A-Rama, lawmakers spent the entire weekend of August 5-6 fending off "poison pill" amendments that would have wrecked the deal.
Republican poison pills included $500 million to resume former construction on former Republican Oval Office occupant Donald Trump's racist Mexican Wall, yet another capital gains tax cut, an attempt to keep all Southern border migration applicants in Mexico, and several moves to gut the environmental provisions.
Two poison pills would mandate oil, gas and coal leasing offshore and on federal lands. Another would "expedite consideration of permits and provide regulatory certainly for infrastructure and energy projects," a fancy way of junking environmental impact statements for the oil and gas lines.
Yet another Republican poison pill emasculated what remaining power the Environmental Protection Agency has to regulate greenhouse gas emissions which cause global warming. The Republican right-wing majority on the Supreme Court took most of that power away last month.
All the measures lost but they revealed the right-wing Republicans' priorities in the runup to the November election, just as Democrats will tout the bill itself on the campaign trail.
Despite his grumbles, Sen. Bernie Sanders, Ind-Vt., who co-wrote the original Build Back Better legislation which Republican hatred sidelined, voted for this much smaller bill.
The Vermonter had told his colleagues on August 3 that "55% of senior citizens are trying to survive on an income of $25,000 a year or less. Many of them cannot afford to go to a dentist or buy the hearing aids or eyeglasses that they need, does this bill do anything to expand Medicare to cover their basic healthcare needs? No, it doesn't."
Tried to insert
He tried to insert those ideas into the bill, and lost 97-3. His only two supporters were Georgia's two Democrats, Jon Ossoff and the Rev. Raphael Warnock.
"Today, we have more concentration of ownership than at any time in the modern history of this country," Sanders added. "In sector after sector, we have a handful of giant corporations often engaging in price-fixing who control what is produced and how much we pay for it.
"In fact, unbelievably, three Wall Street firms control assets of over $20 trillion and are the major stockholders in 96% of Standard & Poors 500 companies. Does this bill do anything to attack this enormous concentration of ownership and make the economy more competitive? No, it doesn't."
Big Pharma's late win was to remove the low price for insulin for people buying it through private insurance, not via Medicare or Medicaid. For users of those two programs, it would be $35.
Sanders proposed an immediate cap on consumers' out-of-pocket spending on prescription drugs, but lost 97-1. But the League of United Latin American Citizens (LULAC) pointed out the measure already caps seniors' out-of-pocket prescription drug spending at $2,000 yearly. It urged the House to OK the bill—and to restore the cap on all insulin spending the Senate cut.
"The bill includes many pieces of the House-passed Build Back Better Act to make the largest-ever federal investment in tackling the existential threat of climate change, lower healthcare costs, and begin to ensure that corporations pay their fair share," through a 15% minimum tax, said House Progressive Caucus Chair Rep. Pramila Jayapal, D-Wash.
"The Congressional Progressive Caucus was essential to ensuring the president's economic agenda was drafted and passed in the House. While we are heartbroken to see several essential pieces on the care economy, housing, and immigration left on the cutting room floor—as well as a successful Republican effort to remove insulin price caps for those with private insurance—we know the Inflation Reduction Act takes real steps forward on key progressive priorities," she added.
The measure "will reduce energy, health care, and prescription drug costs for American families and make the biggest investment to fight climate change in our nation's history," Economic Policy Institute President Heidi Shierholz cheered.
These critical investments will be fully paid for by raising revenue from the wealthy and corporations – ultimately making our tax system fairer and stronger. And this legislation reduces the deficit, meaning it will put downward pressure on inflation. More than 100 economists agree.
The Inflation Reduction Act takes a significant step toward addressing some of our most pressing challenges. We recognize that more remains to be done, and we will continue to fight for necessary reforms to build an economy that lifts up everyone
Pelosi called the legislation "a victory for America's families and for our planet." She lauded its "key House Democratic proposals" to  "rein in health care costs for Americans," extend the ACA subsidies, and bargain down the prescription drug prices.
Will slash energy costs
"By defending America's energy security and reducing carbon pollution by nearly 40% by the end of the decade, it will slash energy costs and help save the planet.  This legislation will also fight inflation–including with an historic investment in paying down the deficit–while being fully paid for by making the largest corporations pay their fair share."
The "paying down the deficit," though, was one price the Democrats had to pay to get one of their two dissidents, West Virginia's Joe Manchin, on board. The measure envisions reducing the cumulative federal deficit by $300 billion over 10 years.
Another was to let a controversial $6.6 billion Mountain Valley fracked natural gas pipeline traverse his home state and Virginia on the way to North Carolina. That's no surprise. As Senate Energy Committee chair, Manchin has been a top recipient of fossil fuel firms' campaign contributions. OpenSecrets.com, which tracks campaign finance and lobbying dollars, reports that includes gelt from family connections.
The pipeline drew protests. "This is a pipeline that would generate emissions equivalent to that released by 37 coal plants or by over 27 million cars each and every year," Sanders warned on the Senate floor.
"Let us be clear: We do not support the bill's new provisions that expand fossil fuel leasing," Jayapal said. "However, independent analyses show their limited impact will be far outweighed by the carbon emissions cuts this legislation accomplishes.
Srijita Datta and Jorja Siemons wrote in OpenSecrets on August 5 that affiliates of Enterprise Product Partners, a Houston-based natural gas and crude oil pipeline company, have given Manchin nearly $98,000 this election cycle alone, including $5,500 from its corporate PAC. Marshall Roberts, part of the company's leadership, is married to Manchin's daughter, Brooke, they noted.
"Country Roads PAC, Manchin's leadership PAC, also received over $57,000 from Enterprise Product Partners' PAC and affiliates this election cycle," including $5,000 from its CEO, they added. Manchin's committees were Enterprise's top recipients. He doesn't face West Virginia voters until 2024.
And 2024 is also the next time the other balky Democrat who finally came on board, Arizonan Krysten Sinema, faces the voters. A member of the Senate Banking Committee, financial interests are among her top campaign donors—and her demands reflected that. In the current election cycle, she received $2.26 million so far from "finance, insurance and real estate" PACs and individuals, OpenSecrets said. That's 40% of the $5.7 million Sinema's hauled in from those lobbies since she came to Capitol Hill.
This year's figure doesn't count another $701, 000 from "other financial interests." OpenSecrets did not say if those other interests included the notorious payday lending industry, known for ripping off seniors, the poor and workers with extortionate interest rates. Its past contributions have been small, but Sinema's been their leading recipient over the years, corralling $47,500. Manchin is third ($10,000).
Ironically, in a tradeoff, Sinema agreed to one tax provision which may bring in almost six times as much money as the one she cut out of the legislation.
Catering to Wall Street hedge fund dealers, Sinema demanded that taxation of "carried interest," one of their favored dodges to reduce their tax rates down to lower levels, be dumped. It was, costing $14 billion. But in return, she accepted a proposal by Sen. John Hickenlooper, D-Colo., to impose the 1% stock buyback tax. That's calculated to bring in $73 billion.