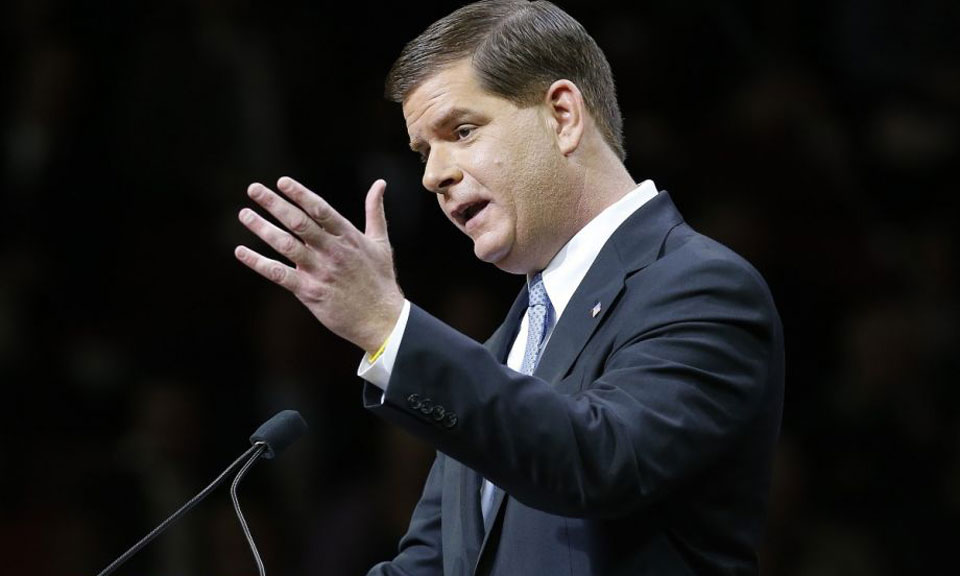 WASHINGTON —By a 68-29 margin, with all the "no" votes coming from Republicans, the Senate confirmed Boston Mayor Marty Walsh, a member of Laborers Local 223 and former head of the city's building trades council, as U.S. Labor Secretary. He's the first unionist to hold the job in decades.
Debate on the nod to Walsh was virtually non-existent before the March 21 vote. The only prolonged speech came five days before from Senate Labor Committee Chair Patty Murray, D-Wash., whose panel had OKd Walsh on a bipartisan 18-4 vote.
But Julie Su, California's top labor official, whom Democratic President Joe Biden has nominated for the #2 job at DOL, as Deputy Secretary, may not be so lucky.
"Workers who are the backbone of our economy have been pushed to the brink. They need…Marty Walsh so we have a secretary who will take quick action to address the urgent challenges we face and be a valuable partner in helping our economy come back stronger and fairer for all workers," Murray told her colleagues.
The "road to recovery" from the coronavirus pandemic and resulting economic depression "is long, and there are still many steps we need to take, including raising the federal minimum wage to one fair wage of $15 an hour, passing the PROAct into law to strengthen workers' right to join a union, and passing the Be Heard in the Workplace Act to protect people from harassment, assault, and discrimination.
"We have a lot to do and no time to waste…We need a Secretary of Labor we can trust to stand up for workers and not huge corporations."
AFL-CIO President Richard Trumka cheered Walsh's success.
"For four years, the Department of Labor has been devoted to serving a handful of elite interests, instead of working people. Not anymore. We congratulate our proud union brother. He understands the power of collective action, and his confirmation strengthens our fight to improve the lives of working people across the country.
"We're going to protect workers from COVID-19. We're going to raise the minimum wage to $15 per hour. We're going to build 21st-century infrastructure and create a new generation of good-paying union jobs. And above all, we'll finally protect our right to organize by passing the Protecting The Right To Organize (Pro) Act."
"As a labor leader and community activist, Marty Walsh helped tens of thousands of workers build strong, middle-class lives for themselves and their families," Laborers President Terry O'Sullivan said when Democratic President Joe Biden nominated Walsh.
"As mayor, Walsh made his deep roots in the trade union movement a central part of his political career, proudly wearing his union affiliation on his sleeve, and displaying his union card wherever he goes. He fought for Boston's working families, made city government more responsive to all those who live and work in Boston, and distinguished himself as one of the hardest-working, most innovative big-city leaders in our nation today.
"With his dedication and devotion to the cause, the purpose, and the mission of the labor movement, Walsh will restore and re-energize the Department of Labor's role as a powerful guardian of workers, and strong and effective enforcer of labor laws."
But while Walsh slid through, Su is catching flak from the GOP, just like they've targeted other women of color whom Biden has named to top jobs.
Her nomination hearing in Murray's panel featured GOP accusations she's responsible for fraud in unemployment insurance payments in the Golden State during the coronavirus pandemic—"fraud" due to a creaky system with few controls that predates her tenure.
Their real gripe is Su's aggressive enforcement of California labor laws, including against bosses who routinely violate them. Port trucking companies in Los Angeles-Long Beach–who routinely misclassify workers as "independent contractors," are Exhibit A.
Misclassification deprives workers of pay and overtime, forces them to shoulder employers' and workers' share of Social Security and Medicare payroll tax payments, and leaves them out of workers' comp and jobless benefits. The Teamsters have been campaigning for years to unionize those drivers, and Su's agency has brought and won, lawsuits against the firms who misclassify them.
The California Labor Federation cited her enforcement as a top reason to OK her.
"Fighting for working people is in Julie Su's DNA," said Art Pulaski, the state fed's Executive Secretary-Treasurer. "She tackled some of the most difficult issues facing workers today with vigor, always with justice as her beacon. Her forceful advocacy for low-wage and vulnerable workers on issues ranging from health and safety to wage theft to protecting the right to join a union has left an indelible mark in California. We have no doubt Su will bring that passion and drive to new levels as part of the leadership at the U.S. Department of Labor."