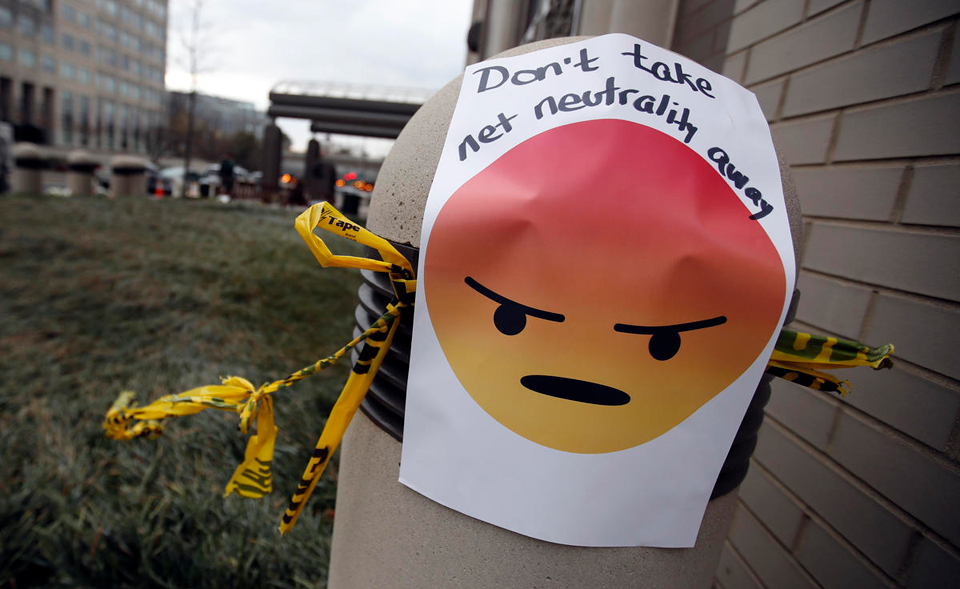 WASHINGTON—The long campaign by unions and progressive groups to preserve "net neutrality" – open and unprejudiced access to the Internet for everybody, without discrimination by price or content – succeeded in the Senate on May 16. It now shifts to the House, where leaders of that chamber's ruling Republicans oppose it.
That leaves more work to do for the Communications Workers, who have led the fight as a big part of their "Speed Matters" campaign, and their allies, going up against big business and the internet service providers. Business, in particular, wants to curb content it dislikes.
And that's important to workers and their allies, because high prices or rules to let ISPs ban certain content could push workers away from the Internet and from union members, allies and customers.
CWA lobbied lawmakers to use the Congressional Review Act to permanently dump the Trump-named Federal Communications Commission's anti-net neutrality ruling. That's what the Senate did. Ironically, the top use of the CRA in the past – after its passage by the 1995 GOP-run Congress – has been to permanently nullify pro-worker job safety and health rules.
"We need clear, enforceable rules to protect a free and open Internet for everyone while promoting job-creating investment in broadband networks. The FCC should have the authority to enforce any violations. Instead of clear, common-sense rules of no blocking, no throttling, and no favorable treatment to some websites, we now have a 'trust me' approach that is ineffective and meaningless," CWA said of the FCC Republican majority's Internet rule.
"Corporations should not be able to block, throttle, or otherwise limit Americans' access to lawful online content," said Paul Almeida, president of the AFL-CIO Department for Professional Employees, speaking for 24 unions. "Consumers depend on the Internet to enjoy their favorite music, shows, and performances. Creative professionals also rely on a level digital playing field to earn a living."
Consumers overwhelmingly back net neutrality, with the most recent survey showing an 85 percent majority for it, including 71 percent of Republicans, senators noted.
In 52-47 Senate vote, Republicans Susan Collins of Maine, Lisa Murkowski of Alaska and John E. Kennedy of Louisiana joined all 47 Senate Democrats and both independents in approving a measure, Senate Joint Resolution 52, to kill the Trump-named FCC's majority decision last year to dump net neutrality. Sen. John McCain, R-Ariz., was absent.
"The Obama-era FCC instituted net neutrality rules to prevent large Internet Service Providers from segmenting the Internet into fast and slow lanes, from selling faster service to folks who could pay and slower service to others — we didn't want that — and from charging customers more for their favorite sites, divvying up the Internet into packages like cable TV," said Senate Minority Leader Charles Schumer, D-N.Y.
"If large cable and Internet companies were allowed to do this, the Internet wouldn't operate on a level playing field. Big corporations and folks who could pay would enjoy the benefits of fast Internet and speedy delivery to their customers while startups and small businesses, public schools, average folks, including communities of color and rural Americans, could well be disadvantaged. Net neutrality protected everyone and prevented large ISPs from discriminating against any customers."
Right wing FCC Chair Ajit Pai pushed the anti-neutrality scheme through, overturning an Obama-era FCC decision to regulate the Internet impartially, like a public utility. In the debate, senators stressed that point, and that the Internet must stay open to all.
"You have to ask yourself, 'Why would the FCC vote to eliminate those protections?'" Sen Elizabeth Warren, D-Mass., said. "I will tell you why. Because under this administration, the FCC has become a puppet for giant Internet providers…Ajit Pai has made it clear he will work to put special interests over what is good for the American people."
"The FCC was once an agency dedicated to protecting and promoting the public interest, but it has morphed into an agency that exists solely to do the bidding of giant telecom companies. It is a disgrace. Who can say we didn't see this coming? When Donald Trump won the White House, then-FCC Commissioner Pai said net neutrality's days were numbered." Though Warren did not say so, Pai was at one time associate general counsel of Verizon.
Senate Commerce Committee Chairman John Thune, R-S.D., tried to sidetrack the joint resolution for net neutrality, by offering his own weak Internet bill, with a chance for 10 amendments. He lost. But he also predicted the joint resolution would go nowhere in the House, and charged it was really a Democratic campaign stunt.
And when Pai instituted the new un-neutral rule last year, House Speaker Paul Ryan, R-Wis., supported it.
"Despite its unassuming name, the Obama administration's net neutrality regulation threatens the free and open Internet that has done so much to advance modern society," Ryan charged then. "The Trump administration's action to roll back this egregious government overreach into the most innovative space will benefit all users of the Internet," Ryan claimed, without offering any proof.
The Trump administration has yet to take any position on the net neutrality resolution, SJRes 52, which would require his signature to become law.