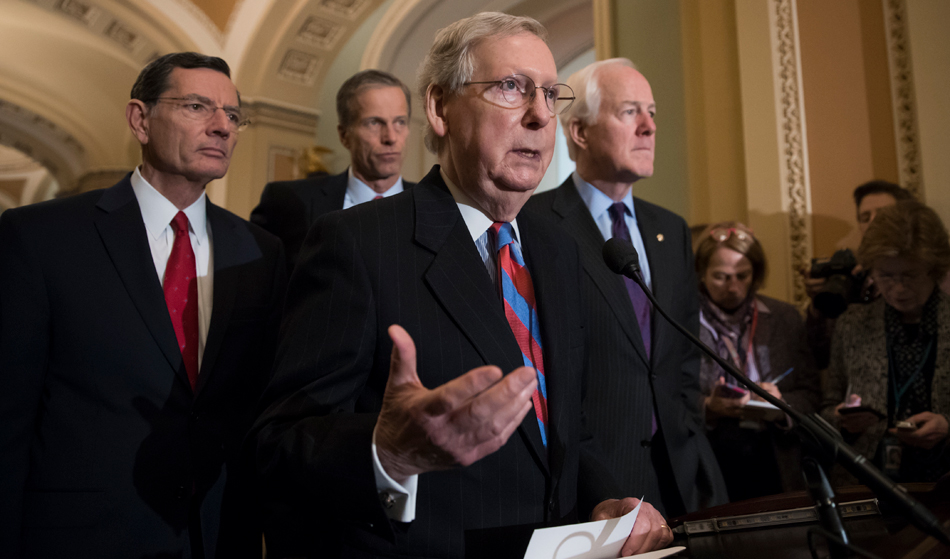 WASHINGTON—Shoving aside workers, consumers, and minorities—all of whom will get hurt—the Republican-controlled Senate approved a big bank deregulation bill on March 14 by a vote of 67-31.
Sixteen Democrats, 50 Republicans, and Maine Independent Angus King voted for deregulation. Sen. Bernie Sanders, Ind-Vt. and 30 Democrats, led by Sen. Elizabeth Warren, D-Mass., opposed it. Many of the Dems who voted for deregulation face the voters in "red" states this fall. So does King, in a leaning-Democratic state.
"This bill is an attack on working people," AFL-CIO Policy Director Damon Silvers told a telephone press conference the day before. He said it helps "poorly regulated financial institutions" who threw workers and their families out of houses, out of jobs, out of pensions, and out of student loans a decade ago in the 2008 crash—and who could now do so again.
Many of the workers, especially African Americans and Latinos, have never recovered, and their families are still in a recession, Silvers and Warren said.
The banking bill was a top goal of both Congress' ruling Republicans and President Donald Trump. Its Senate Democratic supporters, including Claire McCaskill (Mo.), Heidi Heitkamp (N.D.), Tim Kaine (Va.) and Joe Manchin (W. Va.) all claimed it would help smaller and community banks get out from under what they called "onerous" federal regulation, while still leaving the biggest banks subject to the stiff rules of the 2010 Dodd-Frank bank re-regulation law.
McCaskill said the new bank bill, S2155, "includes provisions" she cosponsored with Sen. David Perdue, R-Ga., "to provide regulatory relief to small regional banks subject to unnecessarily overly-burdensome regulations" of Dodd-Frank. "Those rules were never intended for banks that primarily engage in ordinary consumer banking practices."
Silvers, Sanders, Warren, AFL-CIO President Richard Trumka, and other foes all shot that argument down. They said S2155 would open the door wide to the big banks to once again get away with the financial finagling that caused the crash.
"It's no wonder that working people are fed up with Washington when the only legislation that can win support from both Republicans and Democrats is a huge gift to Wall Street billionaires," Trumka said.
"Ten years after the Great Recession rocked our country, this dangerous bill threatens our financial security by undoing some of the protections put in place to prevent another meltdown. Have legislators forgotten that these banks robbed millions of Americans of our jobs, homes, and life savings?"
"This bill also takes us back to exposing homebuyers and students to predatory lending while weakening protections against racial discrimination in credit. The only regulatory relief provided is to 25 of the 38 biggest banks in the country—banks that received more than $45 billion in bailouts. It's a travesty that some in Washington continue to give Wall Street even more at the expense of working people."
"Ten years ago, as a result of greed, recklessness, and illegal behavior on Wall Street, this country was plunged into the worst economic crisis since the Great Depression," Vermont's Sanders added. "Millions of Americans lost their jobs, their homes, their life savings, and their hope for the future."
"Are our memories so short that we have learned nothing from that disaster? Unbelievably, at a time of record-breaking bank profits, Congress now wants to deregulate some of the largest financial institutions in America, some of the very same banks that helped cause" the crash.
"At a time of massive concentration of ownership in the financial sector, now is not the time to deregulate banks that have more than $3.5 trillion in assets and lay the groundwork for another massive financial collapse. Now is the time to take on the greed and power of Wall Street and break up the largest financial institutions in the country," Sanders declared.
Warren, a noted consumer advocate and creator of the Consumer Finance Protection Bureau—also established in Dodd-Frank—said the bank bill will also restore redlining in the U.S. That's because it lets 85 percent of banks out of telling federal regulators who they lend to and on what terms—or don't.
Without knowing banks of all sizes reject two-thirds of people of color who seek home loans, the feds can't pursue such discrimination, she said. The minority applicants are "the ones who were left behind after rising home prices helped whites back on their feet" post-crash, Warren explained.
Lisa Donner, head of union-backed Americans for Financial Reform, was equally upset.
"A bipartisan majority of senators has chosen to commemorate the 10th anniversary of the worst financial crisis since the Great Depression by handing big banks and their lobbyists deregulatory gifts, at the cost of increasing the risks to financial stability, and the likelihood of consumer abuse, including racial discrimination, in mortgage lending. This legislation doesn't serve families or communities, nor is it policy that most Americans support. It puts the interests of financial institutions ahead of the rest of us," she said.
The Senate banking bill must now be melded with its House-passed counterpart, which analysts, including Americans for Financial Reform, say is even worse.