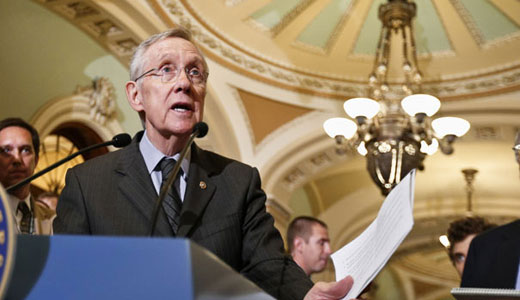 WASHINGTON – GOP senators today prevented debate on and killed the Paycheck Fairness Act, a mini-version of which President Obama ordered into existence yesterday for employees of federal contractors. The bill the Republicans killed today aims to end unequal pay between men and women.
It failed 53-44, falling seven votes short of the 60 it needed to advance to the floor. Senate Majority Leader Harry Reid – who supports the bill – voted against it so he could bring it back to the floor later in this session.
"Are they so repulsed by equal pay for hardworking women that they'll obstruct equal pay for equal work?" Reid said. "I'm at a loss as to why anyone would decline to debate this important issue."
The Senate vote was along party lines, as it was on two prior occasions when the measure failed in 2010 and 2012.
The law would forbid employers to retaliate against workers who discuss company payroll policy and the wages they are paid with other workers, and require employers to disclose payment and demographic information in addition to preventing them from punishing workers who discuss their salaries. It would also allow civil pay discrimination lawsuits against employers.
Debra Ness, president of the National Partnership for Women and Families, called the vote a "deeply disappointing missed opportunity to advance fair pay for America's women and families.
"Now is the exact time for Congress to advance measures that promote the economic security of America's women," Ness said. "Women are breadwinners in two-thirds of families and head more than 15 million U.S. households. "
This week, the National Partnership released a new analysis of the wage gap in all 50 states that shows that women and their families lose thousands of dollars in critical income each year and that they have significantly less money to spend on food, gas, rent and other basic necessities. The consequences for America's families, and for the state and national economies are significant, the study found.
"By blocking this bill, the Senate has failed to even allow debate on giving women the most basic of protections: a safety net against egregious discrimination in the workplace," said Deborah Vagins, ACLU senior legal counsel and co-chair of the National Paycheck Fairness Act Coalition. "The president's actions on pay equity yesterday were huge victories for federal contractors, so it's disappointing that Congress wouldn't extend these protections to all workers. As long as women workers continue to make less than men doing the same jobs, we will continue to fight for the Paycheck Fairness Act."
After the vote, Democrats said they would keep up the fight.
"This isn't over," said Washington Democratic Sen. Patty Murray. "Equal pay for equal work is going to remain at the forefront of our agenda in the months ahead, and we aren't going to let Republicans off the hook on an issue this important."
Photo: Democratic Senate Majority Leader Harry Reid of Nevada asksed about his GOP opponents on Wednesday, "Are they so repulsed by equal pay for hard-working women that they'll obstruct equal pay for equal work?" AP