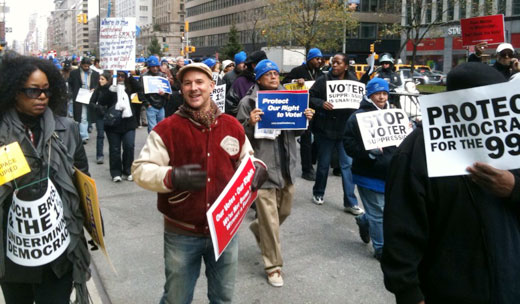 As thousands of civil rights and labor groups marched in New York City against Koch brothers funded and GOP-led efforts to suppress voting rights, the U.S. Senate scheduled January hearings on the issue.
The hearings of the Judiciary Subcommittee on the Constitution and Civil Rights will take place in the key swing state of Florida on January 27th. The hearings were requested by Florida Senator Bill Nelson. Illinois Senator Dick Durbin chairs the committee.
Florida has new election laws that restrict early voting from 14 days to eight. In Florida, writes USA Today quoting NAACP leader Ryan Hagood,"54 percent of African-American voters cast their ballots early in the 2008 general election, and blacks made up nearly a third of statewide turnout the Sunday before Election Day."
The hearing will occur just before the state's presidential primary.
Some Florida counties must have federal approval of voting law changes under the Voting Rights Act. "Hillsborough County is one of five Florida counties where changes to state voting laws must be cleared by the Justice Department because of past racial conditions that could have undermined voting rights." says a Saint Petersburg blog.
Across the country laws restricting voting are attempted in 37 states. House Democrats have also called for Washington hearings to investigate what they term "Jim Crow like measures."
Six states have taken aim at early voting: Wisconsin, Ohio, Maine, Tennessee, Georgia, and West Virginia.
Ohio election officials on Friday certified a November 2012 ballot initiative that would nullify the restrictions, thereby delaying their pending implementation.
Over 5 million people could be affected by the GOP attempts to limit ballot access which include requiring voter identification cards, eliminating same-day registration on voting day, prohibiting ex-felons from ballot access, restricting early voting and requiring proof of citizenship.
A recent study by Republican lawyers themselves shows no need for voter identification cards. "The data shows that during the entire 10 year period, 21 states had only one or two convictions for some form of voter irregularity. And some of these 21 states have the strictest form of voter ID laws, based on a finding of 2 or less convictions in ten years. Five states had a total of three convictions over a ten-year period. Rhode Island had 4 convictions for the same 10 years. Taking a close look at the RNLA data shows 30 states, including the District of Columbia, had 3 or less voter fraud convictions for a 10 year period."
Photo: Gabe Falsetta/PW