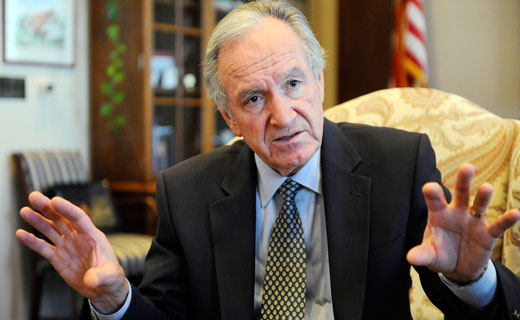 WASHINGTON (PAI) – The Senate will vote during the week of July 29 on all five of President Obama's nominees – three Democrats and two Republicans – for National Labor Relations Board (NLRB) seats, Senate Labor Committee Chairman Tom Harkin, D-Iowa, says.
And though he expects all five to be confirmed, Harkin also expects the votes to be one by one, rather than as a group. "The Republicans will want to do them one by one, to give themselves a chance to again say how the NLRB is detrimental to the country," Harkin said after the July 23 confirmation hearing for the last two.
That would set up the situation where a rabid right wing GOP senator from South Carolina, Tim Scott, could also again charge that one of the two, current AFL-CIO counsel Nancy Schiffer, is not credible when she says she can be objective.
Having a full NLRB is important to workers, union and non-union. Board decisions set the standards of labor-management relations for 85 million U.S. workers, union, and non-union, and most of them in the private sector. But the board now has only three members: Two temporary "recess appointees" Obama named in January 2012, plus chairman Mark Gaston Pearce, whose term ends August 27.
Without three members, the board could not function. Besides Schiffer and Kent Hirozawa, whom the Labor Committee each approved 13-9 on July 24, Obama re-nominated Pearce and nominated GOP management-side labor lawyers Harry Johnson and Phillip Miscimarra for NLRB seats. The Labor panel approved those three earlier. Sen. Lisa Murkowski, R-Alaska, and all 12 Democrats voted for Schiffer and Hirozawa.
Schiffer and Hirozawa, now Pearce's chief of staff, went through the July 23 Labor Committee confirmation hearing relatively easily – until Scott went after Schiffer. He doubted that, given her service with the AFL-CIO and the United Auto Workers, that she could be objective, even after starting her labor law career with the NLRB in Detroit.
Scott, a Tea Party favorite, represents one of the two least-unionized states in the U.S. Its GOP governor, Nikki Haley, appointed a lawyer from a union-busting firm as state Labor Commissioner. She's also vowed to make South Carolina "union free."
Scott resurrected yet another long-time Republican grievance: The reluctant decision by NLRB Acting General Counsel Lafe Solomon to charge Boeing with labor law-breaking and specifically with illegal retaliation against the Machinists. The company was retaliating against Washington state workers who were exercising their rights, including the right to strike, by deciding to produce the new 787 Dreamliner outside of that state, at a new non-union facility in South Carolina.
Scott brandished the Boeing case as he charged that Schiffer would not be objective and neutral in her decision-making as a board member.
"In 2007, you said that 'employers used the board as a sword,' that 'it no longer protects workers' rights,' and you used terms" about employers' actions towards workers like "'spy', 'harass', 'threatening' and 'deny.' You seem to have a strong position for ambush elections. And you attacked my bill in the House, HR2587, banning the board from destroying jobs in one state to transfer them to another state," Scott saids, referring to the Boeing brouhaha, which IAM and the firm later settled.
"So how can we have a high level of confidence in your neutrality and objectivity?" Scott challenged, making it clear that he has none.
"I started at the NLRB as a board agent" hearing cases in Detroit, Schiffer calmly replied. "I was commended for my work. I understand, there and at the UAW and the AFL-CIO, what it means to take a job seriously. I want the" National Labor Relations Act to succeed." Her NLRB mentor was known for judiciousness, she added.
Schiffer also told Scott she saw and heard testimony from workers who suffered employer abuses and labor law-breaking, and that it was her role as a conscientious counsel for the UAW and the federation to be an advocate. Indeed, when she left the NLRB Detroit office to enter private practice, "Some of my clients would look at me and ask 'How do I know you'll be an advocate, and not a neutral arbiter?'"
Questioning from other senators was more moderate, though Sen. Johnny Isakson, R-Ga., got both Schiffer and Hirozawa to agree they would look very, very carefully at a proposed regulation now being circulated around the board.
The proposal would expand the data firms must legally turn over to unions for contact purposes, once the union has filed the required number of election authorization cards. The data, in the so-called Excelsior list now includes just names and addresses. The proposal would add telephone numbers, e-mail addresses and work locations.
Harkin also forecast the fight over NLRB nominees, which the Senate concluded by forcing Obama to withdraw his nomination of the two recess appointees, Richard Griffin and Sharon Block, for full terms, would be the last such battle. Schiffer and Hirozawa would replace Griffin and Block. Harkin explained the war would not repeat itself when Obama sends up one more name for an NLRB post: A permanent general counsel to replace Solomon. He said the GOP, as part of the agreement to force Griffin and Block out, promised also not to filibuster a new general counsel.
Photo: Harkin. AP