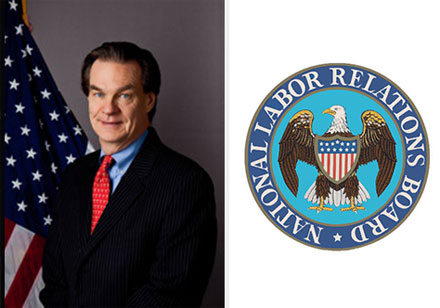 WASHINGTON (PAI) – The Senate is scheduled to vote late on Oct. 28 on President Obama's nomination of former Operating Engineers General Counsel Richard Griffin to be General Counsel of the National Labor Relations Board (NLRB), the agency's chief enforcement officer.
Though the Senate Republicans reportedly promised not to filibuster Griffin, right-wing groups, plus the notoriously anti-worker Wall Street Journal editorial page, are trying to gin up opposition to his nod.
The General Counsel is the NLRB's chief operating officer and chief enforcement officer. His office decides which cases to take to the board for decision, when to pursue court orders against labor law-breakers and many other issues.
As a measure of the importance of the office – and of the controversy it brings – current Acting General Counsel Lafe Solomon landed in hot water with the GOP and business several years ago when he had to bring labor law-breaking charges against Boeing. The firm moved its Dreamliner construction to anti-union South Carolina to illegally retaliate against the Machinists' standing up for workers in the Northwest.
"Richard is highly respected by lawyers on both the labor and business side of labor law," Operating Engineers President James Callahan said when Obama named Griffin to a recess seat on the board itself, which Griffin held in 2012-13. That statement still holds. Permanent NLRB members have since replaced the recess appointees.
"His fair-minded approach to legal questions is exactly what the NLRB needs," Callahan continued. "As IUOE's General Counsel and as a former counsel to the NLRB board members, he has substantial experience in employment law. As a former trustee of the IUOE's central pension fund, he played a key role in safeguarding the interests of employers and employees alike."
Photo: Richard Griffin. NLRB.gov
TOWN HALL May 2 – Confronting the COVID Economy: Women Fight Back