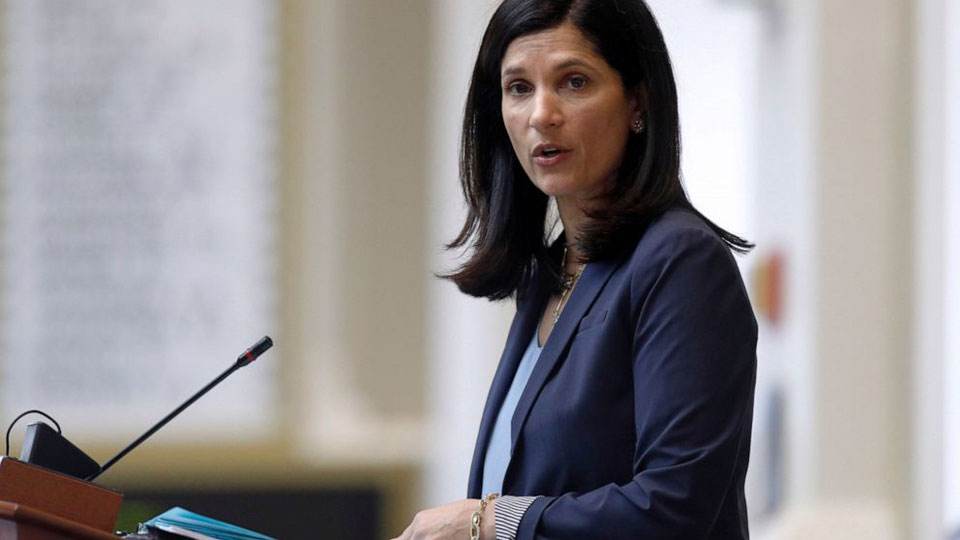 PORTLAND, Maine—U.S. Supreme Court Justice Brett Kavanaugh has, unintentionally, put veteran Sen. Susan Collins, R-Maine, in the race of her life. That was predicted and predictable.
Collins, seeking her fifth six-year term, blew her carefully cultivated independent image out of the water by providing the key vote last year to confirm Kavanaugh, GOP Oval Office occupant Donald Trump's controversial second High Court nominee. Now she's part of an ever-expanding field of vulnerable Republican senators this year. Collins faces state House Speaker Sara Gideon (D).
The Senate races are vital to workers, no matter who wins the White House, Trump or Democratic nominee Joe Biden, Barack Obama's VP. The GOP holds 53 Senate seats, Democrats 45 and Democratic-leaning independents two. Democrats need a net gain of four-five to overcome a likely loss in Alabama—to ensure a Senate majority that could handle pro-worker legislation.
And Trump's disastrous failure to acknowledge and confront the coronavirus pandemic, the resulting economic depression, his racism, xenophobia, misogyny, rants, tweets, and his right-wing Supreme Court Justices—Neil Gorsuch, Kavanaugh, credibly accused of sexual harassment as a teenager, and Amy Coney Barrett—have upended those Senate races.
The shaky GOP roster is now up to a dozen or so of the 23 GOP-held seats up this year. They include not just Collins but Iowa incumbent Joni Ernst, who is battling Democrat Theresa Greenfield, plus an open GOP-held seat in Kansas where two MDs face off, and Alaskan Trumpite GOP Sen. Dan Sullivan. There, "Meet Dr. Al" Gross, an orthopedist who's also a Painters Union member, is running as an independent, with Democratic backing, in a close battle in a state with a history of iconoclastic voting.
No Senate candidate, of either party, challenges the basic underlying inequities of corporate capitalism, as Sen. Bernie Sanders, Ind-Vt., does. Indeed, Greenfield now is a business owner, though she remembers how the Electrical Workers helped her when her first husband, a union member, died, leaving her a single mother at age 24. She wants to help close those chasms. The GOP, led by Trump, schemes to widen them.
"So much good legislation that would help working families has died in the Senate because" GOP Majority Leader "Mitch McConnell refuses to bring the bills up for votes," UAW President Rory Gamble says. "The country is at a standstill because of McConnell's actions."
"We need to have lawmakers debating and working on legislation that will protect workers' rights, grow jobs, provide affordable health care, and keep Social Security and Medicare. The danger is having a Senate that doesn't do anything but rubber-stamp anti-worker judges and continues to cater to the 1% while doing nothing for the rest of us."
Maine down to the wire
Collins rubber-stamped Kavanaugh in 2019. Outraged women and Democrats gathered a $3.5 million war chest to present to the winner of the party primary, who turned out to be Gideon. She's making workers' points against Collins, who is literally the sole congressional Republican from all of New England.
Gideon, with strong worker and union support, leads Collins by an average of five percentage points in a state Trump lost four years ago. Maine is rated Safe Democratic in this year's presidential race. But there are five independent Senate hopefuls in the Gideon-Collins tilt. That could complicate matters, preventing either from getting the absolute majority she needs to triumph under Maine's ranked voting system.
Gideon has strong Maine union support and reciprocates. She joined with Machinists Local S6 members picketing the Bath Iron Works naval shipyard after bosses forced the 4,300 unionists into a long, but ultimately successful, strike. Collins showed up to talk with the workers, and wrote to Trump's Navy Secretary, asking him to push the firm into meaningful bargaining with Local S6. The secretary declined.
"Speaker Sara Gideon has pushed to strengthen collective bargaining rights for woods workers and public employees, fought to provide health care coverage to 70,000 Mainers, defeated anti-union 'right to work' bills" as state House Speaker, "passed a law to protect workers from wage theft and supported a new law that provides paid sick days for 139,000 Maine workers," the Maine AFL-CIO explained in backing her.
"When members of the Machinists Local S6 were on strike at BIW this summer, Sara walked the picket line, met with the bargaining committee, and urged the company to settle a fair contract."
"I fought to expand Mainers' access to health care because women and families should never be barred from the services they need based on where they live or how much money they have," Gideon added in accepting the AFL-CIO endorsement. "My focus will be on standing up for Mainers especially when it comes to protecting our rights and fighting for our health care."
Collins' support for Kavanaugh and other Trump-named judges particularly angered NARAL Pro-Choice America, which hosted her for a solo Zoom session with members earlier this year. NARAL's political arm is running phone banks and canvassing—while wearing protective masks–for Gideon.
"Sara Gideon has been leading the charge for reproductive freedom in Maine as Speaker of the House and we're proud to endorse her campaign for Senate," said NARAL President Ilyse Hogue. Maine residents "need someone who will fight for them in Washington and stand up to Mitch McConnell, Donald Trump and the Republican Party's attacks on women and families. Collins infamously voted to confirm Brett Kavanaugh to the Supreme Court. The truth is she has supported many more of the president's anti-choice nominees at every level." Voters "deserve a real fighter for reproductive freedom in the Senate."
Meanwhile, in yet another echo of Trump, Collins's TV ads criticize Gideon and Democratic Gov. Janet Mills for "shutting down the state" to battle the coronavirus pandemic. Gideon has the funds to fight back. She outraised Collins by a 3-to-1 ratio and leads 5-to-1 in cash on hand, with $20.67 million to the senator's $4.4 million. But outside GOP-oriented PACs and dark money groups have spent another $20 million on pro-Collins and anti-Gideon ads.
Ernst hurting in Iowa
Iowa is one of the nation's breadbaskets, and Trump's tariffs trashed its farmers, especially of corn and soybeans, where the Hawkeye State leads the country. Ernst didn't object, then couldn't cite the price of soybeans in a recent debate with Greenfield. It hurt her. So did Trump's slump in state polls. Iowa was a swing state, but he won it in 2016 over Hillary Clinton, 51.1%-41.4%. Biden passed him in cumulative Iowa polls on Sept. 26 and now leads 47.7%-46.3%, within the margin of error.
The Senate race reflects the presidential tilt: Greenfield has led for months by two to four percentage points. The two latest polls give her 47%-43% leads, within the margin of error. Greenfield has outraised and outspent Ernst by two-to-one ratios and still has a $1.2 million lead in cash.
"Both Biden and Bernie are supporting her," says Latino community activist Joe Henry. "There's also lots of money for Greenfield and she's riding the wave" for Democrats. And female Iowa voters are breaking for Greenfield, Henry says, just as they are nationally for Biden.
Greenfield is "also embracing issues important to people of color, such as reforming policing and [establishing] a pathway to legalizing immigrants," Henry notes. Iowa's meat-packing plants have large concentrations of Latinx people, some of them undocumented. Meanwhile, Ernst "has become a D.C. insider" as shown by her performance during hearings on Barrett's nomination and her soybean flub.
The Iowa AFL-CIO broke with tradition and backed Greenfield in the party primary, which she won handily. Though she now describes herself as a businesswoman, Greenfield remembers the Electrical Workers stepped in to help after her first husband died.
"Our workers are at the heart of our communities, and throughout this crisis, they've been going in early and staying late, working on the shop floor, the hospital wards, and at the grocery store, and making sure our lights stay on, our streets are clean, and our shelves are stocked," she said after the fed's nod.
"I wouldn't be in this fight today if it hadn't been for my first husband's hard-earned union benefits that helped me get back on my feet after he died at his job as a union Electrical Worker. I'll never forget the hand up that they gave me, or the way they fight on behalf of working families across our state." She pledges to push apprenticeships, skills training, "higher wages and high-quality health care, and making sure every Iowan can get ahead and support their family with dignity."
"Theresa's support of issues important to working Iowans makes her a compelling alternative to the current senator who routinely votes against the interests of Iowans in Washington and spins the outcomes back here in Iowa," said state fed President Ken Sagar. Including the state fed, 23 unions or union councils have endorsed Greenfield. That includes IBEW's state council.
"When it came to protecting Iowans from disastrous trade policies that devastated Iowa farmers, Ernst failed to stand up adequately for them," the Auto Workers said. Added UAW regional director Ron McInroy: "She's tough and will fight for all Iowans, including farmers and factory workers whose jobs rely on foreign trade." Industrial unions have lost factory jobs in Iowa, especially around Cedar Rapids.
Kansas and Alaska: Call the doctor
There's one unifying factor in two unlikely Senate battles, in Kansas and Alaska: Medicine. Three of the four major-party Senate candidates are doctors: Kansan State Sen. Barbara Bollier (D) and U.S. Rep. Roger Marshall (R) are MDs. Alaskan Al Gross, an independent and a Painters member running with Democratic support, is an orthopedist. The non-medico: Sen. Dan Sullivan, R-Alaska, a Tea Party member and Trumpite.
Doctoring pushed a medical issue—Kansas GOP's refusal to accept federal Medicaid dollars to expand the program under the Affordable Care Act—to the top of its Senate race. It also first pushed Bollier to switch parties and then to seek the vacant GOP-held U.S. Senate seat. The other issue that peeved her was when then-GOP Gov. Sam Brownback imposed extreme versions of Republican tax cuts for the rich on Kansas, cutting revenues, shorting its schools and roads, cutting teachers' pay, and tanking its budget.
That's why Teachers President Randi Weingarten, on an October cross-country bus tour to back pro-teacher hopefuls, stopped in Topeka for a "lawn chair" campaign event—with masks and social distancing due to the coronavirus pandemic—with Bollier. AFT includes school nurses among its members.
"Barbara knows her stuff, is compassionate, is extraordinarily competent, who has conviction about the importance of expanding healthcare, and someone who is morally righteous," said Weingarten, who also lauded Bollier's party switch.
"This is one of those elections where you will see a difference in our country going forward or backward. It is an election about the common good and common sense. I can't wait until Nov. 3 because I want to see Dr. Bollier in the Senate."
As might be expected, the ACA's future is a top issue in the Kansas race. Marshall, like Trump and other Republicans, pushes to abolish the ACA, with no replacement. Bollier, true to her state legislative record, wants to keep and improve it.
Bollier, in her talk with Weingarten and voters, stressed jobs, protective gear for frontline workers, and loans to keep small businesses afloat. "I am about people over party. We must work together," she said.
But Bollier faces, among other things, Kansan history. Democrats win when its dominant Republicans split. Normally, Dems top out at 40%-43% of the statewide vote. The last Democratic senator—only the third ever—lost his seat in 1938, after one six-year term. The governorship has been more competitive. Democrat Laura Kelly holds it now, thanks to yet another GOP split two years ago.
Marshall won a bitter primary against former Secretary of State Kris Kobach, a notorious Trumpite and author of racist anti-Hispanic state laws not just in Kansas but elsewhere. Kobach also chaired Trump's "vote fraud" commission, which didn't find any. Republicans defected and he lost to Kelly in 2018. Now, 75 Kansas Republicans, led by revered retired moderate Sen. Nancy Landon Kassebaum, have endorsed Bollier. So did the state AFL-CIO.
In Alaska call the foot doctor
In Alaska orthopedist Gross, whom the Painters list as an "owner/operator" of his practice on Local 1959's rolls, stresses the same issues—but with union backing. Alaska is 17.1% unionized, fifth in the U.S. That's the state's lowest union density rank in years.
"We need to promote jobs with a livable wage, quality benefits, and safe working conditions. Labor unions facilitate all three of those goals. So when my staff approached me about unionizing my campaign, I encouraged them to do so," he added. That's in addition to his own union card, held by a candidate who refuses to take corporate campaign finance (PAC) contributions—and who has more money in the bank.
"I will always be a fierce advocate for organized labor and working families. Dan Sullivan has repeatedly voted for appointees to the National Labor Relations Board that are either unqualified or outright hostile to worker protections. I will do exactly the opposite. I will also oppose any legislation that works to weaken unions and working families and will begin working immediately to shore up our struggling pension system and pass reforms to ensure this situation never happens again."
"The pandemic has only exacerbated an ongoing health care problem in the state and Gross made the issue central to his campaign against Sullivan, who has voted to repeal the Affordable Care Act on several occasions," Alaska media reported.
All that rings a chord in Alaska. Public opinion polling there is sparse, but what polls exist waver between one-point edges for Gross and four for Sullivan. One outlier gives the senator a 45%-37% lead.