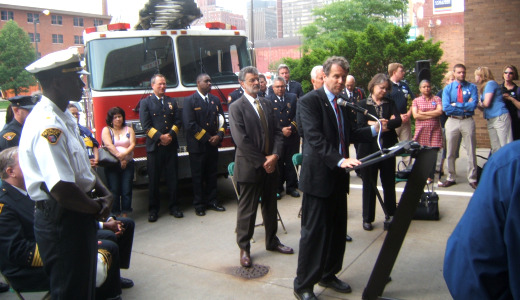 CLEVELAND – At a packed press conference and rally here Wednesday, Sen. Sherrod Brown, D-Ohio, announced plans to introduce a $100 billion jobs bill when the Senate reconvenes next week.
The bill, called the Local Jobs for America Act, "would create or save up to a million jobs quickly in both the public and private sectors and help restore access to vital services on which families rely," he said.
Joined by Cleveland Mayor Frank Jackson and Akron Mayor Don Plusquellic in front of Cleveland's Fire Station 1, Brown said the bill would allocate $75 billion directly to local municipalities and nonprofit community organizations who would decide how best to use the funds. The purpose, he said, was to prevent planned cuts and rehire critical public safety and service workers who have been laid off because of declining tax revenues.
An additional $24 billion would go to states for jobs in education and public safety. The bill would also authorize $1 billion for private sector job training programs.
The bill is companion to HB 4812 introduced in the House by Rep. George Miller, D-Calif., which now has 161 co-sponsors.
Brown said the legislation could be partly funded by taxes on Wall Street speculation and by renewed tax revenues from the jobs created directly and indirectly. But, he said, "the most important thing is getting people back to work."
"We had a balanced budget under President Clinton," he said. "The people who are pushing the deficit alarm now didn't ring the bell when the real deficit spending occurred" under President George W. Bush. This included the huge unfunded spending on the Iraq war, the tax cuts for the richest Americans and the massive payouts to insurance and drug companies through the 2003 Medicare Modernization Act.
"They started the fire," Brown said of the Republicans. "They are now calling the fire department, yet they don't want to give the firefighters the resources they need to keep us safe and communities thriving."
Brown's remarks were applauded by those present including about 100 members of public sector unions – firefighters, police, service employees, transit workers and teachers.
"This will definitely help the safety forces," said Third District Police Commander Calvin Williams. "We usually get called when people need help. I'm glad Senator Brown is there when we need help."
Plusquellic, representing both the city of Akron and the U.S. Conference of Mayors, said people understood when Wall Street and the auto industry were "too important to fail." He asked, "Why is it so hard for people to understand the importance of local services – schools, police, fire?"
Akron used to have 3,400 employees and now has 1,950, he noted. "I don't want to hear from those right-wing wackos that we don't know how to run a city."
Photo: Sen. Sherrod Brown announces Senate jobs bill in front of Fire Station 1 in Cleveland, June 2. Standing behind him is Cleveland Mayor Frank Jackson. (Photo by Les Wiley)