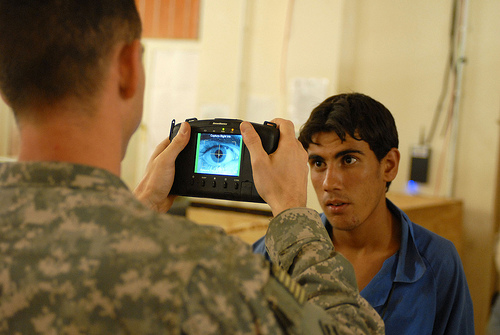 A disturbing item appeared in the Wall Street Journal March 9. Lawmakers are considering biometric identification cards for workers as part of legislation on immigration reform.
WSJ's Laura Meckler reports the science-fiction-like proposal is a "potentially controversial plan still taking shape in the Senate." The plan, Meckler says, is "all legal U.S. workers, including citizens and immigrants, would be issued an ID card with embedded information, such as fingerprints, to tie the card to the worker."
The article also mentions using a person's vein patterns, facial recognition and iris scanning as other methods of biometric identification.
The initiative in the Senate is being led by Sens. Chuck Schumer, D-N.Y., and Lindsey Graham, R-S.C., who say the ID issue is the political "nub" of the immigration debate. It would prevent employers from hiring undocumented immigrants, end fraud and identity theft, and prevent a "new wave" of undocumented immigrants if a path to legalization is passed, they claim.
The White House has no position on the biometric card, Meckler reports.
The controversial proposal has already met with opposition from employers who say such a program would be too expensive. Privacy and civil rights groups say such an ID system would give the government too much information and be used to racially discriminate against Latino, Asian and African American workers, and eventually all workers.
"This is a frontal attack on the civil liberties of all people in the United States," said Arnoldo Garcia of the National Network for Immigrant and Refugee Rights, an Oakland-based group that emphasizes building diverse and inclusive grassroots coalitions for human rights. "It's another generation of legal discrimination," he said in a March 10 telephone interview.
"This is an ongoing theme. We have to know what is in the 'comprehensive immigration reform' measure. Immigration legislation has long been used to make concessions to corporations," and "chip away at" human and labor rights, he said.
Garcia recalled that in 1986 when Congress passed the last immigration reform law, it included employer sanctions. "They were supposed to sunset if any racial discrimination was found by these sanctions."
Garcia said that the Government Accountability Office, GAO, did a three-year study and found discrimination against Latino and Asian job applicants. But Congress did nothing to lift the discriminatory sanctions, he said. Garcia said "black and brown workers" would face similar discrimination with any kind of ID system.
American Civil Liberties Union legislative counsel Chris Calabrese told the WSJ the card would be a "massive invasion of people's privacy."
Calabrese said such plan would mean "treating ordinary Americans like criminals in order to work."
Many civil rights organizations and activists especially in Latino communities are urging action this year on immigration reform. On March 21, a national march on Washington on this issue will take place.
Across the political spectrum, Americans have strongly opposed a national ID. However, in 2005, the Real ID Act was introduced by Wisconsin Republican Rep. James Sensenbrenner, passed by Congress and signed into law by President Bush.
But in 2007, the enforcement was postponed until 2009, while attempts to repeal it stalled.
In 2008 the enforcement deadline was extended to 2011, "in hopes of gaining more support from states," CNN reported.
Schumer's and Graham's offices did not respond to this reporter's queries asking, "Would professionals, like stockbrokers, doctors, others have to get such an ID? Sen. Graham said it would be similar to a Social Security card. Would all newborns have some kind of digital authentication for this card? How would this be different from a national ID card?"
Photo: Staff Sgt. Matthew Valek, a Ceres, Calif., native, uses a biometric camera to store data for a worker on Forward Operating Base War Eagle in northern Baghdad, Sept. 16, 2008. http://www.flickr.com/photos/soldiersmediacenter/ / CC BY 2.0