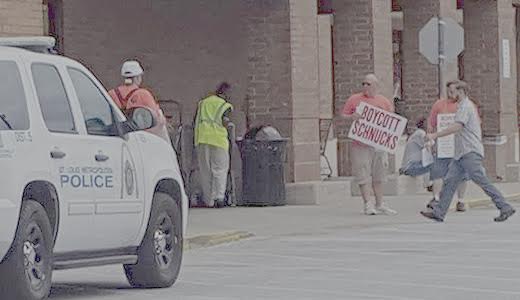 Trump trumped by NLRB
LAS VEGAS – Housekeepers and servers at the Trump Hotel here were celebrating an order from the National Labor Relations Board Thursday ordering Boss Trump to recognize their union and bargain in good faith. Nearby, It was a landslide vote at the Boulder Station Casino & Hotel where 570 workers voted two to one to be represented by Culinary Workers Union Local 226 and Bartenders Union 165.  "We want to have fair wages and good health benefits," said Rodrigo Solano, a cook at the casino.
The casino workers have pledged to deliver the state of Nevada for Hillary Clinton. Already 100 casino workers have taken leave from their jobs to participate in daily canvassing and phone banks. "Donald Trump is a bad boss and he'll make a bad president," said Bethany Khan, a spokesperson for Local 226.
Healthy picket lines
MINNEAPOLIS – Thousands of nurses hit the picket lines this week after Allina Health management walked out on negotiations when their demands to cut nurses' health care weren't agreed to. The nurses are picketing five facilities, where replacement nurses and supervisors are being utilized. Thirty-eight hundred nurses are covered by the contract. The Minnesota Nurses Association called on Allina Health to return to the bargaining table and "bring experienced nurses back to the bedside," Workday Minnesota reported.
 'Don't be a schnook, boycott Schnuck's'
ST. LOUIS – Why is Schnuck's supermarket chain, "the friendliest store in town," kicking Girl Scouts and their cookies off its 100 properties? The cookie-sale ban is a desperate ploy by management to justify barring members of Teamsters Local 688 from distributing informational flyers about its Schnuck's boycott, using the argument that "soliciting" interferes with the customers' shopping experience.  The law's not on Schnuck's side though, says Local 688 Business Rep Mike Schluter. Employees have a right protected by the National Labor Relations Act to distribute work-related information at their work place.
The boycott was called after the giant supermarket chain's decision to fire more than 200 of its warehouse workers earlier this year. Schnuck's signed up an "independent" contractor to run its new state-of -the-art warehouse – a contractor who hires workers at lower wages to do the same work.  The replacement workers will be paid $10-11 an hour with no benefits, while the jobs that were eliminated maxed out at $24 an hour plus healthcare and retirement. It's unclear how much the wage cuts will add to the corporation's bottom line: Schnuck's website reports annual revenues of $2.6 billion.
Consumers have shown considerable sympathy – some stores have lost up to 25 percent of their business, according to the St. Louis Labor Tribune. "Shoppers tell us they're tired of getting screwed around by corporations," reported Schluter.
The Local's website asks shoppers to call Schnuck's at 314-994-9900 and ask them to stop the job cuts.
Think your job is a zoo?
Work is a zoo for these UAW members at Potter Park Zoo in Lansing Mich.  Zookeepers are following their passion while their pay, benefits and safety are protected. Check out the animals here.
Photo: St. Louis City police, called by the Schnuck's manager, showed up at the Teamsters handbilling at the 4171 Lindell store but left after telling the manager the union has a right to be at the store's front entrance.   |  St. Louis Labor Tribune.