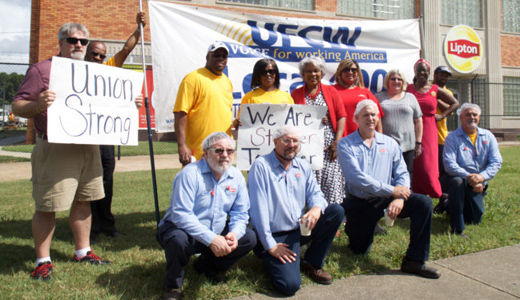 Incarcerated workers are workers too!
The labor movement as a whole should address the rights of workers inside the nation's prisons, urged APALA, the AFL-CIO's constituency group representing Asian and Pacific American workers.
"Corporations behind the private prison industry profit from the free labor of inmates and the systematic mass incarceration of communities of color," said APALA Executive Director Gregory A. Cendana.
In a message of solidarity with a nationwide strike of prison inmates on Sept. 9, APALA National President Johanna Hester expressed outrage that "the use of forced labor in our prison system is a legalized and continued practice. "Hester called for reforms that would focus on "restorative and transformative" models of justice.
The prisoners' peaceful strike was called to commemorate the 45th anniversary of the Attica Prison riots. Striking inmates this week called for reforms to prison policies and practices and improved living conditions.
"APALA stands with incarcerated folks whose labor has too often and too long been exploited by the prison system," said the group's statement.
Veteran health care still under the gun
Lawmakers should be thanking the employees of the Veterans Administration, not attacking them, said American Federation of Government Employees President David Cox. "We should be empowering the people who care the most about our veterans," continued Cox, a retired VA psychiatric nurse.
Cox was responding to the push by Rep. Jeff Miller (R-Fla.), Chair of the House Veteran's Affairs Committee, to take away the workplace rights of VA workers, one third of whom are veterans themselves.
Miller used old news to justify his proposal- four years ago the VA had a problem with long waiting times for appointments. Ironically, Miller is trying to undermine the same union workers who helped expose and resolve the waiting list problem.
Cox pointed out that the workplace protections that Rep. Miller seeks to do away with are what made it possible for VA psychologist Dr. Michelle Washington to testify before a Senate committee about waiting times at the Wilmington, Del. facility where she works. When angry VA managers tried to retaliate against the whistleblower, Dr. Washington, an AFGE member, was protected by her union.
As a result of revelations like Dr. Washington's, the VA hired over 14,000 new health care providers.  Veterans now report 90% satisfaction with getting timely appointments.
Veteran advocates charge that attacks on VA are an attempt to divert its $72 billion health care budget to private providers, throwing the nation's veterans to the mercy of for-profit providers.
Treat yourself to a cup of union tea
SUFFOLK, Va. (PAI)-Lipton Tea is now union tea. That's because the 200 workers here at Lipton's only U.S. plant voted just before Labor Day to unionize with Food and Commercial Workers Local 400. Almost all Lipton tea drunk in North America comes out of the Suffolk plant.
Key issues in the organizing drive included mandatory 12-hour shifts for up to 13 days in a row and declining benefits, UFCW said. Local 400 President Mark Federici praised the Lipton workers' "courage, commitment and tireless efforts…to stand up for themselves."
CWA communicates solidarity with Standing Rock Sioux
The Communication Workers of America will "firmly stand in solidarity with our brothers and sisters of the Standing Rock Sioux tribe against the environmental and cultural degradation of their community," stated a Sept. 9 press release from the 700,000 member union's Committee on Human Rights.  "The labor movement is rooted in the simple and powerful idea of solidarity with all struggles for dignity, justice and respect," the statement explained.
13 Million TPP opponents trade messages with Congress
Congress heard from 13 million workers and their allies both on- and off-line on Sept. 14 in a mass protest against the Trans-Pacific Partnership so-called "free trade" pact. Scores of organizations joined unions in coordinating the massive protest.
"The TPP is a corporate Trojan Horse packed with devastation for all of our goals and the policies we all care about," the Machinists Union website said in urging workers and their allies to bombard Congress with calls.
The Center for Food Safety sent out alerts to its 800,00 members urging them to participate in the call-in action telling their member of Congress to vote no on the TPP, according to–Debbie Barker, the Center's international director.
"TPP was not written by or for people, but by and for powerful corporate interests, said Emma Einhorn of moveon.org.
Other participants in the collaboration included: AFSCME, CWA, UAW, Teamsters, USW, Sierra Club, the Presbyterian Church, Public Citizens and Witness for Peace.
Photo: Lipton Tea workers and their supporters from other unions pose in victory in front of the plant in Suffolk, Va. The 200 workers at the plant, who make almost all the Lipton Tea drunk in North America, voted overwhelmingly to join UFCW Local 400. Local 400 photo via PAI Photo Service.