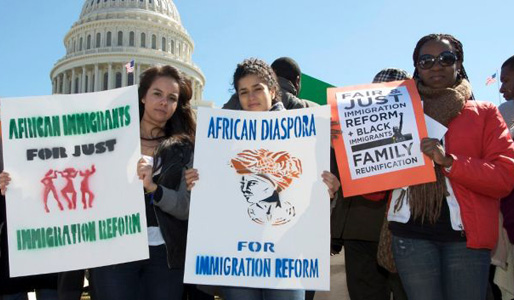 WASHINGTON (PAI) – Judith Howell has a message for Congress: Pass comprehensive immigration reform, with a quick path to citizenship for undocumented workers, to reunite families and give everyone a chance in America – and don't forget or brush aside the concerns of immigrants and their descendants who happen to be black.
And if Howell, a member of Service Employees Local 32B-J, and her colleagues have their way on Capitol Hill, that message will be heard loud and clear. It's already been heard by the 42-member Congressional Black Caucus (CBC).
Howell, the daughter of Caribbean immigrants who has split her life between D.C. and the Bronx, was one of several dozen 32B-J members at a pro-immigration rally on sun-splashed Capitol Hill on March 20. Most of the several hundred participants, overwhelmingly from New York, were black, representing religious and civil rights groups as well as SEIU.
And their message was that the last time Congress passed immigration reform, in 1986, concerns of immigrants and their children from Haiti, other Caribbean countries and countries of Africa – virtually all black – were ignored. Not this time, participants and lawmakers said.
The rally came as Congress appears to be moving towards unveiling two different versions of comprehensive reform. The Senate's "Gang of Eight," four Republicans and four Democrats, is working on legislation, as is a 4-person House group, including two Republicans and Rep. Luis Gutierrez, D-Ill.
But while comprehensive immigration reform has been thought of primarily in terms of how it would affect Hispanic-named people and their kids, Howell and her allies say blacks back it, too, with their own special concerns.
Immigrants worked here, they pay taxes here, they have families here and those families shouldn't be broken up!" she vehemently declared in an interview during the rally. "People are being deported. It's unnecessary and unacceptable."
It's particularly unacceptable to the black community, other speakers said. Besides other positions that immigration advocates take – led by legislating a clear and quick path to citizenship for 11 million undocumented workers – the unionists and their allies want an end to deportations of those workers.
They note one of every 10 undocumented workers is black, but a majority of the deportees are black. The deportations have reached record numbers under the Democratic Obama administration.
Many deportations involve workers trying to unionize, Howell pointedly said.
"You can't bring in an underclass to work," she said of exploitative employers "and then, when they're seeking to organize and gain a fair wage, turn them out."
The 42-member CBC has gotten the message and will articulate it, said four of its members: Reps. Charles Rangel and Yvette Clarke, both D-N.Y., Bobby Rush, D-Ill., and Steven Horsford, D-Nev., chair of CBC's Immigration Committee and a former top official in Unite Here. Immigrants and minorities are huge proportions of his union.
Rush went so far as to warn that unless deportations stop and the discrimination against black immigrants halts, the CBC might well abandon immigration reform.
"And if it does not have provisions to let them (immigrants) become citizens, it will not get my vote," Rush said.
Citizenship for undocumented workers is a stumbling block for Republicans. Their opposition tells Hispanic-named people that the GOP wants to eject any and all of them from the country. In the 2012 election, the GOP lost Hispanics, the nation's largest and fastest-growing minority, 71%-27%. Some GOP lawmakers are reversing their anti-Hispanic stands, but the party's rank and file may be extremely resistant.
Horsford, whose mother is from the Caribbean nation of Trinidad and Tobago – he drew laughter by saying he misses the food – declared comprehensive immigration reform "must be inclusive of black immigrants and their issues."
He added, "Immigration is not just a Latino issue. I have immigrants in my district in Las Vegas from Africa, Asia, the Caribbean and Haiti. Black immigrants are forgotten in the immigration debate. That must not happen."
This may have been SEIU's first rally this year for immigration reform that, as Howell put it, "concerns white, brown and black, because our union is so diverse." It won't be the last. An SEIU spokeswoman at the event says the union plans an extensive schedule of rallies, lobbying, phone banking and leafleting on the issue.
And the union will stage another mass rally on Capitol Hill on April 10, she said. Howell – and her colleagues – plan to be there, in force.
Photo: SEIU/Mackie Lopez