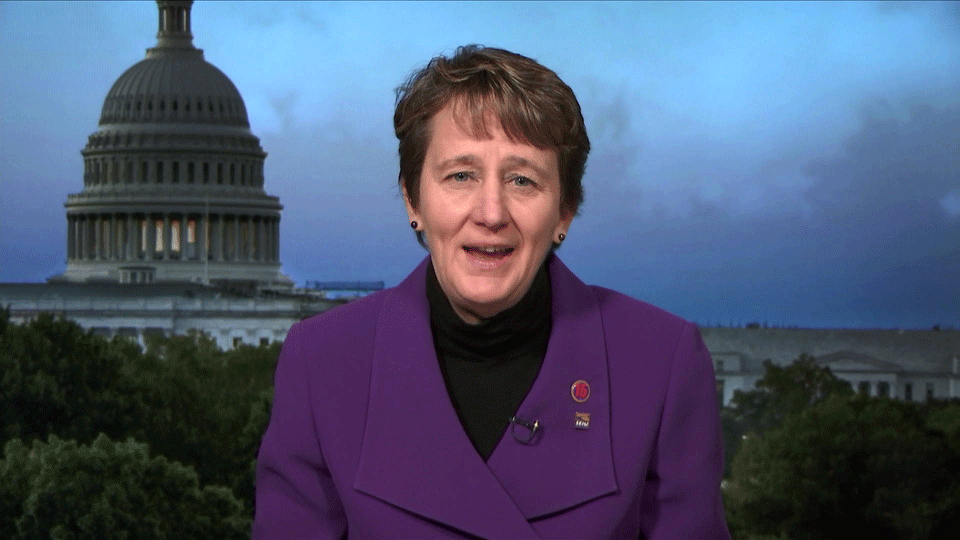 WASHINGTON—Service Employees President Mary Kay Henry isn't waiting for the voters to throw GOP President Donald Trump out of the White House. He's so bad, for the country and the office, that she's demanding he quit, right now.
And, Henry says, she has allies with her, too. So far, the only organization to sign on to that demand is Public Citizen, though some 7,000 people individually have signed petitions, at change.org and elsewhere, declaring Trump must immediately go.
Henry finally hit the ceiling about Trump and his abuses of everything and everyone from the U.S. Constitution to workers' rights to people of color. She publicly took that quit-now stand on June 5.
That was just days after Trump's Attorney General, William Barr, says he ordered mounted armed personnel to drive back peaceful protesters while firing tear gas and other devices at them in Washington's Lafayette Square in front of the White House.
"Calling on the U.S. military to silence the voices of people who want America to live up to its highest ideals is a dereliction of duty by President Trump," Henry said. "He is supposed to be a president for all of us."
But "barely six months into his term, this president told law enforcement not to be afraid to be rough on people they were arresting." On June 1, though, Trump "supported the use of tear gas and flash grenades on protesters to ensure he had the best view for his photo op."
"Anyone who does this is not fit to lead. He is a danger to all of us, and we join with our allies in calling for his resignation," Henry declared.  She did not list the allies and SEIU did not return an e-mail seeking those names.
"Instead of creating a path toward accountability and justice, President Trump is calling for attacks against people seeking change. That is wrong and it is terrifying. SEIU members and Fight for $15 proudly stand with…people worldwide calling for an end to this system that places white lives above all others," Henry said.
While Henry demanded Trump quit now, Steelworkers President Tom Conway, in his response to the Barr-ordered mayhem against the D.C. protesters, warned workers could be Trump's next targets.
"Our labor movement was born out of our inherent right to assemble and protest. We exist solely as a result of our right to act collectively and present grievances both in our workplaces and to our government," Conway explained.
"The history of our union is filled with similar incidents of guardsmen and police forces being used against workers. It's not a far stretch to envision expanded use of the military against today's labor movement if we stand by while it happens against these protestors," he warned.
Trump, Conway said, decided not to calm the nation down amidst high joblessness, the coronavirus pandemic and the rising protests over structural racism in general and the police murder of African-American George Floyd in particular.
Instead, Conway added, the Oval Office occupant "decided to fan the flames.
"The president of the United States threatened to amass the military against the protesting citizens and to send armed soldiers into our states, whether the states want them or not."
"We cannot underestimate the danger in his threats.
"When a leader threatens to use the military to quiet our nation's voice of protest, to quell our First Amendment rights, then we are all on shaky ground."
While Henry said other groups have joined the call for Trump to resign now, a quick Internet check disclosed only a similar, though shorter statement, from Public Citizen, along with the individual signatures, some with very pointed criticisms of Trump, on the current petitions.
But it also showed these are not the first demands Trump should leave before his term ends. Indeed, one such demand was posted even before he was inaugurated in 2017. Like the others, it got little attention.