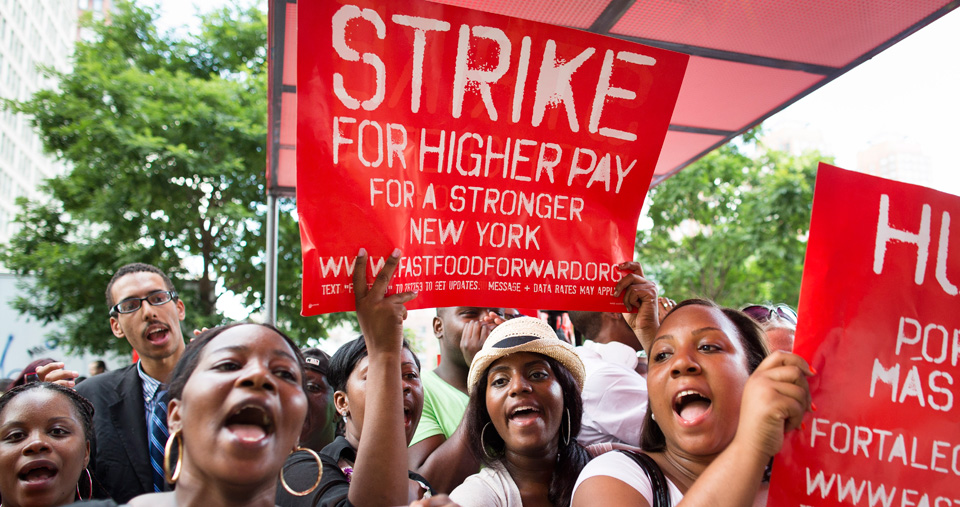 On Tuesday, May 29th, New York City Mayor Bill de Blasio signed #FairWorkweek and Fast Food Empowerment legislation, securing a major legislative victory for service industry workers organized in the Fight for $15 and a Union movement.
In New York City, all businesses who employ 11 or more non-tipped workers will have to pay a $15 minimum wage by the end of 2018 as a result of the Fight for $15 and Union movement, now being led in New York City by 32BJ SEIU. However, wages are not the only issue. Many fast food, retail, and other service industry workers say they still face tremendous hardships providing for themselves and their families due to an unwillingness on the part of their employers to engage in fair scheduling practices, or to collectively bargain with their employees.
As Jonathan, a worker at McDonald's, told Peoples World, the struggle to transform fast food and retail jobs into a sustainable form of employment is "a work in progress." Although the minimum wage began to rise at the beginning of this year, workers are being given insufficient hours, unpredictable schedules with last minute changes, and are being subjected to on-call scheduling.
Natasha Oxley, a member of the Retail Action Project, a worker center initiative of the Retail, Wholesale, Department Store Union (RWDSU), spoke to all those assembled at a Fight for 15 rally May 24th about "a co-worker who had couch surfed for over a year because he can only get 12 hours a week reliably, and was on call for the rest of the week, so he was never able to save enough money for his own place to live. He had nearly a three hour commute to the job and found himself calling in to check on whether he was already needed while already on route to work." Oxley also pointed out that "the growing retail workforce … is now 1 in 10 workers nationally."
Workers have also been dealing with "clopenings". Pamela, a KFC worker in Harlem, described this to Peoples World as "a form of closing and then turning around and opening the store, where you don't even get decent sleep."
Additionally, McDonald's has refused to allow its employees to unionize, using the franchise model as an excuse to deny responsibility for abusive employment practices. One creative legal argument the company uses is that it is "in the real-estate business, not the hamburger business." However, this argument has been rejected by the National Labor Relations Board (NLRB). McDonald's charges its franchises triple the real-estate industry average, totalling $3 billion last year, while calling the shots on everything from decor, what goes on the menu, marketing campaigns, stock issues, innovation, and pay scales, according to franchise owner McSoldIt.
The May 24th rally was held as New York City Council prepared to vote on the legislation. Workers met at the 167 Chambers St. McDonald's at 11am before marching to City Hall. The May 24th action took place as thousands of workers from around the nation, organized in the Fight for $15 and a Union movement, marched on the McDonald's headquarters outside Chicago during the transnational corporation's annual shareholder meeting.
About the two bills he sponsored, NYC Councilmember Brad Lander said they would "give folks two weeks' advance notice of their schedule, and make sure everyone who wants it has a pathway to full time hours." Intro 1395 "requires fast food employers to offer work shifts to current employees before hiring additional employees," and Intro 1396 requires "certain fast food employers to provide advance notice of work schedules to employees," and requires employers to compensate workers for any changes made to their schedule.
Councilmember Corey Johnson's bills, Intro 1387 and 1388 bans on-call scheduling, "which says that your employer can't just call you up and say, 'you have to be here in two hours for work, and if you don't you're gonna get in trouble,' " he said. Intro 1387, banning on-call scheduling, applies to retail employees, while the others apply to the fast food industry.
"Retail workers deserve stable scheduling," said Oxley. "Retail workers deserve predictable scheduling, and retail workers deserve fair scheduling."
Fast food workers can pay dues now
Intro 1384, also known as the Fast Food Worker Empowerment Act, is not able to require fast food corporations or franchises to collectively bargain with workers who vote to unionize, but it does "allow for those in the fast food working industry to contribute to a non-profit that will help advocate for them," as lead sponsor Councilmember Julissa Ferreras-Copeland explained. This new law, signed today by Mayor DeBlasio, stipulates that the automatic payroll contributions will be voluntary. The non-profit will help workers fight for their rights on the job, for racial justice legislation, immigrant rights, for affordable housing and childcare. McDonald's worker Flavia Cabral also said "the organization we [are] going to get is to educate our community."
"Since they don't want to come to the table, we took it upon ourselves to bring our own table," Papa John's Pizza worker and Fight for 15 leader Shantel Walker told Peoples World. "Many domestic workers are immigrants who don't know their rights … but don't feel they have the right to speak up, because they live in fear," said domestic worker Daniela Contreras of the National Domestic Workers Alliance. "We must build organizations that make it possible for us to come together and organize to have our human and working needs met."
The entire package of bills was passed nearly unanimously, Joseph C. Borelli, Steven Matteo, and Eric Ulrich being the only Councilmembers to vote against all of the bills, and Barry Grodenchik joining them in voting against Intro 1396.
The Council also passed a resolution earlier in the day urging Congress to reject any right-to-work (for less) legislation. Right-to-work (for less) laws, which have a history of being used to promote segregation, are aimed at defunding unions by requiring them to represent all workers in a company while forcing unions to rely on voluntary contributions from members.
While workers in New York City are on a path to a $15 minimum wage, many parts of the country are still struggling to make their right to a livable wage a reality. In the majority of areas, New York State remains economically underdeveloped and suffers from the effects of corporate-led automation, and the use of outsourcing to drive down labor costs in a global race to the bottom. Many people in New York's smaller cities voted for Trump in the 2016 elections. Although legislation has been passed to guarantee New York workers outside New York City a $12.50 minimum wage by 2020, no timeline has been set for the $15 minimum wage statewide.