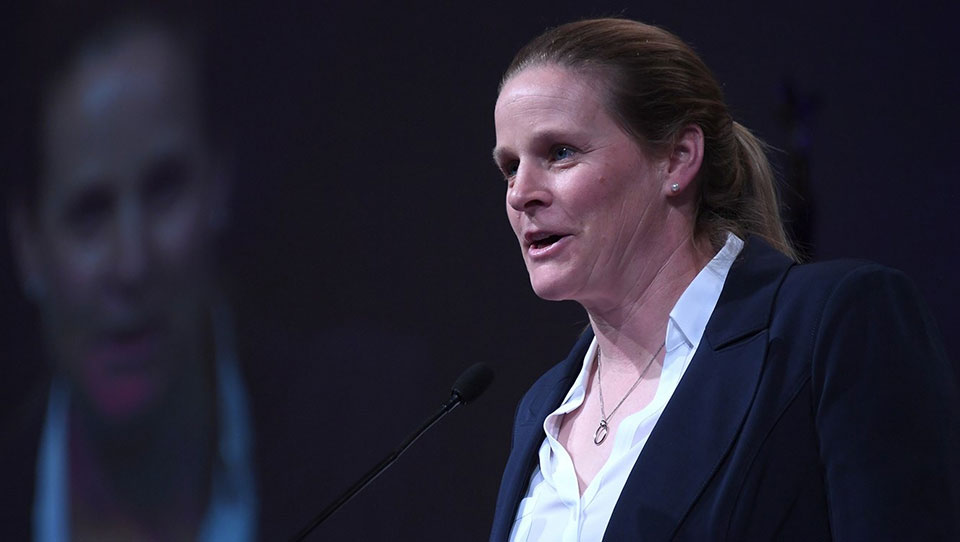 Slow weeks are the new normal (what is 'normal' anyway?). The slow drag of time is also reinforced by the lack of sports—except for golf, which is not at all surprising. But it doesn't mean there can't be a bit of good sports news tucked behind all the Covid-19 pandemic bad news.
The newly minted president of the U.S. Soccer Federation, Cindy Parlow Cone, and recently hired chief executive officer, former MLS executive Will Wilson, used their first news conference to say that settling the discrimination lawsuit filed by women's team national players is a top priority.
"A lot of damage has been done, and I think we are going to have to rebuild that trust and rebuild the relationship. It is not going to happen overnight," Cone said Tuesday. "It's going to take a lot of effort and time and energy from the U.S. Soccer side to rebuild that trust, not only with our U.S. women's national team players but with our fans and everyone engaged in the sport."
In their lawsuit, players argue they haven't been paid equally to the men's national team and asked for over $66 million in damages under the Equal Pay Act and the Civil Rights Act of 1964, and a trial is scheduled for trial in federal court, May 5.
"The solution here is clear, simple, and unequivocal: equal pay," responded Molly Levinson, spokeswomen for the players.
In a disgraceful move earlier in March, the USSF filed legal papers ahead of trial claiming the women's team didn't have the same responsibility or physical abilities as the men's team. The release of those documents sparked outrage, including an on-field protest by players, and led to the resignation of USSF president Carlos Cordeiro. It also forced the federation to change its legal representation.
First reported by ESPN, chief legal officer Lydia Wahlke has been placed on administrative leave. And Parlow Cone said an outside firm was brought in to review the USSF decision-making that led to the briefs "to see where that process broke down."
Cone is hoping to schedule settlement talks. "I don't think a trial is good for either party or soccer," Parlow Cone said.
"The comments and the language in the last filing, "I think not only hurt our relationship with our women's national team, but hurt women and girls in general, and as a former national player, they were personally hurtful to me."
Parlow Cone, 41, a World Cup and Olympic champion, had been a USSF vice president before Cordeiro's March 12 resignation.
Will Wilson, 52, said the wording and comments in the legal briefs were "quite frankly shocking and very, very disappointing."
Parlow Cone continued to reiterate that there was a "fundamental error in our process" drawing differences between March's legal filings and previous ones.
"I think it's one thing to argue that men and women play in different tournaments and play against different teams, and it's altogether a different statement to say that therefore the women carry less responsibility or have less ability," Parlow Cone said.
Adding to the mix was Parlow Cone's openness to having joint collective bargaining with the women's and men's team, a decision which will be up to the unions to decide.
The men's national team has been without a union contract since December 2018 and has come out in full support of the women's teams calls for equal pay and an end to discriminatory practices.
A March 30 hearing to decide on summary judgment motions by each side was called off by U.S. District Judge R. Gary Klausner, and he will instead issue his ruling based on the written submissions.