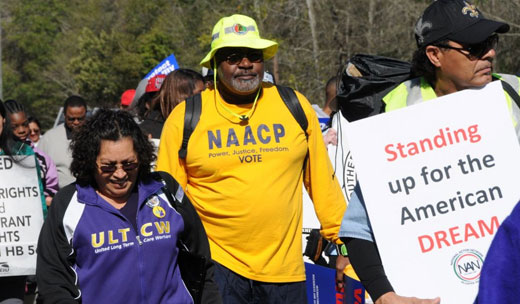 Hundreds of people from all over the country continued a Selma to Montgomery march in Alabama where union members, civil rights activists and religious leaders on Sunday began a five-day journey.
The determined march across the state by these brave souls is one of a series of events marking the 47th anniversary of the historic civil rights march from Selma to Montgomery. Marchers say that this is much more than a commemorative event: their purpose is to shine a light on current day attacks on voting rights, immigrant rights and workers rights.
The marchers yesterday added the fight for universal public education to their agenda.
At the end of the first five miles of their trek to Montgomery they stopped at the Craig Elementary School where children, standing along the fence outside the school, held up a huge hand-pained sign that said: "Thank You!"
"When you look into the faces of these children, whose future can be so bright if we can sufficiently fund and ensure that they have access to quality education, this is why we march," declared Arlene Holt Baker, leader of the AFL-CIO's delegation on the march.
Holt Baker is among the hardiest of the marchers and walked the entire 12-mile route with NAACP Chairman Ben Jealous, the Rev. Al Sharpton, the Rev. Jesse Jackson and SEIU Executive Vice President Eliseo Medina.
Students at the Craig School enjoyed shaking hands with Sharpton, Jackson and the rest of the marchers who came over to see them.
The AFL-CIO wants people to click here to sign a pledge of solidarity with the marchers and enter the reason they are joining the "virtual march" online.
Comments entered will be shared with the actual marchers on the ground, the federation says.
Photo: Day 2 Selma to Montgomery, March 5. Arlene Holt Baker on Facebook.