SAN FRANCISCO –  Close to 600 attendees, a majority of them women of color, from 36 states gathered for the She the People 2018 Summit. At the Sept. 20 summit the focus was on elevating the voices and leadership of women of color in the political arena.
With the midterm elections less than 60 days away, with an unprecedented number of women of color running for public office, She the People founder, Aimee Allison, noted that women of color have "a central and indispensable role in leading our country in this urgent time."
Stepping into their fierce collective power
Allison noted in her opening remarks that she has advocated for years for women of color to step into their fierce collective power. "The stakes are really high right now," she said. "We are facing threats to our basic civil rights. We are witnessing active efforts from the White House and Congress to disassemble not only the laws that should protect us, but to also directly attack our communities and our values on common decency – attacks that are ripping the very fabric that holds us together." she explained.
Referencing the Kavanaugh hearings, Allison declared, "I came of age during Anita Hill's courageous testimony in 1991. I marveled at that young law professor testifying to an all-white male Senate judiciary committee about the harassment she suffered from Clarence Thomas. I believed her then. We believed her then. But she was belittled and mocked by the white men of both parties. Her bravery and work since then has made space for Christine Ford to make her testimony.
"In the wake of that spectacle almost 30 years ago we organized for electoral power. And as a result, Carol Moseley Braun became the first Black woman elected to the U.S. Senate," Allison said. "So, let's be clear, organizing that is led by women of color, and a multiracial force, will stop Kavanaugh. And in a few short weeks many more of our courageous leaders are going to join Sen. Kamala Harris and Mazie Hirono in office," she asserted. "Women of color are the fastest growing voting block, and we are the most progressive at the polls. Black women have consistently been the highest voter turnout of any race and gender," Allison noted. "Women of color are still the least represented in our government… We women of color are the leaders our country has been waiting for. Our country needs us, and we need each other," she exclaimed.
California District 51 Assembly member Wendy Carrillo, who moderated a panel entitled, "The Women Building a Politics for All of Us," spoke to what she's learned in her first nine months since taking office. "Not all Democrats are created equal," Carrillo asserted. "It's a battle between Democrats who may not want to move things forward. It's been an interesting journey so far," she noted.
Lisa Sarsour, a board member of the Women's March, took to the stage to proclaim, "Don't let anyone tell you not to be too radical or too progressive. Five years ago no-one believed in the possibility of Medicare for All. They said we were too politically naive and bringing the socialism stuff out. All of a sudden [all of these politicians] are running on Medicare for All… [Women of color] don't ever be less than who you are to make anyone feel comfortable."
Need for "true inclusion" discussed
There were a variety of speakers that addressed the need for inclusion of women of color and all the many categories they may belong to. This included LGBTQ, working class, and those belonging to the disability community. Media Personality, activist, and the first trans woman to become editor-in-Chief of a national publication, Ashlee Marie Preston, addressed the need for true inclusion in the movement. "It is a really beautiful gesture for She the People to be intentional in including the voices of trans women, and including the voices of people who are not given a voice in catch-all advocacy work," Preston stated. "We [society] have a very narrow view of what intersectionality is… My life experiences shouldn't be something I have to be apologetic about. They inform my leadership. So when we talk about She the People we need to get specific about who we're talking about. Such as She the homeless, She the sex worker, She the incarcerated, She the immigrant, She the disabled. She is still the future," she asserted. "What I challenge us all to do is step our feminism up, and to expand our scope of intersectionality, and to include the people that people often tend to erase," Preston said.
Co-Founder and president of the Restaurant Opportunities Centers United (ROC United), Saru Jayaraman, spoke about the plight of underpaid service workers, a majority of whom are women of color, and the need to rally behind their fight for better wages. "We represent the number one fastest growing private sector employer in the United States. We just hit the 13 million worker mark in the restaurant industry. That means one in 11 American workers currently work in the industry, and one in two women have worked in this industry at some point in their lives. We are the fastest growing industry in America, yet we are the lowest paid. That is because of the money, power, and influence of a trade lobby called the National Restaurant Association. We call it the other NRA," Jayaraman explained.
Speaking to the tipping system's direct connection to the legacy of slavery, she went further, "We went from zero dollars of a minimum wage in 1938 to $2.13 an hour, which is the current federal minimum wage for tipped workers in the United States in 2018. How is that possible? It's possible because this is a workforce of women, mainly women of color."
Speaking to the need to cultivate the collective power of such a large workforce looking for change, Jayaraman noted, "We are mobilizing people to vote themselves a raise in wages. No politician, or amount of canvassing, is going to get our people out to the polls like actually being able to vote themselves a raise and an end to sexual harassment [that many face on the job]."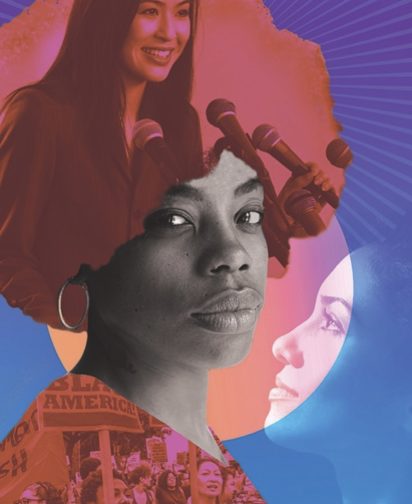 Looking at the midterms and beyond
The president of Our Revolution, Nina Turner, also spoke about the "fierce power of women."
"Fierce women shake the world," Turner declared. "The power is in our hands. We can speak on it now in a way our foremothers never had the opportunity to do so. We cannot squander this moment of transcendence. Everyone is not ready for this moment. We have to get comfortable with being uncomfortable. Change is about being uncomfortable and about speaking a truth, a truth that says it is a shame that Flint still doesn't have clean water four years later; that it is a shame that in the 21st century that there was a study that found it would take African-Americans 228 years to catch up to the average wealth of the average white family. Something is wrong with that. That is the kind of truth we must speak," Turner asserted.
"This isn't about individual racism or bigotry," she said. "It is about systems, "What She the People is about is understanding that Black women, and other women of color, don't have to ask for permission to lead. We've been leading this whole time… Womanism is about humanity," she said. "Titles are good, but purpose is better. We have so many people sitting up in rooms they have forgotten why they are there, they don't fight for the people. Purpose is better."
Young author of Say It, 10-year-old Lyric Watts, spoke on what the movement She the People  means to her as a young woman. "If you can win the youth, you can win the future," Watts proclaimed. Explaining what the "She" in She the People meant for her, Watts went further: "She can start a revolution built on love. She leads. She can lead a nation. She can run for office. She's a woman of color, and She can change the world. Their time is up, because our time is now."
Closing out the afternoon segment of the program, to allow attendees to participate in hands-on organizing and strategy-building breakout sessions, Allison noted, "This is not a one-day event. We are seven weeks away from the most important election in our lifetimes. But, by February 2019, we're going to know who wants to run for President." She announced that She the People plans on hosting the first Presidential forum in history focused on women of color. "We have a message for the nation," Allison proclaimed, "You're not going to be president without the sustained and enthusiastic support and organizing of women of color. You need us. We are the people who will run money and resources into a strategy to win. We're bigger than elections. We're working on a long-term game."
Official video of the summit can be found here.