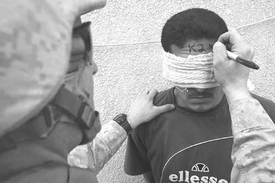 'Architects of torture policy must be held accountable'
New reports of torture of detainees show the U.S. as a global enforcer gone wild.
This week, Human Rights Watch charged that U.S. FBI agents operating in Pakistan repeatedly interrogated and threatened two U.S. citizens of Pakistani origin who were unlawfully detained and tortured by Pakistani security services. The two were abducted from their Karachi home last August, and released this April without being charged. During eight months of interrogation and torture, they were questioned at least six times by FBI agents, who did nothing to stop the torture — including beatings with whips and rods — or provide consular help. Instead, the two said, the agents threatened to send them to Guantanamo if they did not "confess" to terrorist involvement.
Last week, The New York Times published a report on torture at a U.S. detention center in Bagram, Afghanistan, based on leaked files of an Army investigation into the 2002 deaths of two Afghan detainees. Among the details:
• a prisoner "made to pick plastic bottle caps out of a drum mixed with excrement and water … to soften him up for questioning."
• repeated use of the "peroneal strike — a potentially disabling blow to the side of the leg, just above the knee." A police officer involved in training told a soldier "he would never use such strikes because they would 'tear up' a prisoner's legs," Times reporter Tim Golden wrote, but in Afghanistan "the usual rules did not seem to apply."
• an Army interrogator reported by a detainee to have "pulled out his penis during an interrogation at Bagram, held it against the prisoner's face and threatened to rape him."
Autopsies showed the two deaths had been caused by "blunt force trauma" to the legs. Soldiers said the two had been repeatedly beaten while shackled. Nevertheless, investigators initially recommended closing the case without criminal charges.
Eventually, the Army found "probable cause" to charge 27 officers and enlistees. Over two years later, only seven have been charged, and no one has been convicted. Many Bagram interrogators, and their officer, Capt. Carolyn Wood, were redeployed to Iraq's Abu Ghraib prison in 2003. An Army investigation said Wood implemented "remarkably similar" techniques there.
New Army documents released under court order last week are filled with additional instances of torture and abuse by U.S. forces. In Ramadi, Iraq, in 2003, an Army captain took an Iraqi welder into the desert, made him dig his own grave, threatened to kill him, and had other soldiers stage a shooting. An Army master sergeant knocked an Iraqi detainee to the ground, repeatedly kicked him in the groin, abdomen and head, and encouraged subordinates to do likewise. A staff sergeant held a detainee's legs apart while other soldiers kicked him in the groin, abdomen and head. Two Iraqi men detained in Samarra were driven to a bridge where a platoon leader ordered them pushed into the river. One of the Iraqis could not swim and drowned. One soldier told investigators the chain of command had instructed the soldiers not to cooperate with the investigation, and to deny they pushed the men into the river.
The nearly 2,000 pages of documents were released after a federal court ordered the Defense Department to comply with a Freedom of Information Act request by the American Civil Liberties Union, Center for Constitutional Rights, Physicians for Human Rights, Veterans for Common Sense and Veterans for Peace.
In March the ACLU and several other groups filed suit against Defense Secretary Donald Rumsfeld on behalf of eight detainees who were "subjected to torture or other cruel, inhuman or degrading treatment." One was held at Kandahar and Bagram, Afghanistan, in July and August 2003. His treatment included " beatings, placement in restraints and positions calculated to cause pain, verbal abuse of a sexual nature, humiliation by being photographed while naked, denial of water, intentional deprivation of necessary medication exacerbated by physical abuse, intentional and prolonged exposure to dangerous temperature extremes, and sleep deprivation."
Another plaintiff, held by the U.S. military at various locations in Iraq from July 2003 to June 2004, was subjected to "severe beatings to the point of unconsciousness, stabbing and mutilation, isolation while naked and hooded in a wooden coffin-like box, prolonged sleep deprivation enforced by beatings, deprivation of adequate food and water, mock execution and death threats." One Iraqi detainee charged that soldiers taunted him by having a military dog pick up the Koran in its mouth.
"While the White House blames Newsweek magazine for damaging America's reputation in the Muslim world, the Army's own investigations show systemic abuse and humiliation of Muslim men by U.S. forces in Iraq, Afghanistan and Guantanamo Bay," said ACLU Executive Director Anthony Romero. He said "high-ranking officials who allow the continuing abuse and torture" must be held accountable.
Amnesty International head Irene Khan condemned "cynical attempts to redefine and sanitize torture." William Schulz, the group's U.S. executive director, compared the U.S. torture practices to "a virus" and said the government's response "amounts to a whitewash" of "those who schemed to authorize those actions, sometimes from the comfort of government buildings."
"The architects of torture policy" must not "get off scot-free," he said.