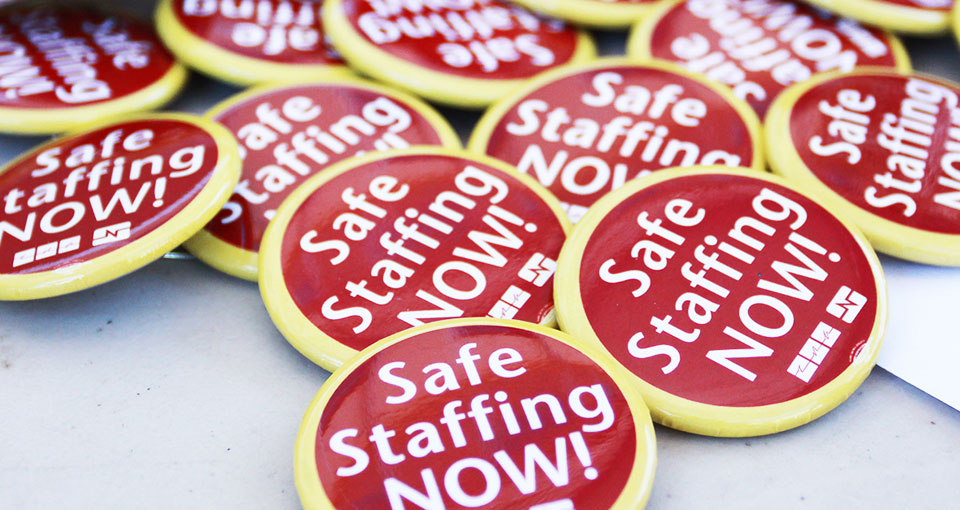 PALM SPRINGS, Calif.—The coronavirus pandemic's impact may be over—at least for now—at the Desert Regional Medical Center in Palm Springs, Calif., but its impact on the nursing staff, or what's left of it, isn't.
And that problem, specifically short-staffing which harms patient care and burnt-out veteran nurses quitting in droves, sent California Nurses Association/National Nurses United members in Palm Springs and at eight other California hospitals out into the streets for informational picketing at varying hours on April 27.
The hospitals in Palm Springs, Los Alamitos, Joshua Tree, San Ramon, Templeton, San Luis Obispo, Turlock, Manteca and Modesto are all part of the Tenet Health Care chain, which steadfastly refuses to replace nurses who left. That harms patients, nurses declare.
"Patients are the #1 reason we're here," Desert Regional registered nurse Regina Epp emphasized in a telephone interview with People's World while walking one of the informational picket lines.
And Tenet's refusal also defies California's nurse-to-patient ratios law, a key NNU legislative achievement several years ago.
The dry numbers don't capture the impact on patients and nurses, say Epp and Lori Ruggiero, both 20-year veteran RNs who now work in intensive care at the Desert Regional.
"Our Covid (coronavirus) numbers are way down" from when the pandemic first hit, "but we still don't have enough staff," Epp explained before they headed to the picket line.
The hospital usually has 800 RNs. Since the pandemic began, 137 nurses—most of them burned out—have left. As a result, "They (Tenet) are constantly violating the ratio" the law requires, of one Intensive Care Unit (ICU) nurse for every two patients, Epp added.
The National Nurses United/California Nurses Association says that's what's going on at all nine Tenet hospitals.
In Tenet's hospitals, the ICU nurse-to-patient ratios are up to one-to-four. "Telemetry unit nurses should have a maximum of four patients, again adjustable for higher patient acuity, and now have assignments of up to six patients," the union adds.
Tenet compensates by forcing RNs to work through their meal times and rest breaks Maria Ibarra, RN, of Doctors Medical Center in Modesto told NNU. Nurse exhaustion endangers patient care, she said. It also burns out nurses, heightens the risk of workplace injuries, and endangers their licenses "due to unsafe working conditions," NNU adds.
All for the almighty dollar, the union says. Pandemic or no pandemic, the Tenet chain's hospitals earned $991 million combined in profits last year, it reports.
But the impact really appears in the overflow from the ICU, both Epp and Ruggiero said in the interview. Patients are lying on gurneys elsewhere in the hospital, often for hours, some of them screaming in pain as they recover from surgery.
The nurses are supposed to tend the patients, but instead find themselves short of supplies and running around the hospital to scrounge medications, including those to alleviate pain, Ruggiero said. There's a lack of certified nursing assistants to perform that job.
Tenet's response to the patients in pain: "They'd rather tie them up."
Tenet also has responded by bringing in traveling nurses on short-term contracts, such as a week, to fill holes, rather than hiring more RNs, Ruggiero elaborated. That doesn't work, either.
"Many come to work for one day, see the conditions, leave and don't come back," she explained. "They don't even finish their contracts."
NNU has taken up all these issues and more with Tenet managers. The response has been a brush-off, at best—including in contract negotiations at the Palm Springs hospital.
"The only thing they said" when NNU presented its latest contract proposals there "is they don't want us to picket," said Epp.
Instead, the Tenet chain's NNU/California Nurses Association did, up and down the state.
"We need to talk to the community and let them know what's going on behind those closed doors" of the hospital, added Ruggiero.