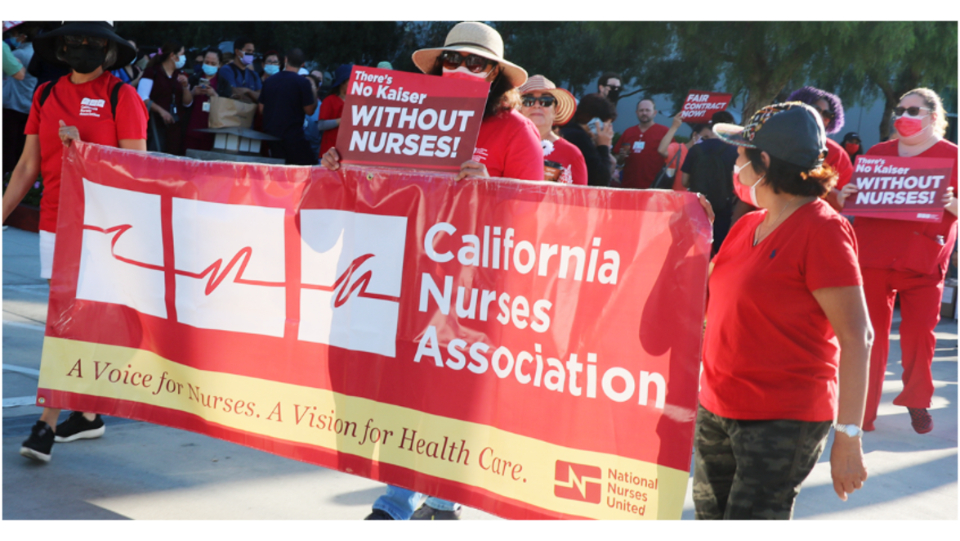 LOS ANGELES/S.F. BAY AREA (PAI)—Continual short-staffing at their hospitals and health and safety problems on the job will force 22,200 RNs, members of National Nurses United, into a planned 2-day strike against Kaiser Nov. 21-22.
The strike, to occur after the union gave the legally required 10-day advance notice to the chain, will take 21,000 RNs in the Bay Area out of 21 hospitals. Another 1,200 at Kaiser's Los Angeles Medical Center will also march out to conduct informational picketing, NNU said. The prior strike authorization vote in both the Bay Area and L.A. "was nearly unanimous," it added.
The nurses are bargaining a new contract with the big hospital chain, but there's been little movement on those two key issues, NNU explained. Thus they had to walk. The 10-day notice is to let hospitals make alterative arrangements for patient care during the forced strike.
The RNs demand their new contract include solutions to short-staffing—which Kaiser has imposed despite mandatory state staffing ratios—and more recruitment of nurses to replace those who left during the pandemic.
They also demand "safe floating practices to ensure nurses are only assigned to work in units where they have established expertise or competency"—rather than wherever bosses send them—and reasonable schedules so they can spend more time with each patient.
"Throughout the pandemic, Kaiser has degraded working conditions and standards," Los Angeles RN Tinny Abogado told the union. "Kaiser wants to treat nurses as interchangeable, which is dangerous for us and our patients."
"Nurses are missing their breaks and lunches every single day due to short staffing,"  post-anesthesia South Sacramento RN Diane McClure said in the union's statement. "We need our legally provided breaks so that we are rested and can provide the highest level of care."
"Without enough nurses in both inpatient and outpatient settings, patients are left for hours in the emergency room or receive inadequate and untimely access to outpatient care," added Fremont adult primary care RN Michelle Vo. "Our patients deserve better from a corporation that made more than $24 billion over the past five years."
That includes $14 billion during the first two years of the coronavirus pandemic, said Roseville neo-natal RN Cathy Kennedy, the NNU/California Nurses Association president.
"We always want to give our patients the best care, but Kaiser refuses to provide the resources we need to do our jobs safely," Kennedy added. "We are chronically short-staffed, which means patients are waiting longer for care. This is unacceptable and unconscionable" given Kaiser's profits during the pandemic era.