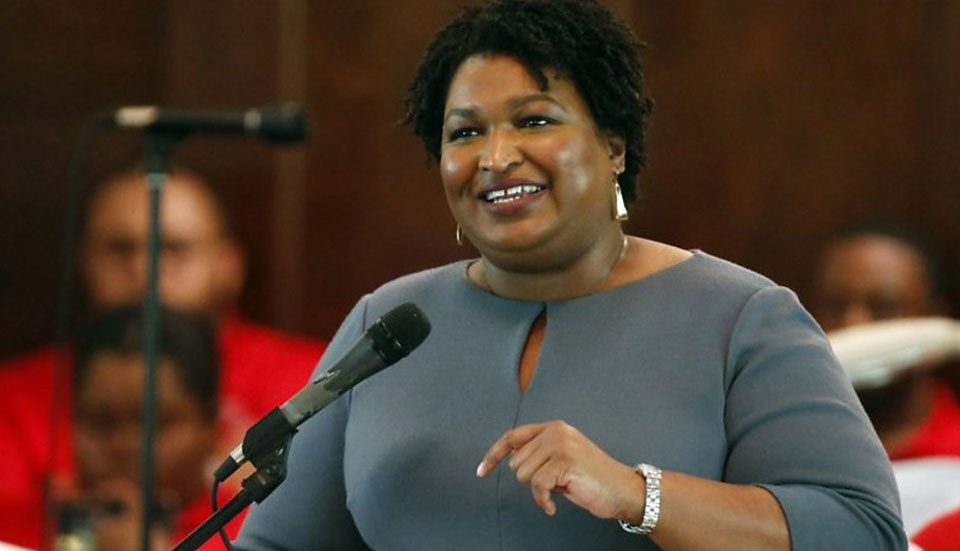 WASHINGTON—AFL-CIO President Liz Shuler and nationally notable voting rights advocate Stacey Abrams are linking worker rights on the job to voters' rights to cast their ballots and have them accepted and counted, as a Senate showdown on that issue looms.
The two traded comments back and forth on the two issues on an Oct. 14 evening telecast, posted on aflcio.tv. It came just after Senate Majority Leader Charles Schumer, D-N.Y., announced solons would take a cloture vote on Oct. 20 to try to halt a threatened GOP filibuster against the Freedom To Vote Act. Cloture needs 60 votes to pass.
"Your state was a laboratory where our enemies"—meaning labor's foes—"want to see disenfranchisement happen," Shuler told Abrams.
Abrams's voting rights organization registered and mobilized so many of her fellow Georgians that, energized by them and unionists, voters elected the needed last two of the Senate's 50 Democrats, Jon Ossoff and the Rev. Raphael Warnock.
But such gains are in danger from Republican voter repression laws nationwide—laws the Freedom To Vote Act is designed to halt in their tracks. Shuler and Abrams then posted a toll-free number 833-465-7142 for constituents to call their senators before the cloture vote.
"Make sure everyone is lighting up the phone lines," Shuler added. "No matter what state you live in, your right to vote shouldn't be impeded," Abrams said. The repression targets voters of color. "Same thing with the PRO Act," labor's #1 legislative cause, Abrams said.
That wide-ranging legislation, also GOP filibuster-threatened, would vastly strengthen and expand the right to organize by banning bosses' tactics such as mandatory anti-union meetings, enacting card check recognition, forcing bosses to take illegally fired workers back immediately, and making union elections fair, along with mandatory arbitration if the two sides can't agree on a first contract, among other reforms.
It would also impose higher fines on labor law-breakers, including corporate boards and honchos, and force union-busters to disclose their activities.
Before Shuler and Abrams linked the two issues, Senate Democrats took to the floor to urge support for the Freedom To Vote Act, a stripped-down version of earlier House-passed legislation which a GOP filibuster also marooned.
Warnock made the linkage, too. "Shame on us if we allow people's voices to be silenced in this chamber. Voting rights are preservative of all other rights. Right now our right to vote is under attack. Our democracy is in a 9-1-1 emergency. We must act now," the longtime preacher told his colleagues.