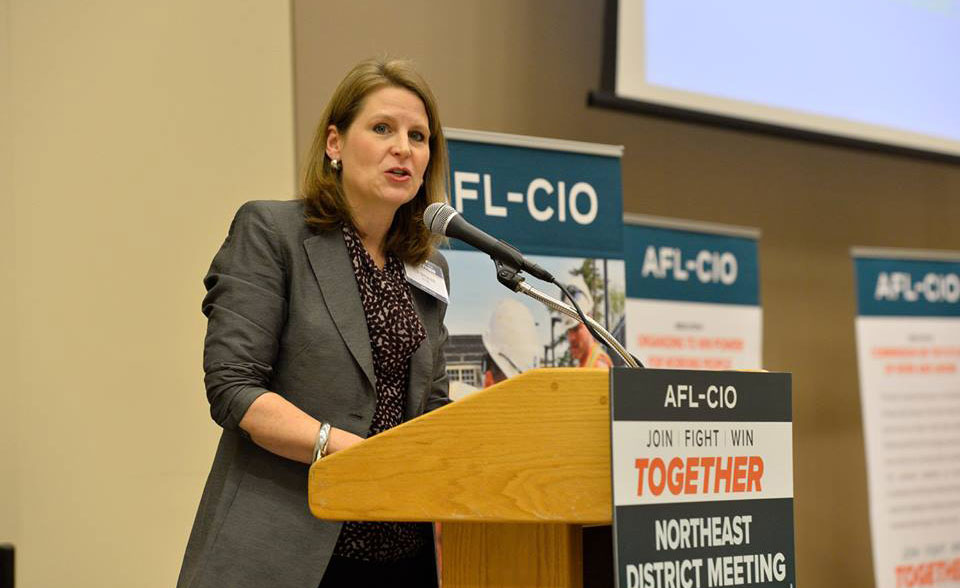 WASHINGTON (PAI)—In a stark illustration of how current U.S. labor law is tilted against workers, two experts on changing it—AFL-CIO Secretary-Treasurer Liz Shuler and Rep. Andy Levin, D-Mich., a former top union organizer—say the Protect The Right To Organize (Pro) Act would have basically outlawed Amazon's high-pressure tactics that defeated the union organizing drive at its big warehouse in Bessemer, Ala.
And they also added, in a Zoom press conference on May 20, that one defeat won't stop organized labor's campaign to both organize the behemoth and to increase union density in the deep-red, union-hostile South.
"In the deep South, there's a racist streak of dividing Black and white workers, and it's called 'right to work,'" Shuler declared. So-called RTW laws, a favorite of union haters in the corporate class and the radical right, first arose in the South in the 1940s for just that purpose.
The ProAct would outlaw them. That's important in worksites like Bessemer. The Amazon warehouse workforce, like the city, is heavily Black. Outlawing RTW "would also end the right to freeload," said Levin. "It would change the ground" for organizing, he added.
But the law, labor's top legislative priority, "can't fix everything" that's wrong, Levin admitted. "Amazon is changing the nature of work," including via constant surveillance, through computers, cameras, and apps. "They're measuring every second."
It would, however, outlaw the threats, intimidation and other tactics the monster retailer used to beat the Retail, Wholesale and Department Store Union, a UFCW semi-independent sector. And such tactics, threats, and intimidation are common in organizing drives nationwide, and have been for years, Shuler said.
The law would also make elections easier and force binding arbitration, chosen by both sides, if the union and bosses couldn't reach a first contract within six months, among many other provisions. Even when the union wins a vote, the corporate class often refuses to bargain, hoping despair, disgust, and turnover wears the union down.
Amazon's tactics in Bessemer included discriminating against union supporters. The ProAct would hit such law-breakers in the pocketbook, with big fines for when firms and their execs get caught doing so.
And if a firm fires pro-union workers, the NLRB could immediately order their reinstatement, rather than forcing workers, the union, and the board to jump through judicial hoops.
And while unions could express verbal solidarity with the Bessemer campaigners, they now legally can't use secondary actions against Amazon corporate suppliers in support. The ProAct would permit that, too. The GOP Taft-Hartley Act in 1947 outlawed such actions.
Amazon also held mandatory weekly "captive audience" meetings, Levin reported. There, if a worker raised her hand to question anti-union harangues from the bosses or the consultants, she was called up front, her badge was photographed, she was dismissed from the session and faced either discipline or firing. That intimidated her colleagues.
"And while it's illegal" under current labor law "to say 'This plant will close'" if workers vote the union in, "It's legal to say 'This plant might close,'" Levin said. "What's the difference?"
The difference is the ProAct would outlaw all such threats—and the captive audience meetings, too. Bosses could still blast the union, but they couldn't do so in such a threatening environment.
Scare tactics prejudiced the vote
Shuler and Levin discussed the Amazon drive as the National Labor Relations Board's administrative law judge held hearings in nearby Birmingham on RWDSU's complaint that Amazon's labor law-breaking so scared the workers and prejudiced the vote that the results should be thrown out and the election rerun, without such company interference.
But even if RWDSU then wins, Amazon, owned by Jeff Bezos, the richest man in the U.S., could drag the struggle out through the board and the courts. One aim of the ProAct is to eliminate most of that corporate-erected obstacle course.
RWDSU's campaign at Bessemer occurred after workers approached it, saying working conditions were so bad they needed a union. Problems included one elevator for workers in a warehouse the size of four football fields, few bathrooms or breaks, no time for hand-washing and other anti-coronavirus measures, and other abuses, including mandatory line speed-ups.
But once RWDSU got the required number of union election authorization cards, Amazon, and its $10,000-per-day union-busting "consultant" pulled every trick in the book, some of them illegal, to win. Its first, the two said, was to demand NLRB OK expanding the voter pool from the 1,500 or so workers RWDSU wanted to organize to all 5,600 warehouse workers. That included temps.
The corporate class frequently expands voter pools to stop organizing drives before they begin, by stuffing the proposed bargaining unit with anti-union people, often newly hired. RWDSU agreed, the two said. It sought a short campaign, hoping to negate Amazon's edges.
Amazon also tried to force an in-plant vote, during the coronavirus pandemic. The NLRB turned that down, but RWDSU got hold of an internal Amazon e-mail, which it presented at the hearing, showing heavy Amazon pressure to put a U.S. mailbox for ballots in its parking lot, under an Amazon tent, with the impression of bosses' surveillance of who voted.
"The ProAct would let the workers choose where to vote," Levin noted.
"And one worker saw an Amazon security guard opening that mailbox. Speaking as a labor lawyer, that's very damaging to Amazon."
The Democratic-run House passed the ProAct in the last Congress, but then-Senate Majority Leader Mitch McConnell, R-Ky., refused to even permit a hearing on it. The House repeated its approval, on almost straight party lines, in March, but in the tied 50-50 Senate, McConnell, catering to the corporate class, threatens a filibuster to kill it. He needs 41 votes.
As a result, current Majority Leader Charles Schumer, D-N.Y., won't bring up the ProAct until all 48 Democrats and both independents co-sponsor it. It's short three Democrats: Mark Warner of Virginia and both Arizonans. The key to turning those three is hitting the streets and showing the Pro Act's positive practical impact, Shuler said. That's how unions picked up Sen. Angus King, Ind-Maine.
"He saw what happened" including captive audience meetings and other such tactics "at the biggest hospital in Portland," she explained. "He saw up close and personal what it would mean" to his own constituents if National Nurses United won—and how much easier it would have been with the ProAct. NNU triumphed at Maine Medical Center, and King signed on.