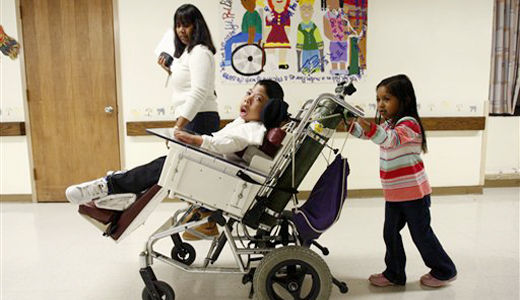 After some strong arm twisting by the Obama administration the insurance industry has backed down from challenging the section of the new health reform law that ends discrimination against children with pre-existing conditions.
Kathleen Sebelius, the president's Health and Human Services Secretary, had condemned the industry repeatedly last week for what she called "denial of health care to the nation's sick children."
In a letter yesterday to Sebelius the industry's top lobbyist says insurers will accept the new regulations.
The capitulation by insurers ends uncertainty that arose after companies initially said they would resist a stipulation in the new law that says children with pre-existing medical problems can get coverage starting this year.
Progressives are warning, however, that the companies will not end their resistance to reform and that they might be planning to use the new requirement to cover children as an excuse for additional rate hikes between now and 2014 when stronger curbs on what they can charge take effect.
The insurers' surrender on the issue of coverage for children came as several other GOP and conservative attacks on the new law also showed signs of crumbling.
Four governors disavowed their right-wing state attorneys general and announced their states will back the federal government against lawsuits attacking the new health reform law.
All four are Democrats while the attorneys general in the four states are Republicans.
Colorado Gov. Bill Ritter, Mich. Gov. Jennifer Granholm, Penn. Gov. Ed Rendell and Wash. Gov. Christine Gregoire told Attorney General Eric Holder they will "stand by your efforts to protect the new health care law."
The lawsuits by the 15 attorneys general claim that the new health reform law to forces "unfunded mandates" on the states.
"If the states are against health reform, why havn't they all left Medicaid?," asked Wonk Room's Igor Volsky today. "They're saving dollars by insuring Americans that would otherwise end up in emergency rooms and receive far more uncompensated treatment. Remember. Medicaid is a voluntary program. States do not have to participate at all."
Officers of the Pennsylvania AFL-CIO could not be reached this morning because they were in an all-day meeting but they have made strong statements recently that leave little doubt about their opposition to the political gamesmanship of their state's attorney general.
Bill George, president of the state's federation, has argued that health care for the uninsured is dominating Pennsylvania's budget with medical assistance payments now constituting almost 20 percent of state expenditures.
"National health care reform makes sense for everyone in Pennsylvania," he said recently. "It makes sense for both workers and employers. Sick people can't be productive workers and workers have to be healthy to make a living."
Another conservative talking point against the new health reform law, that it will reduce Medicare services to seniors, is also running into a wall as medical professionals across the country join a chorus of people saying reform will increase, rather than decrease, services to seniors.
In a Los Angeles Times oped, Dr. Bruce Chernof detailed how the new law will benefit seniors.
"First is the creation of a public, voluntary long-term care insurance program known as the Community Living Assistance Services and Support Program. Enrolled individuals who have substantial daily needs would be eligible to receive at least $50 a day to defray costs of services such as home care, family caregivers support, adult daycare or residential care."
The law also provides for programs that will help states expand home and community services so that seniors can avoid placement in a nursing home.
A third feature of the new law critical to seniors, Chernof says, is "impoverishment protections that prevent a healthy husband or wife from being forced to spend all the couple's assets in order to get his or her partner access to community based services."
Photo: Seth Wenig/AP A child pushes her brother in his wheelchair while their mother walks beside them at the Specialty Hospital in Cooke Health Care Center in New York