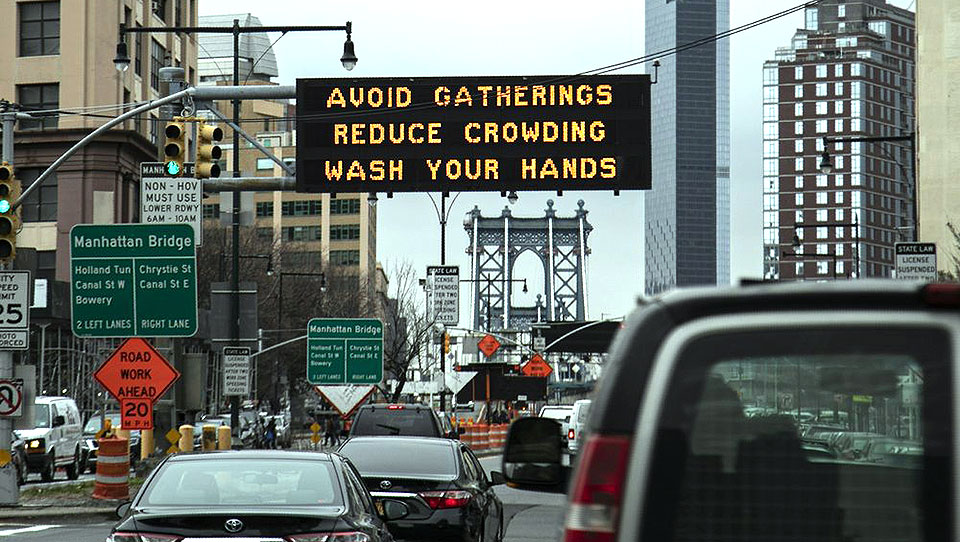 WASHINGTON—The GOP-run U.S. Senate was on the verge today of finally approving a $2 trillion economic aid bill for workers and firms hard hit by closings, shutdowns and shelter-in-place orders due to the spreading coronavirus pandemic.
As of mid-day March 25, 60,854 people had tested positive for the coronavirus in the U.S., with one-third of them in New York State and one-sixth of them in New York City. The virus had killed 804 nationwide and 380 previously ill people reportedly recovered.
But while the measure helps workers, corporate lobbies seized the chance to insert some multibillion-dollar goodies for themselves, too, feeding off U.S. taxpayers for $20 billion more for agribusiness and a reported $17 billion for Boeing, for example.
The $2 trillion measure will send billions of dollars to workers via $1,200-per-adult checks, $500-per-kid checks, and a four-month expansion of unemployment benefits. There'd be greater eligibility for jobless aid, and qualifying workers – those who lost jobs due to the coronavirus – would get weekly benefits equal to their full weekly pay, plus $600 per week.
That provision, in particular, would help the nation's lowest-paid workers, especially in poorer states, most of them "red states" in the South. In those areas, regular state jobless benefits are skimpy and far from already-low weekly pay. Mississippi's maximum is the lowest at $235 per week. Louisiana's is $247.
It's also going to help millions of workers who suddenly lose their jobs. Estimates range up to three million by June, with jobless rate forecasts ranging from 10% to 30%.
"Help is on the way. Big help and quick help," said Senate Minority Leader Charles Schumer, D-N.Y., the party's lead negotiator, after parleying until after midnight with Majority Leader Mitch McConnell, R-Ky., and Treasury Secretary Steven Mnuchin, who acted for GOP President Donald Trump.
But the legislation doesn't solve two big problems that could help accelerate the spread of the coronavirus. The biggest is Trump himself, including his self-glorification, lies, and utterly wrong rosy statements.
The GOP president wants the country up and running for business by Easter, even though the number of people testing positive for the coronavirus passed 50,000 on March 24, including more than 800 deaths.
Trump also went on a town hall and said people are complaining to him about having their businesses closed. They also want to move around, Trump said. They're getting depressed "and depression will kill more people than this coronavirus will."
The other big problem that could accelerate "community spread" of the virus is the federal government's exemption of military contractors from the shutdowns. It called their plants essential to "national security," even if delivery dates for the arms and aircraft involved are months or years in the future.
Even as their lobby argued for the exemption, Trump DOD official Ellen Lord sent a memo telling the firms to continue to work as usual.
So as a result, over objections from the Machinists and other unions that represent the workers at such plants, tens of thousands are going to work as usual on assembly lines from Bath, Maine, to Fort Worth, Texas, crowded together and potentially spreaders of the coronavirus through coughs and sneezes.
Machinists Union leaders in Bath wrote General Dynamics officials, urging them to close the shipyard while still paying the workers. "What could be devastated" by keeping the Bath Iron Works lines open "is the health and well-being of BIW employees, their families, and the American people."
The Democratic-run Maine legislature hit the ceiling, about the military's order, too. They wrote Maine's congressional delegation that DOD's order could make the entire town a coronavirus "hot spot." When one BIW worker tested positive on March 23, word spread and 41% of the workers did not report the next day.
"We remain open because the President of the United States and the Secretary of the Navy mandated that we do so," the shipyard president, a General Dynamics official, wrote back to the union.
Meanwhile, in D.C., Senate leaders resolved a key partisan controversy over a $500 billion fund, to be run by Trump Treasury Secretary Steve Mnuchin, for handouts to businesses that had to shut their doors or lost customers due to the closures the pandemic caused.
McConnell, Trump's lapdog, wanted that money to go to whomever Mnuchin favored, with no oversight and no strings attached. Democrats said the result would be to aid "hotels, not hospitals." They used their blocking power – because the bill needed 60 votes and failed twice to get them – to force conditions on the cash.
Now the cash comes with big strings attached: An independent inspector general and a non-partisan oversight board. In the last such similar situation, the $787 billion American Recovery and Relief Act after the financier-caused 2008 crash, Congress established its own independent oversight committee, run by nonpartisan analysts.
And Schumer told reporters the legislation bans firms from using the money for stock buybacks and executive bonuses.
News reports said some special interests still managed to jam specific handouts into the developing legislation. The biggest appeared to be the airlines, who would get $500 billion, three times as much as hospitals' $150 billion. The House Democrats' $2 trillion alternate bill gave $100 billion to the airlines, and $400 billion to the airlines' workers.
The hospitals need the money to expand capacity to handle a flood of coronavirus patients. States and cities are trying to help the hospitals, requisitioning closed arenas and hotels to serve the overflow.
New York Gov. Andrew Cuomo condemned this part of the bill this morning saying that New York City would only get $1.5 billion while, as the epicenter of the contagion, "it needs many billions more."
Other special interest winners include wealthy farmers, especially agribusiness, and Boeing. Earlier this year Trump funneled $30 billion to soybean and other agribusiness farmers who lost sales when China cut off U.S. soybean purchases due to Trump's anti-China tariffs.
But as Senate leaders finalized details of the legislation, Sen. John Hoeven, R-N.D., sent out a press release claiming the farmers will now get $50 billion.
And sources speaking on background told the Washington Post the money bill has a special provision funneling $17 billion to firms "critical to national security." The language was written in such a way, the sources said, to go to Boeing, not its workers.
Even Trump, the day before, said so.
"We'll be helping Boeing, we'll be helping the airlines," he said. "We'll be doing a lot of things and the money will all come back to us, and it will come back to us in a very strong form." He indicated the money would be a loan, not a grant.
The Machinists, whose union represents more than 40,000 Boeing workers, implicitly backed the funds, in a letter to lawmakers. Union members have already received more than 13,000 coronavirus-related layoff letters, IAM President Bob Martinez wrote.
Any aerospace sections "should include provisions to protect salaries, health insurance, benefits" and items negotiated in union contracts. It should also include a ban on outsourcing, offshoring and using the funds for corporate bonuses and stock buybacks, Martinez said.
Gov. Andrew Cuomo, D-N.Y., said in his daily press conference on the coronavirus that New York would be a big loser in the planned compromise bill. Trump shorts the state, he declared.
"The Senate is considering a $2 trillion bill, which is quote-unquote 'relief' for business, individuals, and governments," Cuomo said during his daily briefing. "It would really be terrible for the state of New York."
"What does it mean for New York State? It means $3.8 billion. $3.8 billion sounds like a lot of money, but we're looking at a revenue shortfall of $15 billion. This response to this virus has probably already cost us $1 billion, and it will probably cost us several billion dollars when we're done."
And New York City, the epicenter of the coronavirus outbreak in the U.S. – with more than 10,000 cases alone – will get only $1.3 billion. Cuomo called that "a drop in the bucket, as to need." The city subways alone, have lost 87% of their riders due to shelter-in-place orders and business closures for the entire Big Apple, and MTA officials say they need $4 billion.