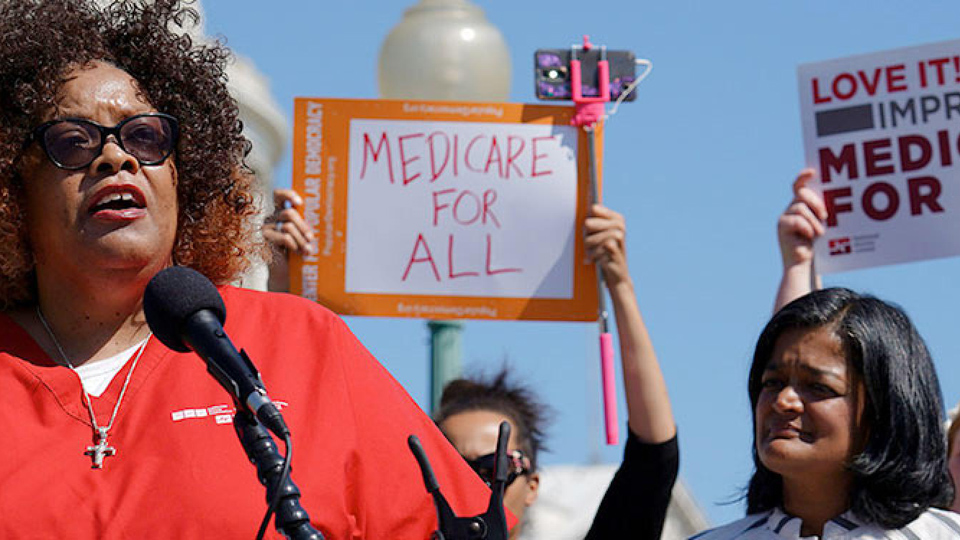 Donald Trump and Mitch McConnell's relentless attacks against Americans' health care have opened the door to a new conversation: improved Medicare for All.
For years, the conventional wisdom in Washington has been that Medicare for All was a progressive pipe dream. Something that only the fringe of the Democratic Party was talking about.
But thanks to your hard work, a majority of Americans now believe that health care is a human right. And due to the relentless and ongoing attacks by the Trump administration against the Affordable Care Act, it is more apparent every day that we need to expand Medicare to cover every single American.
Tomorrow, Senator Bernie Sanders will introduce the Medicare for All Act of 2019 with original co-sponsors including presidential candidates Senators Elizabeth Warren, Kamala Harris, Kirsten Gillibrand and Cory Booker!
Join Social Security Works and our partners and become a grassroots co-signer of Bernie Sanders's Medicare for All Act today!
Together, we're making history. For the first time, the House and Senate each have bills to improve Medicare and extend it to every American.
All told, Sen. Sanders's improved Medicare for All bill has 13 original co-sponsors. Now we need the rest of the Democratic caucus ― in the House and Senate ― to get on board with a universal health care system that covers every single American.
Right now, 71 million people in America are uninsured or underinsured. GoFundMe pages are full of stories of families literally begging to be able to receive life-saving care. It doesn't have to be this way.
The American health care system is broken. And Medicare for All will guarantee health care access with comprehensive benefits, without premiums, co-pays or deductibles. It will improve Medicare for older adults and people with disabilities, and include dental, vision, prescription drugs, and long-term care. Plus, Bernie's bill will reduce health care spending and the cost of prescription drugs.
At a time when Republicans continue to attack the ACA ― threatening the health care of tens of millions of Americans ― we need a unified Democratic Party that puts the American people ahead of the greedy health insurance and pharmaceutical industries.
Become a grassroots co-signer of the Medicare for All Act today!
It's time that we put patients ahead of profits.