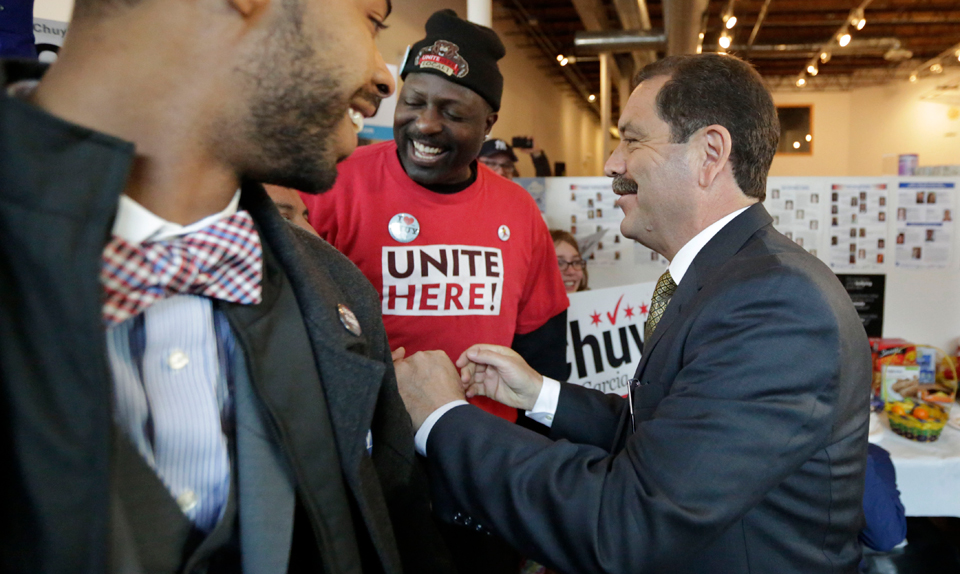 CHICAGO — Democratic voters emerged from a fractured March 20 Illinois primary prepared to unite against incumbent billionaire Republican Governor Bruce Rauner in November. At the same time, progressive candidates made some notable gains against the entrenched Democratic Party machine.
In another indication 2018 may be a "wave" election, turnout among Democrats increased 300 percent over 2014 and 30 percent over 2010. This spells big trouble for Republican candidates up and down the ballot.
The crisis in the Illinois Republican Party continued to deepen as Rauner, the most unpopular governor in the country, narrowly won over Jeanne Ives, a Tea Party candidate. An open Nazi, Arthur Jones, won the Republican nomination in the heavily Democratic 3rd Congressional District.
Democrat J.B Pritzker will oppose Rauner in the governor's race. However, Pritzker, a billionaire, has some work to do to unite voters after racially insensitive remarks surfaced from a taped conversation with former Governor Rod Blagojevich.
African American and Latino voters are key Democratic constituencies that are essential to victory and advancing political independence.
Pritzker won the Democratic nomination over State Senator Daniel Biss and Chris Kennedy, son of the late Robert Kennedy. Pritzker, who had the support of the state labor movement, ran on a platform including a progressive income tax, support for a state–level public health insurance option, and expanded social services for undocumented immigrants.
Pritzker's running mate for Lieutenant Governor is State Rep. Juliana Stratton, an African-American criminal justice reform advocate.
Progressive independent candidates registered several significant victories over machine establishment candidates, building on gains over the past few election cycles. An alliance of labor and progressive community forces is driving the process.
The victories included Jesus "Chuy" Garcia, who won the Democratic primary for the 4th Congressional District to fill the vacancy left by retiring Rep. Luis Gutierrez. Garcia, who had forced Chicago Mayor Rahm Emanuel into a runoff in 2015, is assured a victory in the heavily Democratic district.
Three other independent candidates who ran with Garcia won Democratic nominations and signaled gains in representation for the growing Latino community. They included Beatriz Frausto-Sandoval for a seat in the 14th judicial sub-circuit and Alma Anaya, who would succeed Garcia in the Cook County Commission.
In a huge upset, Aaron Ortiz defeated State Rep. Dan Burke, the brother of Alderman Ed Burke, the powerful Democratic Party machine boss.
Fritz Kaegi defeated Cook County Democratic Chair and County Assessor Joe Berrios. The assessor's office has been accused of weighting property taxes more heavily on working families and allowing breaks for wealthier property owners in what amounted to a wealth transfer to the top one percent. Kaegi vowed broad reforms in the office.
The property tax appeal process involves corrupt pay-to-play with law firms run by Democratic House Speaker Michael Madigan and Senate President John Cullerton, who have enriched themselves and built powerful political machines in the process.
Chicago Teachers Union organizer Brandon Johnson defeated incumbent corporate lobbyist Richard Boykin for Cook County Commissioner of the 1st District.
After the late announcement by Attorney General Lisa Madigan that she was stepping down, eight candidates vied to replace her in the Democratic primary. State Senator Kwame Raoul won over former Gov. Pat Quinn, who entered the race with a huge advantage in name recognition.
Raoul is the son of Haitian immigrants and serves in the same seat once held by former President Barack Obama. Raoul vowed to be a strong advocate for consumer and environmental rights, oppose sexual harassment and racial injustice and join other states attorney generals in combating the Trump Administration.
Raoul had powerfully condemned Trump's racist description of Haiti, El Salvador, and African nations as "shithole" countries.
Among resolutions Cook county residents supported was one to legalize recreational use of marijuana.
In a very close race, progressive candidate Marie Newman barely lost to Rep. Dan Lipinski in the far-flung 3rd Congressional District primary that covers parts of Chicago, suburban and rural areas. Lipinski, among the most conservative of Democratic lawmakers, opposes reproductive rights and defense of DACA and opposed Obamacare.
Lipinski's pro-labor voting record prevented the state AFL-CIO from breaking with him.  But Newman assembled a coalition of labor and community forces that will likely triumph in a future election in a politically and demographically changing district.