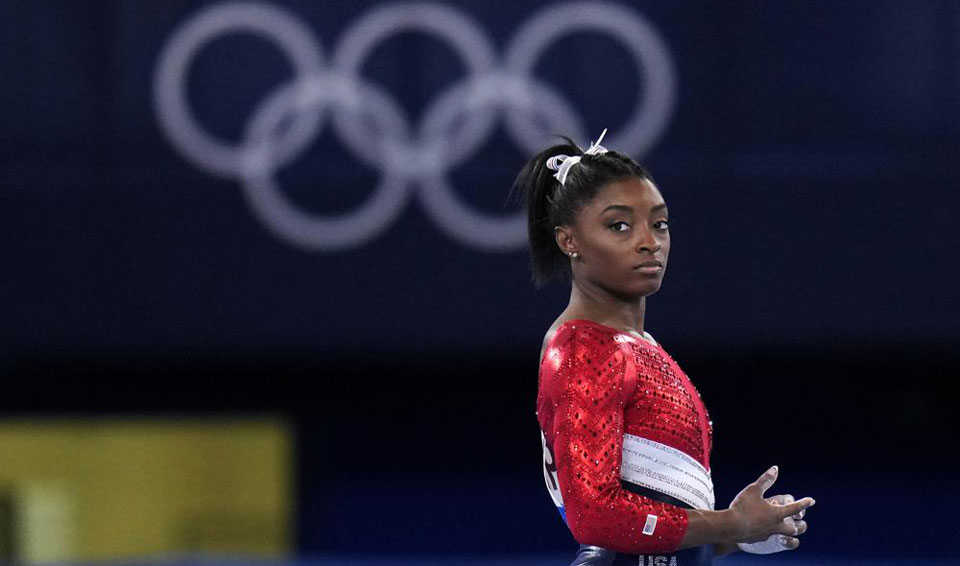 As she walked into the Ariake Gymnastics Centre in Tokyo, sporting a shimmering red, white, blue leotard and a white ribbon tied in her hair Tuesday night, Simone Biles, 24, knew she was carrying "the weight of the world" on her shoulders.
As the face of the U.S. Gymnastics Olympic team—and the Summer Games in Tokyo—she was burdened by the U.S's hopes of another gold medal.
Undeniably, Biles is the greatest gymnast of all time and an outspoken advocate for fellow female athletes. But she is also a human being who struggles under such intense and constant outside pressure–as we all do.
And despite that troublesome American ethos telling us "toughen up," or to "pull yourself up by the bootstraps," or "just shake it off" whenever doubts begin to creep up, or our inner demons make a surprise appearance— the truth is that it only works for a short time. Eventually, we all need to take a step back and breathe.
For Biles, that moment came after she completed her opening rotation on the vault. She walked off the floor with her trainers, threw on her white sweatsuit, took off her bar grips, and ended the evening cheering on her teammates.
"We have to focus on ourselves, because at the end of the day we're human, too," said Biles, according to The Associated Press. "We have to protect our mind and our body, rather than just go out there and do what the world wants us to do."
Biles will not defend her Olympic title. Instead, she will focus on her mental well-being.
USA Gymnastics said in a statement Tuesday that Biles "made the difficult decision to withdraw out of an abundance of caution for her mental and physical well-being."
On Wednesday, the team announced she had opted out of the all-around competition scheduled for Thursday.
"Physically, I feel good," she said on NBC's "TODAY" show following her withdrawal. "Emotionally, that kind of varies on the time and moment. Coming here to the Olympics and being the head star of the Olympics isn't an easy feat. So, we're just trying to take it one day at a time, and we'll see."
Biles', a four-time gold Olympic gold medalist, candid statement puts a spotlight on the often-unmentionable subject of mental health in professional sports.
In June, professional tennis player Naomi Osaka withdrew from the French Open over issues of depression and a need to "take some time away from the tennis court." And Biles was clear in saying Osaka inspired her and that she would encourage others who are struggling to put their needs first.
"Put mental health first, because if you don't, then you're not going to enjoy your sport, and you're not going to succeed as much as you want to," she said. "So, it's OK sometimes to even sit out the big competitions to focus on yourself, because it shows how strong of a competitor that you are, rather than just battle through it."
Olympic competition aside, the unusual factor impacting this year's summer games, the coronavirus pandemic, has been detrimental to athlete well-being.
"It's been stressful this Olympic Games," Biles said. "Just as a whole, not having an audience, there are a lot of different variables going into it. It's been a long week. It's been a long Olympic process. It's been a long year. So just a lot of different variables, and I think we're just a little bit too stressed out. We should be out here having fun, and sometimes that's not the case."
Biles joins a growing list of high-profile Olympic Athletes who have openly talked about mental health, and their struggles, including American Sprinter Sha'Carri Richardson, Dutch cyclist Tom Dumoulin, WNBA Player Liz Cambage.
Aside from it, the growing list of keyboard warriors attacking top-level female athletes for being human. The litany of tweets against Biles boils down to this: "she's a quitter," "She's selfish, "she's teaching little girls to be weak."
And if your thoughts about Biles' decision led you to think that "she should have toughened up" and kept going, I've got news for you.
It takes more courage to admit when you're struggling. And it's best to keep quiet.
Biles, and other athletes, will go down as heroes for destigmatizing issues of mental health.
So just remember, it's ok, to not be ok. To hell with those social expectations.