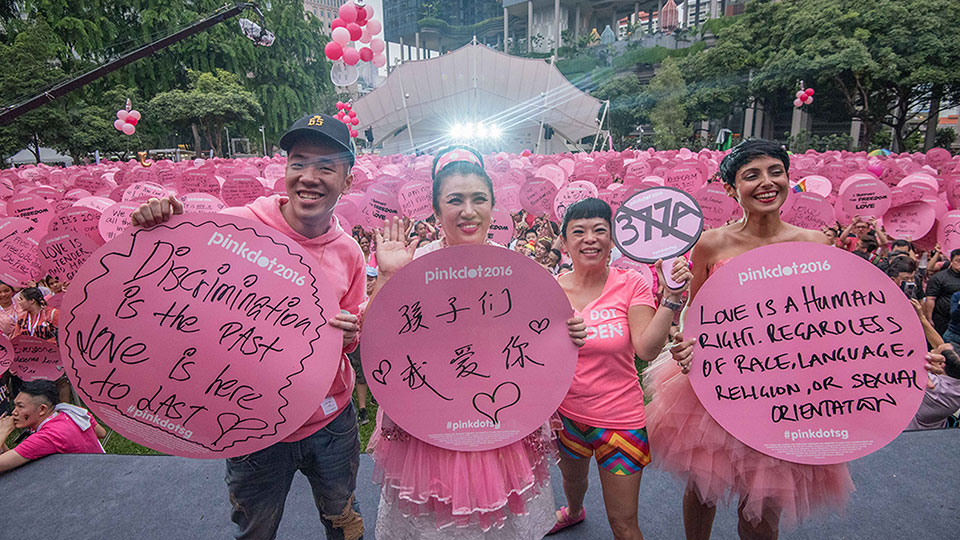 Organizers in Singapore are pushing ahead with plans to put on the ninth edition of the island nation's annual LGBTQ family event, "Pink Dot SG," despite new legal restrictions put in place by the government.
The first Pink Dot gathering took place in 2009 shortly after regulations governing public assemblies were eased at "Speakers' Corner" in Hong Lim Park – the only place in Singapore where demonstrations or rallies are permitted. It was the first ever open-air public LGBTQ event to be held in the conservative city-state.
Pink Dot started as a pro-family "picnic-style" event – a pride parade alternative – for a country where social conservatism is official public policy and Asian family mores are seen as reserved when it comes to issues of sexuality and gender identity. It features a day of concerts and other activities which ends with its pink-clad participants gathering in a giant circle forming a "pink dot." Its name is a reference to Singapore's nickname as "the little red dot" and incorporates the color pink, often associated with the LGBTQ community.
But with Pink Dot growing from 2,500 participants in its first year to nearly 30,000 in 2016, the government has in recent months announced a number of new restrictions governing Speakers' Corner. The government has not disguised the fact that the changes are a direct reaction to Pink Dot.
Immediately following Pink Dot 2016, in June, the Ministry of Home Affairs published a decision stating that foreign-owned companies, including Singapore-incorporated subsidiaries, are banned from financially supporting or otherwise sponsoring events at Speakers' Corner. The country's economy is heavily dominated by foreign companies and Pink Dot had benefitted from donations from multinationals such as Google, Apple, Goldman Sachs, and Facebook.
The government justified its actions as a means of preventing outside interference in domestic affairs, but its statement made clear that the regulation was prompted by Pink Dot. "Foreign entities should not interfere," it said, in "political issues or controversial social issues with political overtones… LGBT issues are one such example."
With much of Pink Dot's funding coming from multinational companies, some saw the restrictions as an attempt to financially cripple it. However, more than 100 local Singapore businesses and individuals stepped up after the ban was announced to ensure Pink Dot's survival.
And now, as organizers are gearing up for Pink Dot 2017, the government's latest move aims at restricting anyone who is not a Singaporean citizen or permanent resident from attending the event. It was already illegal for non-Singaporeans to "participate" directly in the activities of the Pink Dot, such as holding placards, but they had not previously been stopped from coming to Hong Lim Park to observe.
The Singapore Police Force recently notified organizers that the country's Public Order Act has now been amended to prohibit foreigners from being present at all for any demonstrations, assemblies, or events at Speakers' Corner.
Anyone who illegally attends events there could face fines and organizers could be subject to fines or jail sentences. Although they have no choice but to comply with the government's restrictions, volunteers say Pink Dot 2017 will go ahead as planned. It will also be live-streamed online for those banned from attending as well as other supporters internationally.
"Pink Dot has been honored by the strong support from friends from around the world who have unfailingly attended our events over the years, observing as their Singaporean friends make a stand for inclusion, diversity, and the Freedom to Love," the group responded.
These latest proscriptions are part of an overall situation of illegality that LGBTQ people face in Singapore. Though rarely enforced, Section 377A of the country's penal code continues to prohibit same-sex relations between men, leaving gay people open to possible prosecution. Prime Minister Lee Hsien Loong, head of the ruling People's Action Party, has signaled the government has no intention of repealing the law.
In a message squarely aimed at LGBTQ activists, he declared in 2015: "There is space for the gay community but they should not push the agenda too hard because if they push the agenda too hard, there will be a very strong pushback."
In response to those who say they should not be holding a "gay" event in Singapore, Pink Dot organizers have answered loudly and clearly:
"We love Singapore. This is our home and we believe that diversity is a cornerstone to our civil society. Like it or not, LGBT individuals exist. We are aware that many people harbor much hatred towards the LGBT community. That is why such events are important. It serves to foster understanding, and through that, there is hope for trust and social cohesion."
On July 1 this year, as they have every year since 2009, the members, supporters, families, and friends of Singapore's LGBTQ community will gather at Speakers' Corner to celebrate the Freedom to Love – a freedom which no legal restrictions will ever be able to prohibit.
Video from Pink Dot 2012. | Pink Dot SG