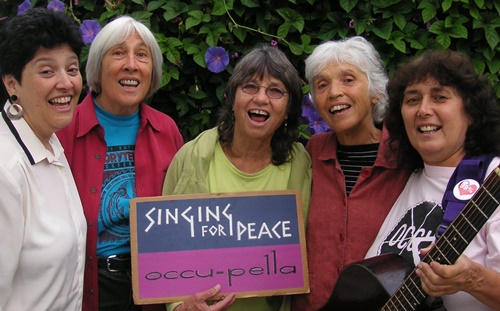 There is a soundtrack to the rising movement for social change. As activists put their shoulders to the wheel of progress, their voices rise to describe the struggle and urge others to join. The voices are varied. The songs are many. The singers are as diverse as the causes they espouse. But all over the country, particularly in the San Francisco Bay Area, the rising populism is tracked by the rise of a joyous noise.
Many of the current groups singing for social change trace their roots back to the Freedom Song Network. In 1982, organizer Jon Fromer put out a call for music workers and song sharing as part of the workshop, "Art Works for the People." A couple hundred people answered that call. Many groups ended up being formed out of the workshop. To this day, Freedom Song Network still stands as a clearinghouse for individual singers and groups. Many are still vital voices in the movement for social change.
The group Vukani Mawethu traces its roots back to the Network. It was brought together by Fania and Angela Davis around South African singer, James Madhlope Phillips. A union leader and member of the African National Congress (ANC), Phillips toured the world singing songs of freedom. He and the Davis sisters organized an ensemble for a 1986 concert at the University of California.
Vukani Mawethu grew, over time, to become a multiracial choir singing songs of everyday life as well as celebrations of freedom struggles from Africa and around the world. Their songs, primarily from South Africa, are sung in Zulu, Sethu, Xhosa, and English. The repertoire includes gospel, spirituals, labor songs, and ballads which describe the battle against racism and for social and political freedom.
As Vukani prepares for its thirtieth anniversary, coordinator Andrea Turner looks both to the past and to the future. "We are out in the community more, listening to people," she says, "trying to connect with the future and to bring new voices in, getting youth more involved in these ongoing struggles."
Occupella is of more recent vintage, starting around the Occupy movement. Nancy Schimmel, Bonnie Lockhart, Hali Hammer, Leslie Hassberg, and Betsy Rose started singing and playing at Oakland and Berkeley Occupy sites and outside local banks, particularly for International Women's Day.
The group knew each other from Freedom Song Network and other past work, including Lockhart's days with Red Star Singers, the work of Hammer and Rose in Singing for Peace, Schimmel and Lockhart playing in Plum City Players along with Jose Luis Orozco, and Schimmel's illustrious mother Malvina Reynolds ("Little Boxes," "Morningtown Ride," "What Have They Done to the Rain").
Occupella now sings at Berkeley's weekly Tax the Rich demonstrations, monthly at BART transit stations, as well as on labor picket lines, at climate change rallies, and for workshops of the San Francisco Folk Festival. They conduct song swaps and maintain a useful, handy online songbook of original, topical, and traditional parodies and rewrites. This musical manual is appropriate for all demonstrations and varieties of work toward a better world.
As Nancy Schimmel says, "We sing to promote peace, justice, and an end to corporate domination! If you can think critically, you need to act. If you can talk, you can sing!"
San Francisco's Labor Heritage Rockin' Solidarity Chorus also has roots in the Freedom Song Network. Since 1999, the chorus, made up of workers from many unions, has found homes at local community colleges and sung all over Northern California.
Director Pat Wynne, a labor organizer herself, steers the chorus to picket lines and demonstrations in support of organized labor. A recipient of the Joe Hill Award in 2014, Wynne and her husband Gilbert write performance pieces as well as song books. Her mission, she says, is to create a new canon of labor music that better reflects the diversity of the working class and its concerns.
Wynne, along with Hali Hammer and Liliana Herrera, comprise the allied group The ReSisters. They specialize in political parodies, humorous takes on serious subjects, and satire in three-part harmony. They have truly earned the title, "Divas of Dissent."
The award winning, indefatigable Hammer, who like so many in the movement has played for decades, characterizes not only the group, but the wave as a whole as she describes the music: "We are more than just a sound track; we are the spirit, the humor and the heart of the movement for social change. Our words and actions help change the world and improve people's spirit and lives. Listen to us…but more importantly, join us. There is a lot of work to be done!"
Photo: sffolkfest.org/