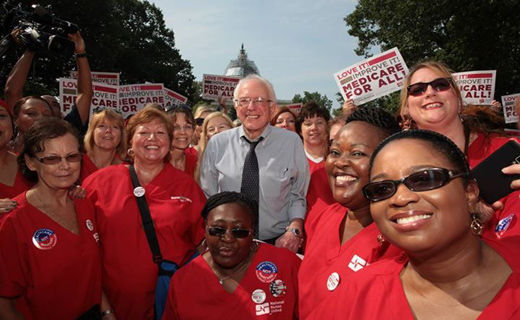 WASHINGTON – The last surviving "creator" of the original Medicare proposal of 1965 is enthusiastically endorsing Medicare for all – also known as single-payer government-run universal national health care.
"What Bernie said goes for me, too!" declared Max Fine, the surviving member of an early-1960s commission President John F. Kennedy appointed to write the Medicare draft. Congress passed Medicare in 1965 and President Lyndon Johnson signed it.
The "Bernie" whom Fine cited at the July 30 rally in D.C. was Sen. Bernie Sanders, Ind.-Vt., the featured speaker. The D.C. rally was one of dozens nationally, organized by National Nurses United and joined by other unions, to both celebrate Medicare's 50th birthday and to launch a new campaign for single-payer health care.
Sanders has pushed "Medicare For All" for years and intends to reintroduce it "soon," he said. It has virtually no chance in the Republican-run 114th Congress. "Health care is a right, not a privilege," Sanders told the several hundred people – unionists and retirees — north of the Capitol. Other rallies, from coast to coast, drew hundreds more.
"Our goal is everybody is in and nobody is out" on health care, added NNU Co-President Karen Higgins, a registered nurse from Massachusetts.
"When you're sick, you should go to the doctor," without worrying about how to pay, said Sanders, who seeks the Democratic presidential nomination. "When you go to the hospital, you should not come out in bankruptcy." Medicare has ended such outcomes for the elderly, he said. Medicare for all would do so for the entire country, he declared, to cheers.
Those lines from Sanders drew a standing ovation from the AFL-CIO Executive Council the day before, NNU Executive Director RoseAnn DeMoro reported. The council added single-payer to labor's comprehensive "Raising Wages" economic platform, its political yardstick.
Fine urged the crowd to lobby to expand Medicare. "There would be no Medicare without the labor movement," he told the group, which included members and retirees from the Communications Workers, The Newspaper Guild, the Letter Carriers, the Amalgamated Transit Union, the Steelworkers (SOAR), the Teachers, and the Postal Workers.
Photo: Bernie Sanders and nurses celebrate 50th anniversary of Medicare and demand single-payer health insurance at Capitol in D.C. | National Nurses United Facebook page