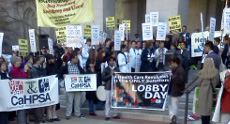 SACRAMENTO, Calif. – Single payer legislation has passed the California legislature three times already, but was vetoed each time by former Republican governor, Arnold Schwarzenegger. Now activists hope the fourth time will be a charm.
About 1,000 people demonstrated in support of statewide single-payer health care legislation at the California State Capitol on Monday, Jan. 10.
Led by members of the California Health Professional Student Alliance, who had traveled from all over the state, then marched through the city to lobby state legislators, the enthusiastic crowd chanted non-stop, except when scheduled speakers came to the podium.
State Sen. Mark Leno, author of the single-payer health care bills currently before the California State Legislature, SB 810, pointed out that whether or not the bills get to Democratic Governor Jerry Brown's desk, and whether or not he signs them, the ultimate decision will be made by the voters.
If Brown signs, the insurance companies will propose an initiative to repeal the act; if he doesn't sign, an initiative will be put forward by single payer supporters, who are, said Leno, "the fastest growing grassroots movement in the state of California."
Leno introduced State Assemblyman Tom Ammiano, D-San Francisco, as "the father of single payer in San Francisco." San Francisco has a unique health care plan that provides coverage to low-income families and all uninsured children and young adults in the city.
Ammiano characterized lifelong universal health care as "sperm to worm."
Speakers for organizations such as the California Nurses Association, Physicians for a National Health Care Program, the California School Employees Association, California One-Care and Health Care for All-California urged the demonstrators to do more grassroots organizing.
"It's easy to convince people about single payer," said Andrew McGuire, executive director of HCAC. "We need all of you to go out and talk to people. If you think you're too small to do anything," he added, "then you've never been in a dark room with a mosquito."
Image: photo by Ama Hetepunuta