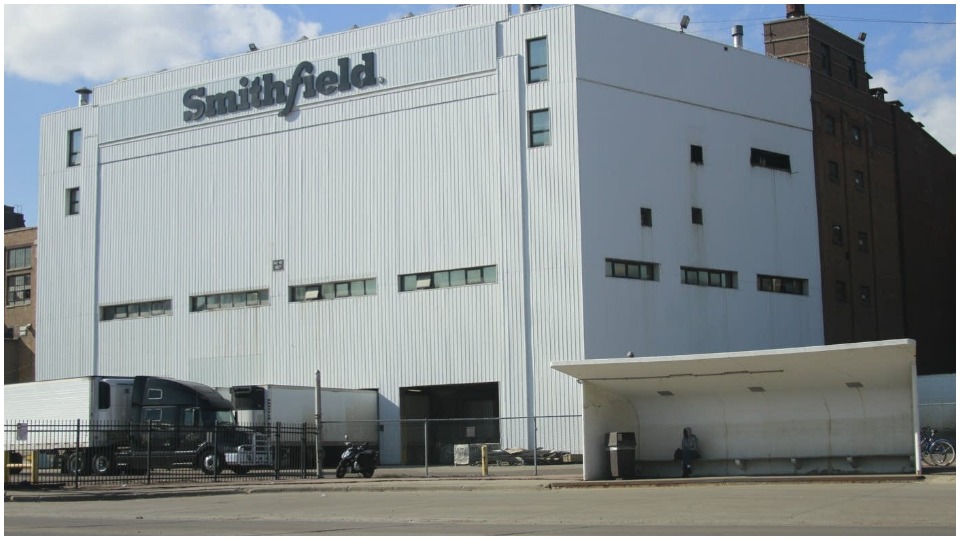 SIOUX FALLS, S.D.—Just two days after the coronavirus took the life of a second worker at the Smithfield plant here, the town council on Tuesday unanimously voted to kill a stay-at-home order the city's mayor, in defiance of the state's governor, had introduced last week.
The much weaker "no lingering" order currently in place for the town was extended to May 15. It requires that no more than 10 people at a time gather inside any "non-essential" business.
Sioux Falls, in the heart of rural America, actually brings into sharp focus the battle going on now between the nation's profit-hungry corporations on the one hand and the labor-led people's forces on the other. It's a battle between those who will do anything to preserve the interrupted status quo in which the majority of Americans are thoroughly exploited and a new way in which the health and safety of the people come first.
Under pressure from the local labor movement, including the AFL-CIO's Central Labor Council for Sioux Falls and Local 304A of the UFCW which represents 6,700 workers at the Smithfield plant, Mayor Paul TenHaken had introduced a stay-at-home order into the town council last week. He did this against the will of the state's right-wing governor, Republican Kristi Noem.
Implicitly endorsing the approach of the Sioux Falls Central Labor Council, the AFL-CIO's national president, Richard Trumka, declared Tuesday that "the failure of President Trump to deal adequately with the coronavirus crisis means that the labor movement has got to take the lead in protecting the nation's workers."
A still loose coalition of pro-corporate forces is emerging, however, that has a different view—a view that puts profit-making before people's lives. It actually looks and feels similar to the conservative and right-wing coalition that started to emerge in the form of the Tea Party after the passage of the Affordable Care Act in the first Obama administration.
What is going on now in Sioux Falls gives us the ability to see these right-wing forces in action. Apparently, the combined efforts of conservative business interests, including South Dakota's GOP Gov. Noem, conservative Sioux Falls council members, the gigantic Smithfield meat company, right wingers among local business people, and extremist "freedom advocates" influenced by Trump and online conspiracy theorists, have paid off.
The first problem faced by the right-wingers who want everyone to rush back to unsafe workplaces, however, is that reality in Sioux Falls and elsewhere does not support their position. As of April 22, South Dakota had more than 1,858 official cases and 9 deaths recorded. Over half of the recorded infections are in the Sioux Falls area itself.
Only two days before the council killed the stay-at-home order, the second infected worker at the Smithfield plant died. Craig Franken, 61, who had put in 20 years at the plant, died just days before he was scheduled to celebrate the 20th anniversary of his marriage to his wife Karen.
On the same day that the Sioux Falls council killed the order, ominous new reports surfaced regarding an alarming spread of the virus in rural areas across the country. Coronavirus outbreaks at dozens of meatpacking plants across the nation are far more extensive than previously thought. The findings were the result of a joint investigation by USA Today and the Midwest Center for Investigative Reporting which noted that some 150 of America's largest meat processing plants operate in communities like Sioux Falls, where the rate of coronavirus infection is already among the nation's highest.
Rates of infection around these plants are higher than those of 75% of other U.S. counties, USA Today said this week.
Related Stories:

S.D. Gov. Noem has blood on her hands after Smithfield outbreak

Appelbaum: Poultry plant workers 'are not expendable' in coronavirus pandemic
Flying in the face of these realities, another straw was added to the camel's back yesterday when Trump's personal lawyer, Attorney General William Barr, threatened to sue states that he said "may have gone too far with their stay-at-home" orders.
Right-wing groups that push anti-science and conspiracy theories online are making efforts to present a picture of a mass back-to-work movement by organizing demonstrations at state capitols where there are stay-at-home orders in place. Investigations have shown that one wealthy right-wing family, the Dorr family, is behind as many as 150 fake Facebook pages. The pages in different states use almost identical rhetoric to build support for the protests.
The town council meeting where the Sioux Fall stay-at-home order was killed provided a good example of how the right-wingers come together to push for their program.
"Public representatives" who got up to speak made speeches that were sometimes angry and at other times emotional as they spoke with tears in their eyes, calling for an end to all restrictions on their "freedom of movement."
Some cited unfounded reports and conclusions about the virus that they said they had read online.
"I don't believe the virus is a threat at all," one speaker said, citing reports on some of the websites mentioned.
Lora Hubbel, a right-wing Republican politician who in the past chaired South Dakota's Constitution Party, questioned the credentials of Dr. Jill Franken, the public health director of South Dakota, who has been calling for a stay-at-home order. "Why is the public listening to doctors who are not elected officials?" Hubbel asked. Hubbel has a history of attacking even the state's conservative Republican politicians from the right. She lost a Republican primary to the very conservative current GOP Gov. Noem after having essentially called Noem "too liberal" for South Dakota.
Some of the conservative council members said that since the virus is not a real threat, it would be just as well if everything was "opened up."
In Sioux Falls, however, as in the nation as a whole, efforts by Trump-backed right wingers to make it look like they have overwhelming mass support are just—efforts.
"In Sioux Falls these people don't represent a majority," said Kooper Caraway, 29, a town resident and president of the AFL-CIO's Central Labor Council in Sioux Falls. "There is a smattering of small business people in addition to the other regulars who show up at these meetings, but they are out of touch with the big majority of Sioux Falls residents who on their own are observing social distancing guidelines."
Caraway said that the majority he is talking about includes union members, 6,700 in the Smithfield plant alone, members of immigrant rights organizations, thousands of immigrants and refugees, Native Americans, and working-class people in general "who constitute the majority here." He said, "Most of them are doing their best, on their own, to observe social distancing guidelines."
Caraway put forward his view of the struggle going on around the pandemic both in his town and nationally. He said that "the mitigation efforts, the stay-at-home efforts, and the handwashing are all critical to protecting worker's health, as President Trumka (who heads the national AFL-CIO) said in his statement."
"But as the AFL-CIO has also said, the fight to protect the working-class majority in this country has to go way beyond these mitigation efforts. We are fighting to make sure that the workplaces people return to are not the same as the workplaces many of them still are toiling at or the workplaces many others have left. People need safe working conditions, paid leave, fair wages, childcare, and so much more.
"If we had these things now," Caraway said, "people wouldn't be facing a choice of having to go back to a dangerous situation because they need the money to survive. They would have the protection they need for both their health and their livelihoods.
"With those protections in place on the job, those in power who refuse to take measures to protect public health would be less able to do everyone harm."
Caraway said that another big problem with the right-wing and corporate forces is that they don't learn from history.
"Look back at the great 1918 pandemic," he said, "Those countries and those states in the U.S. that did social distancing and self-quarantine, those that took the pandemic most seriously, came out with more lives saved and an economy better than it was before. The opposite happened to those who did not take it seriously."
Like free stuff? So do we. Here at People's World, we believe strongly in the mission of keeping the labor and democratic movements informed so they are prepared for the struggle. But we need your help. While our content is free for readers (something we are proud of) it takes money — a lot of it — to produce and cover the stories you see in our pages. Only you, our readers and supporters, can keep us going. Only you can make sure we keep the news that matters free of paywalls and advertisements. If you enjoy reading People's World and the stories we bring you, support our work by becoming a $5 monthly sustainer today.