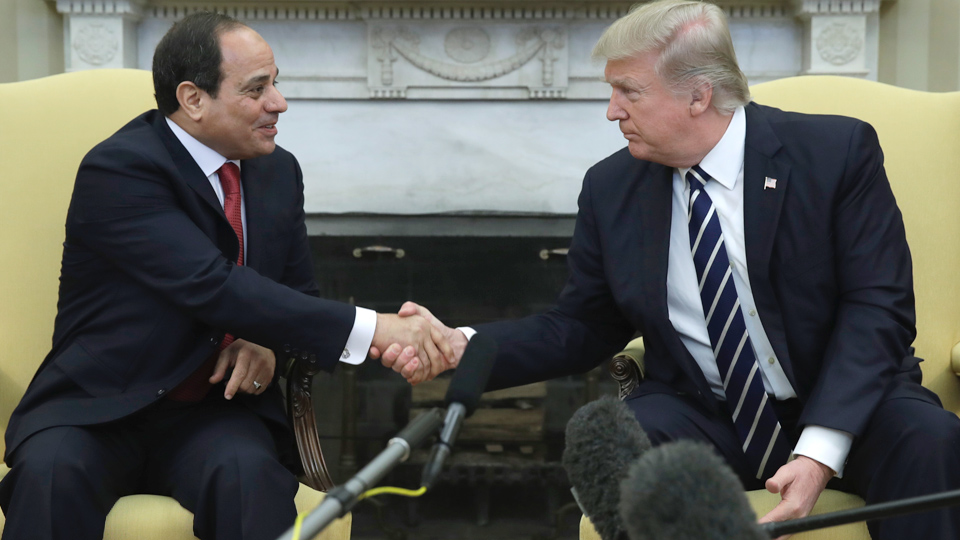 WASHINGTON — "My boyfriend and I went together for a vacation in Egypt, but we flew back separately. I was in a medevac, he was in a body bag." That chilling testimony by April Corey, a U.S. citizen, was heard April 9 by U.S. Senators Patrick Leahy of Vermont and Chris Van Hollen of Maryland, along with five members of the House of Representatives.
"While touring in the Egyptian western desert with about a dozen other tourists, with a tour guide that had government approval to bring tourists into the desert, we stopped for a picnic lunch. Suddenly an Egyptian military Apache aircraft, provided by the United States, appeared in the sky and fired rockets at us. Rafael [her boyfriend] and other people were slaughtered, and I was seriously injured. My life has been destroyed for what the government of Egypt called a mistake."
Corey told the lawmakers and the sponsor-participants in the hearing that the worst part of her tragedy for her was that, as a U.S. citizen, she funded the Egyptian military's brutal attack that took the life of her beloved Rafael Bejanaro.
The hearing with the lawmakers was arranged by 12 human rights organizations and a group of Egyptian activists including the actor and UNICEF Goodwill Ambassador in 2007, Khaled Abol Naga. Sens. Leahy and Van Hollen, and Reps. Tom Malinowski, Jim McGovern, Ilhan Omar, Jason Crow, and David Torne were the lawmakers present.
President Abdel Fattah el-Sisi was the guest of President Trump and staying at Washington's Blair House as the hearing took place. Corey noted that tax dollars from the U.S. continue to be poured into the coffers of the dictator.
Corey has been urging the Trump administration to cut the U.S. annual gift of $1.3 billion to Egypt until it fully meets a wide range of congressionally mandated human rights requirements that it simply ignores without consequences.
In addition to the lawmaker participants at the hearing, 17 more submitted a written letter to Secretary of State Mike Pompeo on April 8, explaining their serious concerns about the erosion of political and human rights in Egypt.
April Corey, Rafael Bejanaro and the others attacked that day are, of course, joined by many thousands of others who are victims of the Egyptian military dictator. Credible human rights groups say that since the military coup of 2013, 60,000 have been taken as political prisoners, among them many journalists. Torture is routine in prisons, with rape and sexual harassment being used against both women and men. Medication denial causes death to many detainees, and mass illegal executions have been conducted without trial.
"Egypt is behind bars living its worst nightmares ever under the military coup authorities," Abol Naga told participants at the hearing.
Sen. Leahy reminded everyone that Sisi has killed many hundreds of Egyptian people as well as Americans and that American aid should guarantee human rights in Egypt, including American values of freedom and democracy.
Rep. Omar stated that the situation in Egypt is more dangerous than it has ever been and that she will do her best to cut the American aid, and to support human rights and freedom in Egypt.
Accusing President Trump of ignoring facts and backing Sisi, Sarah Margon of Human Rights Watch stated that dictatorship and brutal force should never be supported.
Trump has been a fan of Sisi's from the very first time he met the dictator, saying then that Sisi had done a "fantastic job" in Egypt.
Trump and Sisi were holding a one-on-one summit while the hearing was taking place. As expected, human rights in Egypt were not on the agenda.