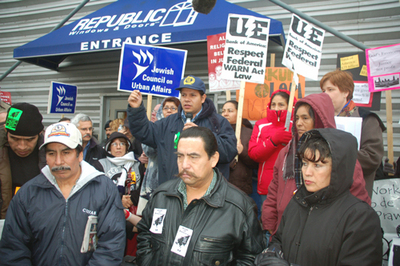 Workers take over factory, solidarity pours in
'Billions for Bank America, $0 for workers'
CHICAGO — "We're here to demand our rights," said Manuella Rivera in a gentle but firm voice, "and we'll stay until we get justice." Rivera, a 58-year-old window assembler, is among 250 courageous workers at Republic Windows and Doors who have occupied the plant since Dec. 5 when it was shut down after the company's main financer, Bank of America, refused to extend a line of credit.
The occupation has tapped into the growing anger of people across the country struggling with the worst economic crisis since the Great Depression and what's seen as a failure of the federal bailout of banks and financial institutions. The day the occupation started, the U.S. Labor Department said 533,000 more jobs were lost in November.
The action has created a storm of outrage because Bank of America recently received a $25 billion bailout package from the federal government, but decided it wouldn't go to keep manufacturing operations running. When the company skipped a Dec. 5 meeting with the United Electrical Workers' union (UE) and Bank of America, the workers unanimously voted to stage a sit-in.
"These workers are to this struggle perhaps what Rosa Parks was to social justice 50 years ago," the Rev. Jesse Jackson said. "This, in many ways, is the beginning of a larger movement for mass action to resist economic violence."
The action against some of the most powerful economic forces in the nation has generated worldwide solidarity and support including from President-elect Barack Obama, who called the workers' demands "absolutely right." Food, money and solidarity messages have poured in and area unions, religious and community activists have demonstrated daily with the workers.
Many solidarity actions were part of the Jobs with Justice Coalition People's Bailout Now Week of Actions Dec. 7-13. A group of religious leaders in town for a meeting of Interfaith Workers Justice rallied at the plant Dec. 9.
"We're here to stand with these workers to support them in their struggle for justice," Rev. Nelson Johnson told the World. Johnson is co-president and board member of Interfaith Worker Justice and vice-president of the Pulpit Forum in Greensboro, N.C.
"People need to work and this is no time for the banks or the company to betray the interests of the American people who made this [bailout] money available for moments precisely like this one that should directly benefit the workers here," said Johnson.
The company, maker of vinyl windows for the home construction market, has employed 300 workers at the factory, including 250 unionized production workers, for 45 years. United Electrical, Radio and Machine Workers of America (UE) Local 1110 represents the workers. The firm started as a family operation but besides Wall Street behemoth Bank of America, JPMorgan Chase, the nation's largest bank, has a 40 percent stake in the company.
Republic closed the factory with three days notice when Bank of America refused it a $5 million line of credit. As chief investor, BA has effectively controlled the company's finances. The abrupt closure clearly violated the federal WARN Act, requiring employers to give 60 days notice of a mass layoff (Illinois state law mandates 75 days) or pay the workers and continue their health benefits for that time.
Negotiations have been ongoing between the union, company and Bank of America to settle all outstanding issues. The workers will vote on whatever settlement is reached.
City, county and state officials have called for breaking ties with Bank of America if they don't release funds so the workers can receive what they are owed. They also called for an investigation into what Bank of America is doing with the bailout funds, perhaps investing in overseas operations but not in the United States.
Alderman Joe Moore, who was joined by 14 other aldermen at a Dec. 8 city hall press conference, said, "We can refuse to do business with Bank of America, withdraw all our funds and deposits and make no zoning changes until BA treats these workers right."
Other speakers said for an economic recovery, money must get into working people's hands.
"The government gave $25 billion to BA. They are supposed to work with businesses to keep them open, not shut them down," Lalo Munoz, 54, told the World. Munoz, a machine operator, has worked at the plant for 34 years.
Others see the banks and corporations as taking advantage of the financial and economic crisis to break unions and shed worker benefits and pensions. UE spokespersons say Republic, which has received millions of dollars in city subsidies, has bought a similar plant in Iowa. Speculation is production will be restarted in the non-union Iowa plant.
"The workers want Bank of America to keep the plant open and the workers employed," said UE Western President Carl Rosen. "There is always a demand for windows and doors. But with Barack Obama's stimulus proposal, there will be even greater demand for the products made by Republic's workers. It doesn't make sense to close this plant when the need is so obvious."
jbachtell @rednet.org
TAKE ACTION
Messages of solidarity:
For solidarity make checks payable to the UE Local 1110 Solidarity Fund, and mail to: 37 S. Ashland, Chicago, IL 60607.
Messages of support can be emailed to leahfried@gmail.com.
For more information, call UE at 312-829-8300.