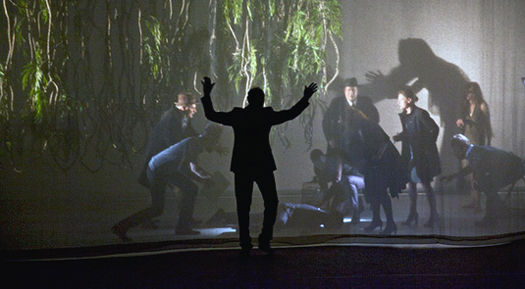 Sicilian playwright Luigi Pirandello's iconoclastic Six Characters in Search of an Author, which deconstructs theatrical conventions, is all the more impressive when one takes into account that its premiere in Rome was way back in 1921. This revolutionary exercise in formalism harkens to the Theatre of the Absurd – but debuted more than a third of a century before Samuel Beckett's 1953 Waiting for Godot and Eugene Ionesco's 1959 Rhinoceros.
Search's rather brilliant, if quirky, conceit is that the eponymous half dozen Characters intrude on a theater rehearsal and demand that the company present their stories. Enter absurdity: As such, they inhabit a sort of theatrical, literary limbo. Pirandello's play is a full frontal assault on the long cherished notions of the stage's "fourth wall" and poet Samuel Taylor Coleridge's "the willing suspension of disbelief." In subverting playhouse traditions, Pirandello raises profound questions of realism vs. illusions; form vs. content; and much more.
This critic had never entertained the idea that there could be a separation between actors and characters. However, after experiencing Search for the first time, I pondered the possibility that there could not only be a distance between the dramatis personae and thespians but also between the roles per se. It illustrates how Pirandello's head scratcher can get the noggin firing on all psychological cylinders.
A Noise Within's cleverly constructed production of Six Characters in Search of an Author adapts the 1998 translation by Robert Brustein (author of 1962's The Theatre of Revolt, which – among others – studies Pirandello). Co-directors Julia Rodriguez-Elliott and Geoff Elliott have, rather amusingly, reset Pirandello's piece at an ANW rehearsal of Thornton Wilder's widely produced 1938 Our Town, which is to be part of the classical repertory theatre company's 25th anniversary retrospective. Talk about a play within a play within a play!
In any case, in doing so ANW is rather noisily (with loud screaming, gunshots, etc.) expanding Pirandello's self-reflective premises and taking it, wittily, to a whole new level full of ANW and L.A. theater in-jokes, which had some in-the-know ticket buyers chuckling in their seats.
Some readers' eyebrows may have been raised by my above admission that this was the first time I've ever seen Search. But, as co-director Elliott (who also co-stars as a perhaps pedophile Father) points out in press notes, this may be "a very famous play, but few of us have ever seen a production of it…" Well, I for one am gratified by the fact that after "at least 15 years" ANW produced it and that I finally saw Pirandello's pirouette.
The talented cast – which includes the titular Six Characters and, cleverly, half a dozen cast and crew members (plus two ensemble members) working at the theater they invade – clash over whether or not to perform the Characters' story or Wilder's script, and end up creatively crafting something altogether different. Some of L.A.'s finest theater actors tread the boards in this one-act. Standouts include Elliott (who was so stand-up-and-cheer superb in 2015's knock-your-socks-off production of Arthur Miller's All My Sons), Abby Craden (an ANW and Will Geer's Theatricum Botanicum veteran, who played Ivy in the latter's August: Osage County) as the Mother, Rafael Goldstein (Chris Keller in ANW's All My Sons); and Susan Angelo (who directed Theatricum's courageous 2011 My Name is Rachel Corrie, co-written by the recently deceased Alan Rickman) as "Actress."
In searching for Pirandello to research this review, I realized that Characters opened in Italy's Eternal City a year before the blackshirts' 1922 March on Rome, which thrust fascist Benito Mussolini (Donald Trump's spiritual il padrino) into power. At first, Pirandello, alas, appeared to back Il Duce the douchebag, but in 1927 the novelist/ poet/dramatist reportedly tore up his fascist membership card in front of the Fascist Party's secretary general. In 1934 Pirandello won the Nobel Prize for Literature.
Presented by one of L.A.'s top theater companies, this well-mounted Characters is for mature, more adventurous theatergoers who prefer their plays to stretch the bounds of imagination and bonds of realism. There are more than six reasons to see this play, so audiences in search of thought provoking, as well as entertaining theater, look no further – here it is.
A Noise Within's production of Six Characters in Search of an Author plays through May 14 in repertory with William Shakespeare's Romeo and Juliet and George Bernard Shaw's You Never Can Tell at A Noise Within, 3352 East Foothill Blvd., Pasadena, CA 91107. For exact times, dates and more info: (636)356-3100, ext. 1; www.anoisewithin.org.
Ed Rampell co-authored The Hawaii Movie and Television Book (see: http://hawaiimtvbook.weebly.com/).
Photo: umslobby.org