John "Cementhead" Dick is a retired postal worker and member of the National Association of Letter Carriers, Branch 3126, Royal Oak, Mich. For many years, he has authored many "Dicktation" columns related to his experiences on the job. Earlier installments can be read here.
"No Mail, Low Morale." I am now retired. I sit in my pajamas on most mornings with a cup of coffee in hand and wait for that sound. With a rustling and the sound of the familiar metal ping, I spring to my feet. I've got mail! I open the front door and excitedly reach into the mailbox to find the paper goodies that are nestled inside. It is my new routine and one of the highlights of my day. If you find this a sad state of affairs for this newly retired Letter Carrier, please keep it to yourselves. The world doesn't need to know of your snickering, and nor do I.
Imagine being a soldier in combat, in a far, far away land, before the age of the internet. For most of your service, the only form of communication with your distant family would be the written word in the form of a letter. These letters and packages, coming from home, were the only source of consolation and comfort that our fighting men and women would receive for sometimes months at a time. And imagine if these letters and packages would start to get backed up, in a foreign warehouse, for close to two years. Two years with no communication from your loved ones while you were fighting for the freedom of your country and the world. This was the reality for many of our troops during World War II in early 1945. "No Mail, Low Morale."
The Six Triple Eight. This was the moniker for the 6888th Central Postal Directory Battalion. Sadly, I defy you to find mention of this elite military group in any of your school history books. More than 6,500 African-American women served in World War II. 855 of these brave women became members of the Six Triple Eight. Enlistee Gladys Carter recounts: "I would have climbed up a mountain to get on the list to serve overseas. We were going to our duty, despite all the bad things that happened…America was our home." The bad things that happened, as African-American women, experiencing not only the racism of 1940s America but the sexism as well, did not deter these women from their thirst for military service.
In the summer of 1944, these Black women received orders to train at Fort Oglethorpe, Georgia. Major Charity Adams took over command of the 6888th on March 2, 1945. "Our preparation was intense. Gas mask drills, obstacle courses, classroom training, clothes packing, exercises, physical examinations, and close order drill." The white commander of the base was not impressed. He clearly told these troops, "We know why you're here and I will do nothing to help you prepare to go overseas." In the face of this overt racism and sexism from their white superior officers, these ladies continued to train. Their perseverance paid off.
By December 1944, the women were fully trained. Major Adams, and her Executive Officer Captain Abbie Campbell, received orders for England in order to prepare for the coming troops. On the trip over, Adams opened an envelope marked "Secret." Inside were her orders to proceed to London, with still no word of her mission. Their ships were chased by German submarines on the way across the Atlantic, but on February 14, 1945, the Six Triple Eight arrived safely in Birmingham, England. Their "secret" mission would soon be unveiled to the women of the 6888th Central Postal Directory Battalion.
SEVENTEEN MILLION PIECES OF MAIL. Shortly after their arrival in Birmingham, England, the women of the 6888th were taken to a nearby warehouse at the local airport. Inside were sacks of letters and parcels stacked all the way to the ceiling. Two years' worth of mail for the overseas troops had backed up in this warehouse, resulting in what would seem like an insurmountable task to unravel. The 6888th Central Postal Directory Battalion immediately took control of the situation. The Six Triple Eight split into three 8-hour shifts. These women worked around the clock, 24/7, sorting the letters and packages for our troops. They not only had to process the backlog but also the "fresh" incoming mail as well. Army leadership estimated that it would take at least six months, but probably closer to a year to get the backlog in order. The Six Triple Eight accomplished the mission in just three months. They moved on to Rouen, France, and continued to process another backlog of our troops' mail until the end of the summer of 1945.
The 6888th Battalion suffered tragedy while on this mission in France. Three of the women, Sgt. Delores Browne, Pfc. Mary Bankston, and Pfc. Mary Barlow, were killed in a jeep accident on July 8, 1945. They were buried at Colleville-Sur-Mer Normandy American Cemetery. Of the nearly 9,400 Americans buried there, only four are women. Three of them are from the Six Triple Eight.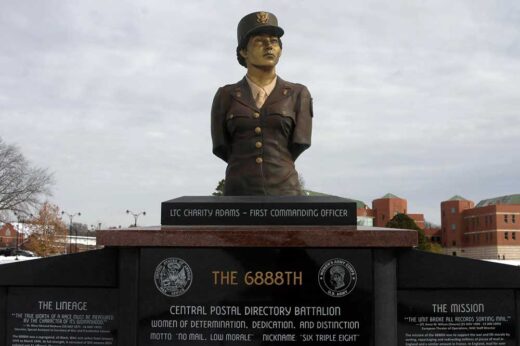 Seveny-three years later, the Six Triple Eight started receiving their just recognition. On November 30, 2018, a monument was dedicated in their honor at Ft. Leavenworth, Kansas. Five of the six living legacies of the 6888th were at the dedication; all still vibrant in their nineties. On February 20, 2019, the Battalion was awarded the Meritorious Unit Commendation for Meritorious Service during Military Operations from February 15, 1945 to March 4, 1946. A documentary premiered in 2019, The Six Triple Eight: No Mail Low Morale, celebrates the glorious history of these accomplished Black women. They were the first and only all Black, all female Army Battalion to serve overseas during World War II. This article has not done true justice in telling the whole story of these noble heroes.
On the heels of Black History Month, and now with the start of Women's History Month, I could not think of a more appropriate history to reflect on. Our children, and all of America, need to know the history of these inspirational trailblazers. The legacy of the Six Triple Eight shall march proudly forward, in perfect formation, just as these women proudly and bravely marched into a warehouse full of undelivered mail in March of 1945. Never forget that bravery appears in many forms.