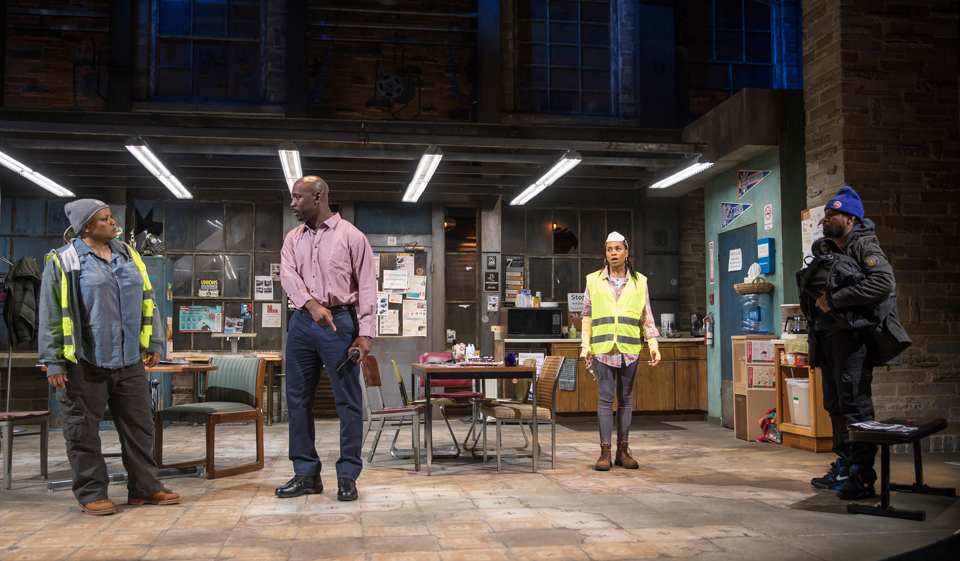 LOS ANGELES—Quick, what words do you associate with "skeleton?" Death, emaciation, specter?
Dominique Morisseau's play Skeleton Crew, now in its L.A. premiere production at the Geffen Playhouse (seen June 14), enacts the hollowing-out of American industry in the Great Recession years that began late in George W. Bush's presidency.
It took monumental, focused efforts on the part of his successor to gradually bring the economy back—with no thanks to members of Bush's party, who tried to stymie the first Black president at every turn. One of Obama's historic achievements was to rescue the American auto industry, which at the moment he assumed office in January 2009 hovered at the brink of extinction.
The entire action of Skeleton Crew takes place in the funky United Auto Workers Local 167 meeting hall and lounge in an unnamed stamping plant in Detroit, during the winter "somewhere around year 2008." A campaign poster for Obama is tacked onto the bulletin board, though his name never comes up. A wall of window panes divides the room from the factory floor; some of the panes are broken. The neon lighting on the union local sign is partially burnt out.
The playlist identifies the four human characters, but there is a fifth living, breathing entity on stage: the stamping plant itself, seen on a second floor level stage, the production line with the repetitive mechanical movements of its equipment, its hissing, heaving, grinding sounds, its erratic lighting, its crew skillfully manipulating its idiosyncrasies. That play is rare indeed where the integration of human beings and the work they do is so viscerally portrayed. The machine periodically lets off steam, just like the characters. We could be mistaken, but at the end we thought we saw the entire set take a bow. Big kudos to scenic designer Rachel Myers!
Morisseau's play is the final work in a three-play cycle, The Detroit Project, which also includes Detroit '67 and Paradise Blue. No doubt she felt some inspiration from August Wilson's magisterial ten-part Pittsburgh Cycle. We don't know for sure, but this may be the first local production from her trilogy—in which case, a word to the wise, let's see more of her work! (Trilogies seem to be in vogue these days: Recently in L.A. we saw Quiara Alegría Hudes's The Elliot Trilogy here and here, and we now have Plunge, Tar and Mexican Day, the three plays in Tom Jacobson's The Ballad of Bimini Baths.)
As a matter of fact, Morisseau will shortly be on another L.A. stage, in this summer's Ahmanson Theatre production of the musical Ain't Too Proud: The Life and Times of the Temptations, for which she wrote the book.
Morisseau creates for us four African-American characters who seemingly all grew up in Detroit as second-generation members of the Great Migration working class. Several of them have long histories together, their families related through shared holidays, intimate personal relationships and job promotions. Upstairs managers at this failing plant, who are slowly reducing its employment rolls to skeleton crew levels in every department, remain unseen. The anxiety is palpable as this team of co-workers struggles to imagine life after stamping.
We meet Faye (Caroline Stefanie Clay), a feisty lesbian who's been 29 years on the line, having worked just about every job in the factory. She's the union rep, constantly vigilant in defense of her unit members, and especially eager to complete 30 years so she'll earn a much more generous retirement package. But can the plant hold out that long? The fact that she's had a serious bout with cancer and is still a dedicated smoker—and a habitué of gambling casinos—indicates something of her self-destructive nature.
Her nemesis, representing management, is Reggie (DB Woodside), whom she has known since childhood: Their families were closely connected. But now, as a supervisor, he wears a tie and button-down shirt. His personal loyalties are clearly with his working-class community, but hey, he has a family to support, mortgage payments on his home, and a promising future to cultivate. His loyalties in conflict, he shows his humanity by looking the other way when he sees flagrant infractions of company rules.
Dez (Amari Cheatom) is a young, accomplished line worker skeptical of the viability of the plant, who is looking to make it as boss of his own auto repair shop. He feels no loyalty to the company nor to the union. His angry and openly sexist demeanor go beyond the archetypal and suggest deep complexity underneath his seething exterior mask. Although he's an established member of the working class (if lacking a firm class consciousness), his brushes with violent, criminal elements in town imply that a steady job may be the one thing separating him from the lumpen existence of many of his contemporaries in the decaying city.
Innocent to the point of naīve, Shanita (Kelly McCreary) has a highly evolved work ethic and is renowned for her expertise on the line. She does not look forward to the outside job she's been offered—managing a copy shop! She is already visibly pregnant, and for that reason alone needs her employee medical benefits to continue. Though she won't discuss her private life in detail, it's obvious she has "man problems." The way she acts in denial of the plant directors' poisonously aggressive indifference shows that she would constitutionally prefer to trust in people's good intentions.
Each of them is motivated by fear, the possible plant closing being the ever-present sword of Damocles threatening to crash down on their lives. To alleviate her pain, Faye subjected herself to addictions which have exacted revenge on her physical being and economic standing. Reggie worries that his two young children, who have up to now felt safety, will be lost alongside his own "manhood" that has accompanied the real but tenuous status of being a homeowner. (Don't forget, it was the housing bubble that precipitated the Recession.)
Dez secrets a revolver he feels is a necessity on the mean streets of his Detroit, fearing the encroaching consequences of poverty in the crumbling environment around him. And the pregnant Shanita has fearful dreams that serve as symbolic mini-narratives of her deepest concerns for her as yet unborn child.
Morisseau is coming from a politically astute place. Of course, as a dramatist she is interested in conflict, and the constant sparring and irritability among her characters reveal the fractured ways people come to understand their identity in the world, on their job, in their class and in their personal lives. Yet in the face of looming expectations and fears of loss of status and jobs, her characters give way, by the second act, to their humanity and sense of solidarity and empathy for one another. They have clearly never been strangers to the principle of making individual sacrifices for the greater communal survival.
The language is gritty and rude, but also lyrical and poetic at times. For example, when Shanita relates what a hassle it is these days just driving the freeways to work, she says, "Nobody wants to merge no more…. Maybe we just need a whole new city." And when Faye admits she has lost, or is about to lose, everything, she says, "I'm running on soul now." Shanita's baby is "all this potential waiting to be delivered."
If the acting was somewhat by the book at the outset, director Patricia McGregor (who earlier directed Clay in a Washington, D.C., production of this play) was shrewdly holding her characters back for the momentum and compassion to emerge more saliently in act two. The cast played as one on the intricate set and within the script itself.
Intriguingly, the playwright leaves open-ended the mystery of who has been entering the plant premises at night and stealing equipment. Workers trying to rip off a few things they can sell or use on the outside to compensate for the benefits they are about to lose? Or management seeking to blame the workers as a means of firing them so they don't have to pay severance? If theft is a problem in America, the company pencils working people might pocket don't begin to compare to the wholesale looting of the economy that comes in the guise of tax cuts, banking fraud, unlivable minimum wages, the decimation of public health, the trashing of business regulation, exorbitant defense contracts, and "reforms" of Social Security and Medicare.
In any case, the devolution of a once significant plant is a metaphor for the larger story of deindustrialization, the capricious greed of the owner class, and the absence of planning for the future of America's precarious people. The author of Skeleton Crew joins the worthy company of Clifford Odets, Arthur Miller, Lorraine Hansberry, August Wilson and other moral playwrights in making the lives of working-class Americans accessible and comprehensible to the theatergoing public.
Skeleton Crew plays through July 8 at the Geffen Playhouse, 10886 Le Conte Ave., Los Angeles 90024. Tickets are available at the box office, by phone at (310) 208.5454 or online.