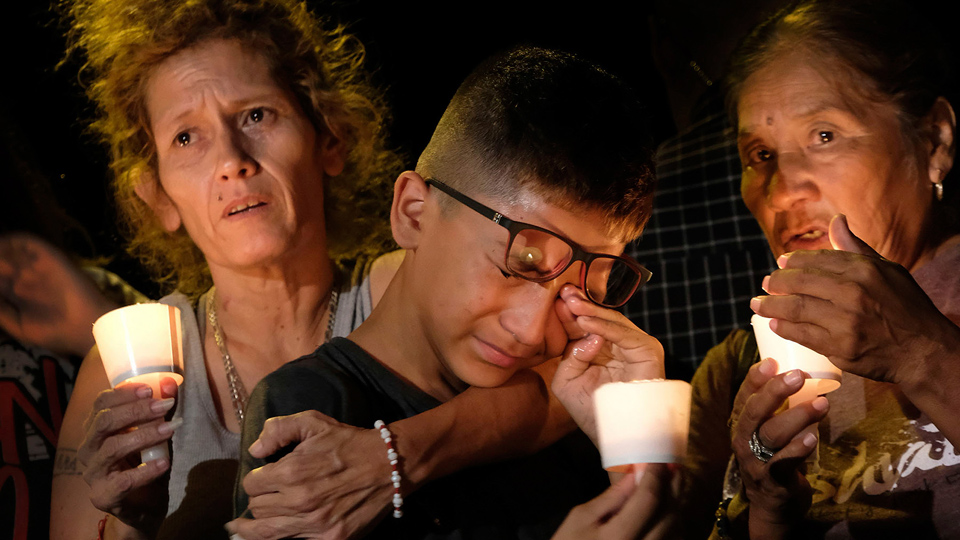 SUTHERLAND SPRINGS, Texas (AP) — A man dressed in black tactical-style gear and armed with an assault rifle opened fire inside a church in a small South Texas community on Sunday, massacring 26 people and wounding 20 others in a matter of seconds. The dead ranged in age from 5 to 72 years old. A pregnant woman was among the dead.
Officials have identified the suspect as Devin Patrick Kelley. Kelley received a bad-conduct discharge from the Air Force for assaulting his spouse and infant child, breaking his stepson's skull, and was sentenced to 12 months' confinement after a 2012 court-martial.
A U.S. official told The Associated Press Kelley lived in a San Antonio suburb and doesn't appear to be linked to organized terrorist groups. The official said investigators are looking at social media posts Kelley may have made in the days before Sunday's attack, including one that appeared to show an AR-15 semiautomatic weapon.
At a news conference, the attacker was described only as a white man in his 20s who was wearing black tactical gear and a ballistic vest when he pulled into a gas station across from the First Baptist Church in Sutherland Springs, about 30 miles southeast of San Antonio, around 11:20 a.m.
The gunman crossed the street and started firing a Ruger AR 556 semi-automatic assault rifle at the church, said Freeman Martin, a regional director of the Texas Department of Safety, then continued firing after entering the white wood-frame building, where an 11 a.m. service was scheduled.
After fleeing the scene of the carnage in his car, Kelley then shot himself with one of the two handguns—a Glock 9 mm and a Ruger .22—police found in his vehicle.
Wilson County Sheriff Joe D. Tackitt Jr., whose territory includes Sutherland Springs, said there was likely "no way" for the church congregation to escape once the shooting started.
"You've got your pews on either side. He just walked down the center aisle, turned around and my understanding was shooting on his way back out," said Tackitt.
Tackitt described the scene inside the church as "terrible." "It's unbelievable to see children, men and women, laying there. Defenseless people," Tackitt said. "I guess it was seeing the children that were killed. It's one thing to see an adult, but to see a 5-year-old …"
Alena Berlanga, a resident of nearby Floresville, said everyone knows everyone else in the sparsely populated county. "Everybody's going to be affected and everybody knows someone who's affected," Berlanga said.
Church member Nick Uhlig, 34, wasn't at Sunday's service, said his cousin, who was eight-months pregnant, and her in-laws were among those killed. "We just gathered to bury their grandfather on Thursday," he said, shaking his head.
The University of Texas was the site of one of the most infamous mass shootings in modern American history, when U.S. Marine sniper Charles Whitman climbed the Austin campus' clock tower in 1966 and began firing on stunned people below, killing 13 and wounding nearly three dozen others before being shot and killed by police. He had killed his wife and mother before heading to the tower, one victim died a week later and medical examiners eventually attributed a 17th death to Whitman in 2001.
According to texasgunlaws.org, there is no waiting period for purchasing a firearm in the state of Texas. There is no state registration of firearms and to purchase a firearm in the state of Texas, a valid state-issued ID is all that is required. Machine guns, suppressors, and short-barreled firearms are all legal in the state. Texas abides by federal law which at this time has no restrictions on assault weapons such as semi-automatic AR15, FAL, G3 / HK91 rifles. And the only limit on magazines in Texas is the number of rounds a person is physically able to carry or afford.
Associated Press writers Jim Vertuno from Sutherland Springs, Sadie Gurman and Eric Tucker in Washington, Nomaan Merchant in Houston, Will Weissert in Austin, Diana Heidgerd in Dallas, Michael Balsamo in Los Angeles and Paul J. Weber in New Braunfels, Texas, contributed to this report. Barbara Russum contributed to this article.