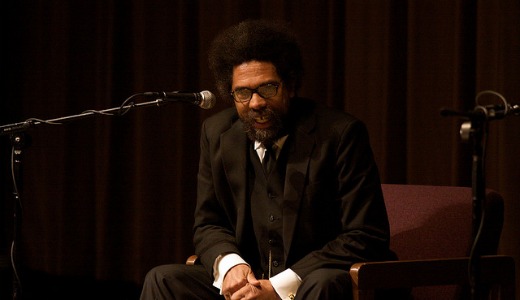 Talk show host Tavis Smiley and academic activist Cornel West embarked last week on a poverty tour to highlight growing inequality in the U.S. Both West and Smiley are vocal critics of President Obama's policies.
The bus tour, which expects to stop in 16 cities, opened in Chicago on August 6. It seeks to address the failure of Washington's leaders to confront an across-the-board growth in poverty but particularly among African Americans.
Dr. West, who claims the tour is not anti-Obama, in an interview on BET said, "Tavis Smiley and I had been talking for a year about how to dramatize the poverty and humanize our perception of poor people in America. This is especially so for the Black poor. Poverty has been criminalized, poor people demonized and what we want to do is dramatize poverty and humanize our perception of poor people to overturn what has been in place for so long."
West has referred to the president despairingly as Wall Street's "mascot," drawing sharp criticism from many quarters for personalizing important political issues. Both tour promoters have complained of alleged affronts from the president – Smiley for Obama's not showing up at the now defunct State of Black America gathering in 2008, and West because the president did not provide a personal "thank you" for support during the 2008 campaign.
During the Aug. 6 Chicago meet, Smiley drew applause from the crowd when demanding, "Say the word 'poor,' Mr. President. We want to hear you say it!"
Writing at the Thegrio.com Zerlina Maxwell pointed out that a brief review of the president's recent speeches shows Smiley's claim is groundless. Maxwell wrote, "Smiley and West seem to have missed President Obama's prepared remarks on July 25th in the middle of the debt ceiling debate to the National Council of La Raza where he said, 'Not only is it not fair if all of this is done on the backs of middle-class families and poor families, it doesn't make sense. It may sound good to save a lot of money over the next five years, but not if we sacrifice our future for the next 50.'"
The anti-poverty tour is taking place at the same as the Congressional Black Caucus is holding jobs fairs and public hearings across the country dedicated to addressing the very problems highlighted by West and Smiley. Over 7,000 participated in Monday's Cleveland "For the People Jobs Initiative" event.
The same day, Smiley and West were speaking with homeless veterans in Akron, Ohio, before going on the following day to Kent State University, just 45 minutes away.
President Obama is planning his own Midwest bus tour the week of August 15, where he plans to focus on jobs. The president has "promised to make job-creating measures his top priority when Congress returns from vacation – including pending trade deals, extending payroll tax cuts and overhauling patent laws," says the Associated Press.
Labor and civil rights groups, and even sections of the business community, however, have been urging the president to fight for public works jobs, extending unemployment benefits, and an infrastructure bank.
President Obama on the other hand has since the State of the Union address signalled the deficit as a priority, an unfortunate concession, some say, to the right.
The AFL-CIO plans to launch a petition drive seeking 800,000 signatures demanding jobs and other measures to address the economic crisis.
By comparison the West and Smiley poverty tour, while highlighting critical issues, seems not to provide those affected with tools to advance their demands.
Recent polls show President Obama with overwhelming support among African Americans with some 87 percent voicing approval.
The next stop on the West-Smiley poverty tour is a town hall in Memphis today.
Photo: Cornel West. James Stewart // CC 2.0