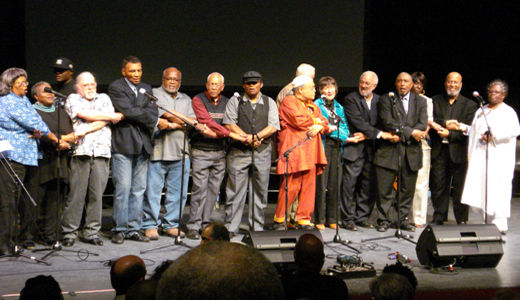 RALEIGH, N.C. – With a mix of nostalgia and renewed commitment, the Student Nonviolent Coordinating Committee (SNCC) held its 50th anniversary conference at Shaw University here, April 15-18.
At its founding here on April 17, 1960, the now-legendary civil rights organization adopted its first formal program. This writer was a founding member, serving alongside Julian Bond, Harry Belafonte, John Lewis (now a member of Congress from Georgia), Freedom Singer and Sweet Honey in the Rock founder Bernice Johnson Reagon, the Revs. David Forbes and James Lawson, Joyce Ladner and Dick Gregory.
All these founders spoke at the anniversary event. There were speeches too by Attorney General Eric Holder and actor Danny Glover.  Glover and Holder were too young to be part of SNCC, but both emphasized that they would not be where they are today without SNCC and its heroic struggle for African American liberation.
The conference was filled with energy, enthusiasm, nostalgia, culture, and a commitment to the present and future. While only 300 were expected to turn out for the event, everyone was thrilled when more than 1,000 showed up.
The young in the crowd honored those who were older, and all went home with a renewed commitment to deal a final blow to racism in all its forms.
The young people seemed to exhibit the same impatience, lack of pragmatism, and fierce opposition to racism exhibited by their forebears in the 1960s.
They agreed with Rep. Lewis when he characterized the election of President Obama as "down payment" and when he said we need to organize and push forward to cash in on that down payment.
Although most of the 25 panel discussions dealt with reflections on the movement between 1960 and 1970, most participants, especially the youth, extrapolated the information to the present. If there was one lesson, it was that boldness did lead to victories beyond one's imagination.
Most of the major presenters agreed that the present requires bold action in unity with all the oppressed of the United States with a special reaching out to victims of U. S. imperialism.
The Rev. Lawson said that "plantation capitalism" was the root cause of our problems and that we must understand the cost of a military budget that approaches a trillion dollars with over 800 bases for the sole purpose of protecting U. S. capital. He argued that an understanding is needed of the relationship of all our problems and their solution to the system as a whole.
Harry Belafonte also gave a global perspective with the admonition that we need to stop worrying about the Democratic Party and looking to it as the solution. He urged seeking our own independence and solutions with a recognition that strategies of the past might be useful, but the enemy is different and therefore requires new strategies.
Danny Glover also talked about the system of capital and pointed out that SNCC and the Southern Christian Leadership Conference, led by Dr. Martin Luther King, met their stiffest resistance from the establishment when they "dared to challenge the very basis of capitalism, money."
Bernice Johnson Reagon thrilled the crowd with her voice, but more importantly her contribution to the role of culture in the movement. She discussed the value and meaning of spirituals during slavery and in SNCC.  She continues to this day to lecture about culture.
The cultural highlight was an evening of song with the three surviving Freedom Singers joined by many other cultural contributors of the time. The evening ended with the singing of SNCC's anthem, "We Shall Overcome."  There wasn't a dry eye in the house.
Joyce Ladner spoke about how she and her sisters entered into the struggle with support from her parents. Like many African American parents who understood how to survive under Jim Crow and had serious concerns about the welfare of their children, her parents nevertheless supported their independent decisions to strike a blow for freedom. The parents often acted, in their own way, as the rearguard.
Rep. Lewis, recognized by his peers in Congress as the conscience of America, gave an inspiring account of his youth on a rural farm in Alabama and his heroic stance on the Pettis Bridge on the way from Selma to Birmingham. He stated that in many ways "the job is not completed" and we must meet head-on the challenges of today.
Attorney General Holder said SNCC played an important role in making it possible for him to be the first African-American attorney general. He said there is much to be done and urged all of us to continue the struggle.
The conference was also a call for writing a collective assessment of SNCC's role from 1960 to 1970 and its continuing legacy. It was agreed that SNCC exhibited a boldness and courage that needs to be emulated today and that there needs to be a direct challenge to the institutions of capital.
David Bell contributed to this article.
Photo: The Freedom Singers lead the crowd in singing "We Shall Overcome." (PW/Debbie Bell)