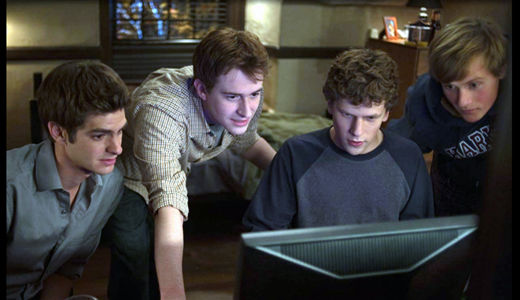 Movie Review

"The Social Network"
Directed by David Fincher
Screenplay by Aaron Sorkin
2010, 121 mins., PG-13
"The Social Network" highlights the positive and far-reaching aspects of the inevitable online revolution sweeping the world through Facebook. But the film also emphasizes the betrayal, greed, and lonely attributes that came to the network's creator along with the fame and glory.
The movie is not entirely based on facts, some scenes and dialogue were created to depict one view of Facebook's creation, its rise to the top and eventual triumph. It also presents a fascinating character study of founder Mark Zuckerberg.
"The Social Network" is smart, fast-paced and combines fine acting with a brilliant screenplay that has you mentally glued to the screen from beginning to end. I think this film will earn an academy award nomination or two.
Directed by David Fincher, the movie is essentially about Zuckerberg (played by Jesse Eisenberg) who founded Facebook in 2004 at age 19 as a Harvard computer programming major.
The opening scene is intense. Zuckerberg and his girlfriend sit at a bar over drinks. They go back and forth in a verbal clash of the wits. Zuckerberg comes off as extremely crude and arrogant, traits he consistently displays throughout the film. At the scene's end, Zuckerberg gets deservedly dumped. You almost feel sorry for him. He's desperate, lonely and edgy.
He races to his dorm room motivated by the moment and creates a campus-wide website called "FaceMash" after hacking into Harvard's database. The site allows male students to choose which of two girls is more attractive. Created over beers in one night, the site gets so much traffic it crashes part of the university's network.
Zuckerberg is reprimanded but he also gets noticed by some of Harvard's most "elite" students. Students of a prestigious campus club admire Zuckerberg's hacking abilities and recruit him to program their dating website called the Harvard Connection.
But Zuckerberg misleads them and snubs their pet project. Instead he begins working on his own idea, a campus-wide networking site, which eventually became Facebook.
Facebook and Zuckerberg's rise to the top came at a heavy price – backstabbing, back room business deals, lawsuits, countless attorneys, and million dollar settlements.
The movie dramatizes major lawsuits against Zuckerberg, one from the pretentious "club" students and the other from Zuckerberg's former best friend who at one point owned 30 percent of Facebook's revenue. Each suit claims Zuckerberg deprived them of their rightful share of the site's eventual billions.
The film reveals the characters' extreme highs and lows and just how lonely life can be at the top despite fame and glory. Zuckerberg is noted as a brilliant young mind. In spite of his socially awkward and self-righteous attitude he ends up being the tragic and somewhat inspiring hero.
Facebook today is the biggest social network in countries ranging from Indonesia to Columbia. At least one out of every 14 people in the world has an account and Zuckerberg is on his way to becoming one of the riches persons on the planet, not to mention the youngest billionaire.
Facebook, arguably one of the best inventions of the 21st Century, has definitely changed the way people worldwide communicate and share information. Yet the online revolution is still very young and the idea of social networking sites is perhaps still in the beginning stages. It seems only fitting that someone as young as Zuckerberg invented a website that allows millions to share pictures, events, causes and stories about daily life.
However, the reality is that nothing in the modern age of global capitalism is actually free and especially something as widely popular as Facebook. It ultimately has a price tag claimed by corporate vultures just waiting to make a super profit.
The fact is ordinary people depend on outlets like Facebook, which really do bring us closer in a world that continues to be dominated by corporate profits and individual financial gain. The question is this: how can we use Facebook and the Internet to reach millions in order to educate one another and truly call this movement what it is, a social revolution?
The "Social Network" is well crafted and is definitely worth viewing. It makes you think about what we can expect in the future as the Internet generation continues to grow and expand. You really wonder what's next. You just hope websites like Facebook, and those that follow, can allow people to truly take advantage of them in order to bring more peace, acceptance and understanding about a complex and diverse world.
Photo: www.thesocialnetwork-movie.com