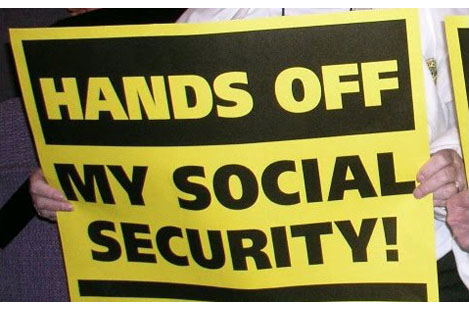 WASHINGTON (PAI) – Saying that their declining numbers and rising millions of recipients who need assistance translate into poorer service, the workers who run Social Security are launching a campaign against future budget cuts.
Led by Witold Skwierczynski, President of the National Council of Social Security Field Locals – the Government Employees sector that represents the 25,000 field workers in the system – the unionists and their allies want the Democratic Obama administration to reverse $3 billion in budget cuts over the last three years.
The net impact, speakers told a kickoff forum in the Capitol on November 18, is that some 4,800 Social Security workers left the agency in the last three years – and have not been replaced. And if the budget keeps declining, speakers warned that another 11,000, most of them veteran, will retire. They also made those points in a letter to Obama's budget office.
Retaining Social Security's workers is even more important to the 54 million Social Security recipients and the 165 million people who now pay into the system, which is the base of U.S. retirement, as well as of payments to the disabled, speakers said.
Workers in the agency's 1,250 field offices, whom Skwierczynski represents, fielded 43 million visits last year and fielded 68 million phone calls, along with 53 million calls to the agency's toll-free number. "The field offices are the living heart of the agency," said Max Richtman, president of the National Committee to Preserve Social Security and Medicare.
But rather than adding workers, Social Security is responding to the increasing workload by urging people to first use the Internet website MySocialSecurity, acting commissioner Carolyn Colvin, whom Obama has nominated for the permanent job, told the crowd.
Skwierczynski and others said that's no substitute for personal contact, where a Social Security worker can help recipients make good financial choices for themselves. Using the Internet locks in mistakes, he said.
"As a union, we have traditionally gone to Congress to get them to address customer service – not concentrating on the web, but on levels of staffing and ways the job is conducted," he explained. "But the Social Security Administration is struggling to fulfill its mandate" due to the budget cuts, he added.
Those cuts were not only in regular budgets, but due to sequestration, the GOP-mandated budget trims to federal programs, speakers said. So the agency "decided to do a hiring freeze, closed field offices and closed 500 contact stations," said Skwierczynski. Those are smaller offices in rural areas, for example, staffed once a week or once a month.
The result is less personal contact, clients who can't get help or must travel dozens of miles for it, and often, less access for poor clients, who need Social Security workers' aid the most, added Skwierczynski.
"As an example, there was one office closed on Ketchikan Island in Alaska. The clients would have had to fly to Juneau for service – and that's virtually impossible."
But unless Congress acts soon to override sequestration, or if there are more budget cuts, there would be more cuts in service, speakers warned. Already, only half of the callers to the toll-free number get through, and waits for appointments stretch into months.
That gloomy future is sending Skwierczynski and his members out to visit lawmakers, with an emphasis on visiting newly elected solons, he told Press Associates Union News Service after the session.
"We're also telling them (workers) to talk to their families, their friends, the people they know, their clubs, their churches, to educate the public" on the decline in personalized Social Security service, and what to do about it. "A lot of this stuff is under the radar," he commented.
AFGE, the parent union for Skwierczynski's sector, is also launching a Running Point ad campaign to get city councils and state legislatures to send resolutions to Congress supporting retaining Social Security field offices and workers and increasing the budget for them. And AFGE will put a "Save Social Security" petition on its website, Skwierczynski said.
The Social Security workers already have strong advocates among veteran lawmakers, led by Sen. Barbara Mikulski, D-Md., top Democrat on the Appropriations Committee, which helps dole out federal funds.
Mikulski, a former social worker who addressed the November 18 session, urged participants to get out and campaign to keep the personal service Social Security workers provide to recipients.
The sponsor of the session, the non-partisan Save Social Security Coalition, also released a poll showing an overwhelming majority of the U.S. believes they should be able to easily call or visit a Social Security field office to get their problems and payments worked out.
For example, one-third of the 1,207 registered voters surveyed said they want to call a local phone number to discuss, with a live agent, what to do when approaching retirement. Another quarter said they want to visit Social Security offices in person to discuss that issue, while 21 percent more said they want to dial a toll-free 800 number to speak to a live agent.
The poll showed similar numbers for people actually applying for Social Security benefits. And 86 percent "want more or the same number of Social Security field offices in the future," the poll adds. That gives backers of the Social Security field workers support.
"After all, you've got 80 percent of the country on your side," co-chair Nancy Altman told PAI. "Now, we've got to convince the elite – the bosses."
Photo: AP