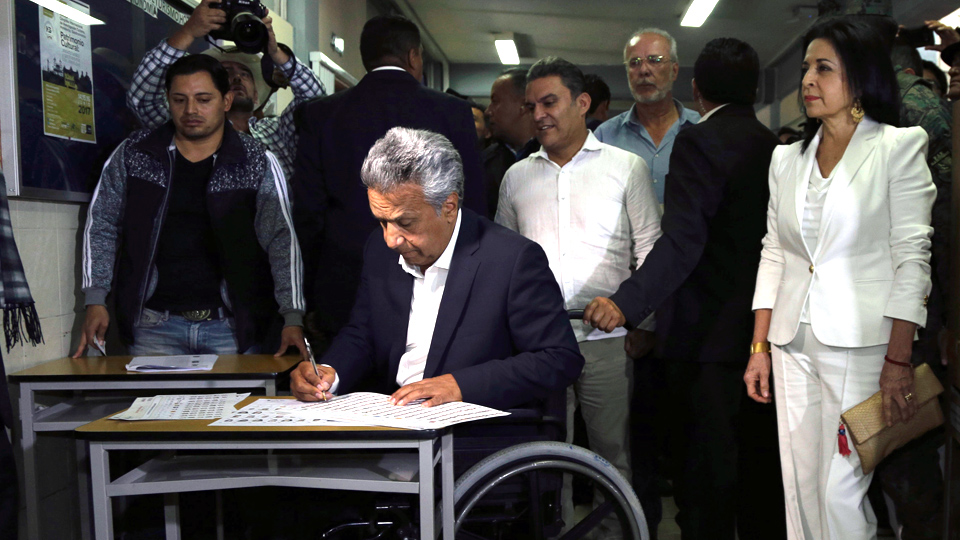 Ecuadorean socialist presidential candidate Lenín Moreno teetered on the brink of victory last night, holding an 11-point advantage over his right-wing opponent with 89 per cent of votes counted.
Mr. Moreno had slightly over 39 per cent of the votes in the first round on a nearly 70 per cent turnout, compared with 28 per cent for former banker Guillermo Lasso. To avoid a second-round run-off, he needs to win a majority of the total vote, or to have a 40 per cent share while holding a 10-point lead over his nearest rival.
Lasso supporters surrounded the National Electoral Council building yesterday, blocking traffic, shouting abuse at outgoing socialist President Rafael Correa and demanding a second round.
Mr. Moreno said that he remained confident of crossing the required threshold with results coming in from consulates overseas and western Manabí province, where the government spent heavily last year to rebuild after a 7.8 magnitude earthquake. "I have faith we'll reach 40 per cent," he said before breaking into song.
Mr. Lasso repeated the usual mantra spouted by Washington-backed losers in the region, warning that he was monitoring the vote count to "prevent fraud."
"We're not going to allow any dirty tricks, we're checking every single vote and we're going to defend what we won," he blustered.
Fellow opposition candidate Cynthia Viteri, who is running third in the count, has pledged to back Mr. Lasso if he makes it through to a second round in April, voicing her hope that a similar stance by the four other losing candidates could sweep him to victory.
Mr. Lasso campaigned on a platform to slash taxes, encourage foreign investment, and eject WikiLeaks founder Julian Assange from the Ecuadorean embassy in London.
The socialist candidate, Mr. Moreno, was born in a remote region of the Amazon near the Ecuador-Peru border in 1953 and got his first name – Lenín – from his father, a professor who greatly admired the famous Russian revolutionary.
Moreno, who lost the use of his legs two decades ago after being shot in the back during a robbery, has promised benefits for people with disabilities, single mothers, and the elderly. From 2007 to 2013, he served as vice president under Correa and subsequently filled the position of United Nations Special Envoy on Disability and Accessibility.
His work on the rights of people with disabilities in Ecuador won him recognition as a Nobel peace prize nominee in 2012. During his previous time in government, Ecuador became one of the most progressive nations in Latin America in the field of financial, technical, and professional assistance to people with disabilities.
Public spending increased from $2 million to $150 million per year. New regulations were passed requiring major employers to set aside at least four percent of jobs for people with disabilities.
On the topic of Assange, Moreno says that he can stay in the embassy but warns that he will ask him "not to intervene in the politics of countries that are friends of Ecuador."
Among Moreno's other campaign pledges during the election campaign were an increase in employment opportunities and guaranteeing every Ecuadorean the chance to pursue higher education.
The new president is due to take office on May 24 for a four-year term.
Upon assuming power, managing the economy is likely to be the immediate task. Ecuador relies heavily on oil exports and saw its GDP shrink by 1.7 percent last year after international oil prices dropped significantly.
The government will also have to take on a number of corruption scandals, including recent revelations that a Brazilian construction company may have paid more than $35 million USD in bribes to state officials as kickbacks for being awarded public contracts.
On the international front, the protectionist economic policies of newly-elected U.S. president Donald Trump will be the primary challenge.
This story combines material from Morning Star, the Associated Press, and other sources.